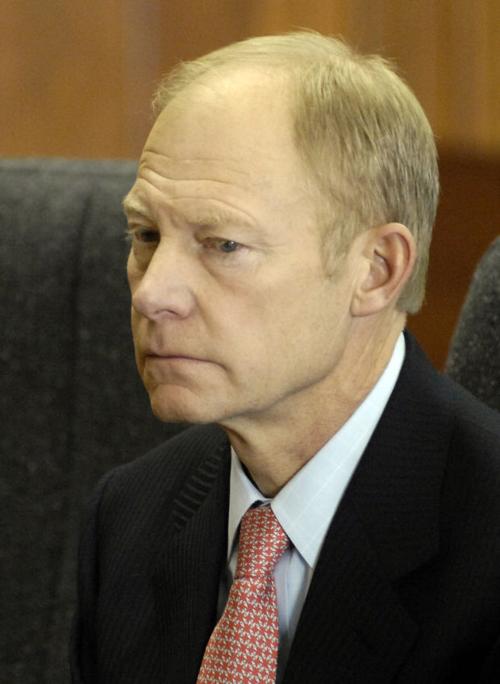 RACINE — Call it a "damage report," as a Racine County prosecutor did.
The nine-page document, obtained Monday by The Journal Times, outlines why prosecutors are offering Curt Johnson a deal to plead to two misdemeanors in the sexual assault case triggered by an accusation he had inappropriate contact with his stepdaughter.
Johnson, 59, an heir to the Johnson family household products fortune, is accused of molesting his teenage stepdaughter for three years while she and her mother lived in Racine County. They now live in North Carolina.
In a justification for amendment of charges and proposed resolution, filed by Assistant District Attorney Robert Repischak — the prosecutor on the case — he essentially details how his efforts to prosecute Johnson have been hog-tied.
Teen, mother uncooperative
First, Johnson's stepdaughter and her mother obtained lawyers, which legally halted communications with Repischak because he can't talk with them once they have attorneys.
The teen and her mother have repeatedly refused to cooperate with prosecutors, including regarding testifying against Johnson if his case went to trial. Repischak has sought subpoenas to force them to travel back to Wisconsin for prior trial dates, but when those have been granted, they then sought and received other court decisions stating they didn't have to comply.
The mother and daughter also have refused to release the girl's medical records, triggering a Wisconsin Supreme Court decision that the teen could not take the witness stand against Johnson if she didn't first disclose her medical records for a private judicial review.
Repischak stated he even contacted the teen's biological father — trying to gain approval for the release of her medical records. But her father, too, "refused to cooperate."
The teen wants the case dismissed, Repischak wrote. But Repischak stated he "does not concur."
Release of records pending
Johnson's attorneys then sought to block the release of Johnson's medical records from his therapy in Arizona, according to court documents. Staff with the Arizona medical center refuse to even disclose which doctor treated Johnson, Repischak wrote, and that case currently is under appeal in Arizona.
Johnson filed a petition to the Arizona Appellate Court on March 3 seeking to block prosecutors' subpoena for his therapy records from this treatment center, and to block a representative of Psychological Counseling Services Ltd. from testifying at his trial.
Arizona Appellate Court records show this case still is pending.
"Any hope of successfully prosecuting the defendant on the felony charge is virtually nonexistent," according to Repischak.
He stated "the only viable option available," other than dismissing the entire case, "is a misdemeanor resolution."
A message was left Monday for District Attorney Rich Chiapete, but he couldn't be reached for comment.
Defense attorney Mark Richards declined to comment, and declined to comment on behalf of Johnson, as well.
Johnson, of Wind Point, is the former chairman of Diversey Inc. and a son of the late SC Johnson chairman, Sam Johnson. Curt Johnson still is charged with repeated sexual assault of the same child for allegedly molesting his stepdaughter. The alleged molestation began when she was 12 years old, according to court records.
He pleaded not guilty on April 13, 2011.
Johnson's plea and sentencing hearing is set for Friday afternoon with Circuit Judge Eugene Gasiorkiewicz. Prosecutors seek to amend the charges to fourth-degree sexual assault and disorderly conduct, both misdemeanors, instead of a felony with potential prison time.
According to court records obtained Monday, the teen told her mother — Johnson's wife — in January of 2011 that her stepfather had "inappropriate sexual contact" with her. Her mother then confronted Johnson in February of 2011, court records state, and Johnson "eventually admitted to inappropriate contact."
After being confronted, Johnson allegedly agreed to go into counseling, documents show, where Johnson allegedly told a therapist in Arizona that he inappropriately touched his "daughter." Arizona law requires that health care providers, such as therapists, report suspected child sexual assaults, and this allegation was reported to the authorities.