CALEDONIA — More details have emerged in the Sunday incident involving a man who reportedly attacked a Caledonia Police Department officer with an "edged weapon" and was subsequently fatally shot by the officer.
On Monday morning, Caledonia Lt. Gary Larsen read a prepared statement during a news conference: He identified 38-year-old Jared R. Nelson of Racine as the man who was fatally shot.
Larsen said Caledonia Police responded to Crystal Spring in Caledonia, a cul-de-sac just northwest of the intersection of highways 38 and 31, at 4:59 p.m. Sunday for a report of a burglary in progress.
Caledonia PD holds a press conference regarding the officer-involved shooting Crystal Spring Drive.
When police arrived, a Caledonia Police officer encountered Nelson, who allegedly immediately attacked him with "an edged weapon," causing a serious head wound to the officer, according to police. Police have not elaborated on what the edged weapon is.
In response to Nelson's attack, the officer used his service weapon to shoot Nelson, who died at the scene. The officer, a four-year veteran of the department, was transported to Ascension All Saints Hospital for emergency medical treatment, but was released from the hospital and was recovering at home Monday morning, Larsen said.
The Racine Police Department is in charge of the ongoing investigation into the incident. Because the case is ongoing, police declined Monday to answer questions about the incident.
Caledonia Police did not release the name of the officer involved, or state whether the officer was wearing a body camera at the time of the shooting.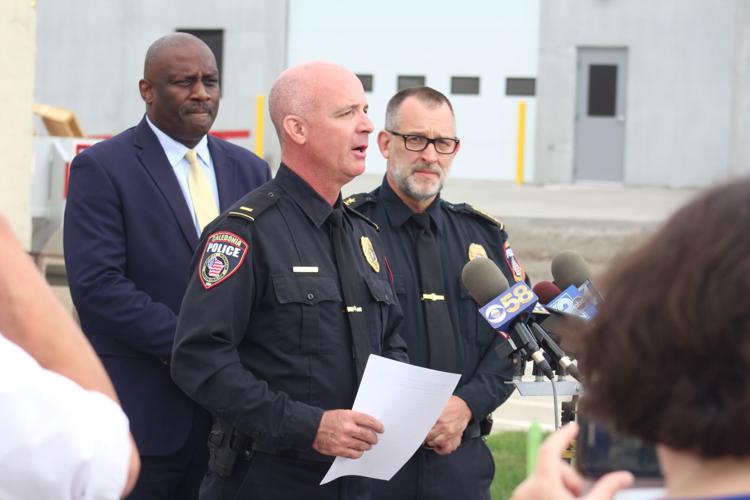 You have free articles remaining.
Neighborhood in shock
The incident Sunday was a shock to the residents of the sleepy cul-de-sac, which is filled with well-maintained homes, manicured lawns and friendly neighbors who say they rarely see a police vehicle.
Several neighborhood residents said Monday morning they were shocked that such a violent incident had occurred in their own backyard. One resident said he saw about 24 squad cars Sunday at the home where the incident occurred, something he had not seen in more than 20 years of living in the neighborhood.
The occupants of the home where the incident occurred were on vacation at the time of the incident.
A neighbor said she was collecting mail for the occupants. She said that Nelson had reportedly been staying at the home without the owners' knowledge or permission while they were out of town.
She went on to say that she had seen a cellphone video taken by the homeowner's granddaughter, who had entered the residence to find Nelson staying in the home.
She went on to say that she wasn't sure how the situation escalated, but that it happened quickly.
Police declined to provide additional information regarding what led up to the attack on the officer.