RACINE — A 19-year-old man was reportedly stabbed late Wednesday morning on the city's north side behind the Dr. Martin Luther King Jr. Community Center near Frederick Street, according to the Racine Police Department.
Police and paramedics were dispatched at 11:19 a.m. Wednesday to the parking lot of Save-A-Lot on State Street, about a quarter-mile southwest of the community center, where they treated the 19-year-old for multiple lacerations.
The man was observed walking with the assistance of paramedics and had at least two bandages across his abdomen and back at about 11:30 a.m. before being taken away in an ambulance. The injuries are not believed to be life threatening.
Racine Police officers responded to the community center, Save-A-Lot parking lot and were observed canvassing the area between the two locations.
Scene of a shooting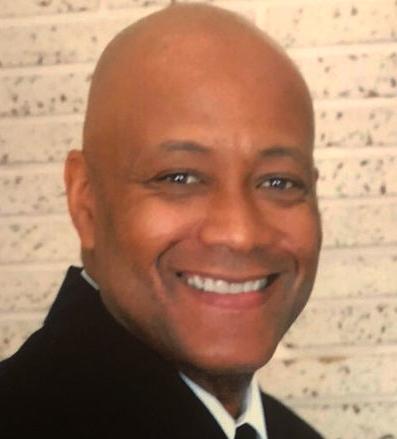 When it comes to gang or drug disputes, or simple arguments between friends or enemies, Robbins said, "We don't have mechanisms where people can stop and talk through things." Robbins thinks that those kinds of conversations, where disputes can be talked out peacefully, could make a difference in reducing violence in the city.
The image at the scene of the Tuesday shooting showed a picture of how one neighborhood reacted.
As police stood guard at the scene of the crime, a few kids kicked around a ball that ended up careening over or under the crime scene tape, and an officer standing guard retrieved the ball.
He stood at the corner of 11th and Center streets. Less than 300 feet to the south, a 54-year-old man had been shot in the leg during what a witness said was an attempted robbery.
The alleged shooter had fled the scene on foot and still hadn't been found as of midday Wednesday.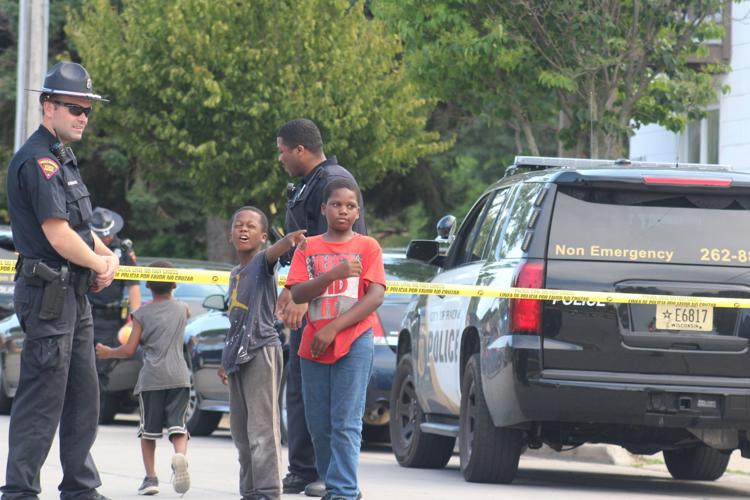 The young boy said he's heard gunshots before; they don't phase him.
Mass shootings have become alarmingly frequent in the United States, but after three in an eight-day period, and two in less than 24 hours, th…
"I see guns a lot," he said before running back to his friends, rubber ball in hand.
On the south end of the block, at the corner of 12th and Center streets, a young girl danced barefoot in the grass even though there wasn't any music playing, wearing a smile that made it appear nothing was out of the ordinary. Her mother spoke worriedly into a cell phone on the front porch. Crime scene tape hung across the edge of their yard, entangled in a bush at the corner.
You have free articles remaining.
You're out of free articles
Sign in or create a FREE account to keep reading.
One block north, two boys played basketball on a public court, enjoying the final days of their summer.
Another block east, police officers probed and a K-9 sniffed around abandoned homes on Grand Avenue, searching for evidence.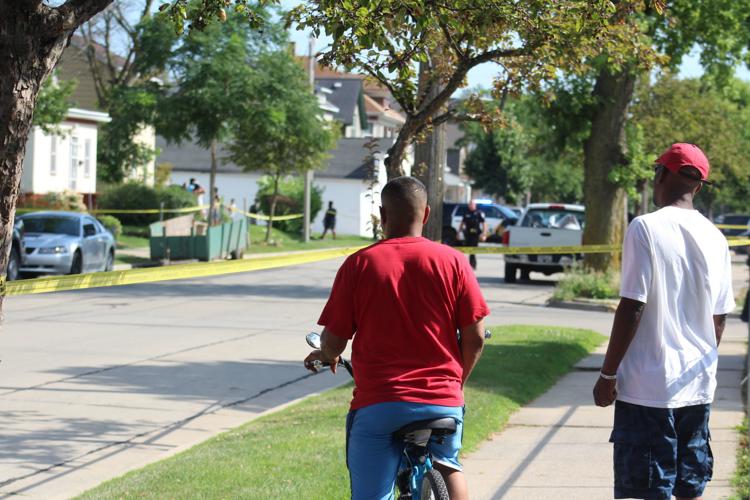 RACINE — Matthew Young died on Sept. 4, the day after Labor Day.
Tough street
This was at least the third time in the past 12 months that a violent incident has brought a flood of first responders and police investigators to the 1100 and 1200 blocks of Center Street.
Last September, 36-year-old Matthew Young was stabbed and killed in St. Paul's parking lot during a scuffle over a money dispute, a case that was closed after the man who stabbed Young said it was in self-defense.
On May 22, 19-year-old Jose Angel Padillo was shot and killed near the corner of 12th and Center — two houses down from where the young girl was dancing on Tuesday. Two teenagers have been charged in connection to that shooting.
Then there was the man shot Tuesday.
Robbins thinks that it is becoming necessary for advocates and community leaders to go to the the areas most affected by violence (like Center Street) and ask the people who live there what problems they face.
"We see vigils and marching, and we're bringing awareness to what's being done," Robbins said, "but we want to start going block by block and knocking on doors and saying, 'What can we do to stop this?'"
Stopping it
The same day that Robbins called for an end to the violence, three people were shot on Marquette Street. Two days later, a 14-year-old girl was shot in the leg when a man was trying to shoot someone else outside near the intersection of 11th Street and Hilker Place. And three days after that, someone was shot on Packard Avenue and hospitalized.
Despite Robbins' plea, it hasn't stopped.
"We have to buckle in, it might be a minute until we can make change," Robbins said. "Everyone is fearful right now."
"We're beginning to become tone deaf to violence." Pastor Prentiss Robbins Jr., an organizer with the Racine Interfaith Coalition.