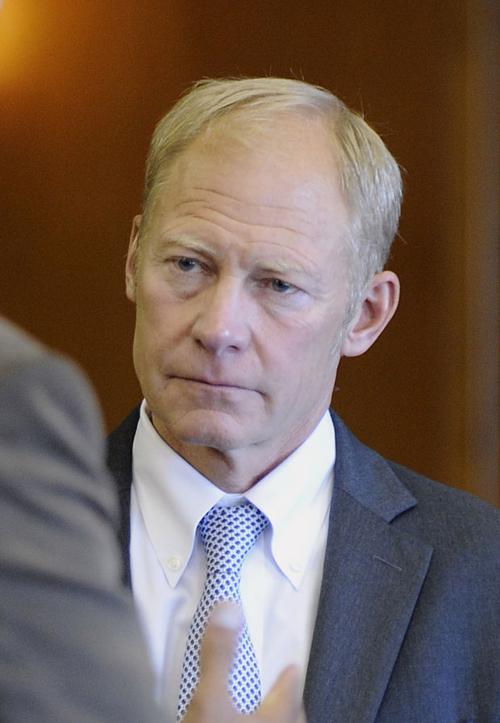 MADISON — A former Racine County teen who allegedly was molested by her stepfather, Curt Johnson, cannot testify when his child sexual assault case goes to trial — unless first she releases her medical records, according to a Wisconsin Supreme Court opinion released Wednesday morning.
That was the first blow dealt on Wednesday to Racine County prosecutors. But it could have meant the end of a more than two-year period of appeals, to the Court of Appeals and state Supreme Court.
The second blow came Wednesday afternoon when a Racine County judge set the case for trial on July 14, saying he wouldn't hold the "case in abeyance until" another set of appeals is concluded.
That's right, another round of appeals. This time, to the Arizona Appellate Court, and possibly then to the Arizona Supreme Court.
Johnson, 58, an heir to the Johnson family household products fortune, is accused of molesting his teenage stepdaughter for three years while living in Racine County. The teen, now 18, and her mother currently live in North Carolina.
Molestation allegations surfaced when Johnson allegedly told a therapist in Arizona that he inappropriately touched his "daughter." Arizona law requires that health care providers, such as therapists, report suspected child sexual assaults.
Prosecutors want to use those comments at Johnson's trial.
However, Johnson filed a petition to the Arizona Appellate Court on March 3 seeking to block prosecutors' subpoena for his therapy records from the treatment center, and from a representative of Psychological Counseling Services Ltd. testifying at his trial.
"In order to proceed, I'm going to need the records from Arizona, and that's going to take some time," Racine County Assistant District Attorney Robert Repischak said in court Wednesday afternoon, asking for more time before the trial. "It's quite honestly going to take a long time for Arizona to decide."
"That's not our problem," defense attorney Michael Hart said.
And should Johnson's petition be denied, Repischak said they could appeal to the Arizona Supreme Court.
Hart said the Racine County subpoena already has been stayed, and oral arguments were made Wednesday morning before the Arizona Appellate Court.
"The stay remains in place," Hart said during the afternoon hearing. "At some point in the future they will issue a decision."
Racine County Circuit Judge Eugene Gasiorkiewicz said he wouldn't hold Johnson's "case in abeyance" until the Arizona appeals end.
"This matter has been pending for a very long time," he said. "Criminal cases take priority and I have to set it on my calendar."
Racine County District Attorney Rich Chiapete declined to comment on the timing of the trial.
"We're doing everything we can to seek justice in this case," he said after the hearing.
Johnson, of Wind Point, is the former chairman of Diversey Inc. and a son of the late SC Johnson chairman, Sam Johnson. Curt Johnson is charged with repeated sexual assault of the same child. He is accused of molesting his stepdaughter beginning when she was 12 years old, according to court records.
Johnson has pleaded not guilty.
The Racine County case has been on hold for more than two years while rulings have been appealed.
Wisconsin Supreme Court justices ruled in July that Johnson's stepdaughter may testify without first releasing her records. Later that month, cross motions to reconsider were filed regarding that decision and another dealing with jury instructions.
In an opinion issued Wednesday morning, the justices wrote that "since this court has deadlocked, the Court of Appeals decision must be affirmed."
"…Since a majority of the court has not reached consensus under precedent so as to decide the issue presented and the court is deadlocked, the decision of the Court of Appeals is affirmed," the justices wrote, granting the motion for reconsideration.
The Court of Appeals ruled April 18, 2012, that Johnson's stepdaughter shall not testify in court unless she first agrees to release her private medical records.
Her attorney, Kathleen Quinn, reiterated during Wednesday's hearing that the teen still refuses to release her medical records for Gasiorkiewicz's review.
Johnson's defense attorneys are seeking to have the teen's medical records privately reviewed by Gasiorkiewicz, in a process known as an "in-camera review." Gasiorkiewicz would have determined whether those records contained any information potentially relevant to the criminal case, and revealed that to lawyers on both sides, as required.
But his ruling was appealed.
Chiapete also declined to comment Wednesday on whether the state Supreme Court decision might end their prosecution.
"We're going to set it for trial and do the best job that we can," he said Wednesday afternoon.
A status conference is set for June 12.