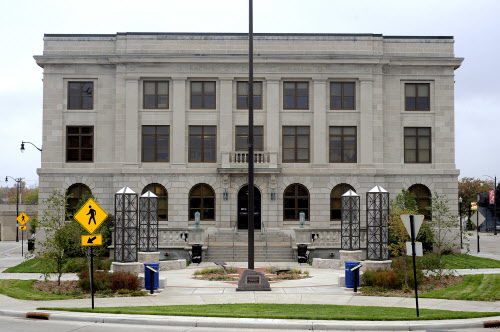 RACINE — The City of Racine has settled a federal civil rights lawsuit filed against Racine Police officers and the city for $100,000.
The case, Veguilla v. City of Racine et al, involves Racine resident Miguel Veguilla, who claimed he was unfairly treated and had his civil rights violated by four Racine police officers on July 3, 2014. The City Council approved the settlement Tuesday, but not without first emphasizing its support for the Police Department.
According to the lawsuit filed in July 2015, Veguilla was allegedly handcuffed and beaten outside of his home while in his underwear after police came to investigate a crash Veguilla wasn't personally involved in.
Veguilla's girlfriend at the time, Marisol Martinez, had allegedly been in an accident earlier that day, left her information with another driver and left the scene before police arrived, according to the complaint. Police found the vehicle Martinez had driven in the accident at Veguilla's house, but Veguilla didn't know about the accident because he had been sleeping, the complaint stated.
"I think the fact that they paid that amount underscores that they thought that there was real misconduct on the part of the police officers," said Michael Sperling, the attorney for the plaintiff.
"We believe they entered his home without the right to do so," Sperling said. "He was arrested for doing nothing. He was not a threat of any kind to anybody."
Veguilla was arrested and held on suspicion of resisting arrest, a charge that court records show was dropped.
In May, the case was sent to Magistrate Judge William E. Callahan Jr. for mediation, according to federal court records. Records show that the parties reached a settlement agreement at a June 13 hearing and the Tuesday City Council meeting agenda valued the settlement at $100,000.
"We believe the city paid close to the full value of the case," Sperling said.
The city was initially implicated for improper training of the officers, but that part of the lawsuit was let go, according to Sperling. The city remained responsible for the misconduct of its officers, he said.
Racine City Attorney Scott Letteney represented the city in the settlement. 
"Under the circumstances of this case, it just seemed more appropriate to settle it rather than move forward with a trial," he said.
Chief stands by officers
You have free articles remaining.
Racine Police Lt. Dave Wohlgemuth confirmed that the four officers named in the suit — Robert Rasmussen, Allan Wassil, Andrew Matson and Christopher Brush — are still with the department. 
Racine Police Chief Art Howell said the incident was reviewed both internally and by independent use of force experts, and the officers' actions were determined to have been legal.
"Force was legally used to effect the arrest, not to inflict or intentionally cause injury," Howell said in an email on Saturday.
According to Sperling, Veguilla sustained a torn rotator cuff and had to have surgery. Howell said Veguilla's injury was not the optimal or desired outcome of the arrest.
"When possible, it is our objective to avoid physical confrontation, as the probability for injury (to both officers and those who resist being taken into custody) increases," Howell wrote. "The fact that an injury occurred in this case (and the fact that members of the Racine Police Department have sustained injuries during the past year while making arrests) is unfortunate and not the optimal or desired outcome.
"The overwhelming number of arrests (where cooperation and compliance is gained) do not result in physical confrontation or injury," Howell said.
City Council OKs settlement
The Racine City Council approved the settlement at Tuesday's meeting by a 12-2 vote, with 1st District Alderman Jeff Coe and 5th District Alderman Steve Smetana voting against it. That approval came after discussion from four aldermen, including Coe, who said he found the settlement "atrocious."
Sixth District Alderman Sandy Weidner voted to approve settlement, but only after making sure she communicated the council's support for the Police Department and the difficult jobs they do.
"I think it's so important for our police officers to understand that we, the city council, have their back," Weidner said. "We know that we send them out into harm's way every day that they're working and sometimes things happen. We have to sometimes make decisions that are based on fiscal reasons rather than any kind of criticism or judgment for what they may or may not have done."
While he agreed with Weidner on the importance of supporting the Police Department, 8th District Alderman Q.A. Shakoor II also stressed the importance of agreeing to the legal settlement.
"True enough, it's $100,000, but it could go up to 300 (thousand dollars), (a) half million (dollars), who knows?" Shakoor said. "It all depends on what a jury would decide. I don't think we need to take that chance. I think this is being responsible."
Third District Alderman Michael Shields also commended the Police Department, but emphasized his concern that the city's financial burden in the case "could go deeper than that" based on the evidence presented to the Finance and Personnel Committee. 
"Citizens should be protected and the Police Department should be protected," he said. "Public safety goes both ways and we can't assume that officers are always right and citizens are always wrong."
"I think it's so important for our police officers to understand that we, the city council, have their back. We know that we send them out into harm's way every day that they're working and sometimes things happen. We have to sometimes make decisions that are based on fiscal reasons rather than any kind of criticism or judgment for what they may or may not have done."

— 6th District Alderman Sandy Weidner