RACINE — A change of plea is in the works for a Racine man who originally pleaded not guilty to striking and killing a Caledonia bicyclist with his vehicle and then fleeing the scene.
Tyler J. Martinez, 29, of the 200 block of North Memorial Drive, pleaded not guilty in November 2017 to felony counts of hit-and-run resulting in death and homicide by a vehicle with use of a controlled substance after an Oct. 20, 2017, crash.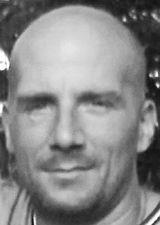 Martinez reportedly struck 39-year-old bicyclist Michael Fuchsgruber with a vehicle in the 5400 block of Douglas Avenue (Highway 32) near Middle Road in Caledonia, and left the scene, according to the criminal complaint. Fuchsgruber was transported to the hospital, but later died from injuries he sustained during the crash.
Martinez later told police he did not stop because he thought he had hit a mailbox. Martinez said he was also concerned because he thought his license was suspended because he had been cited for speeding and inattentive driving in the past.
Register for more free articles.
Stay logged in to skip the surveys.
On Oct. 21, 2017, Martinez's blood was drawn for a drug panel and his blood tested positive for marijuana use, according to an amended criminal complaint.
Friday's court hearing was scheduled as a pre-trial conference, with a three-day jury trial expected to begin on Aug. 27.
However, during the hearing, Martinez's attorney Mark Pecora and Assistant District Attorney Antoinette Rich said a plea deal had been negotiated and discussed with Fuchsgruber's family.
Details of that plea deal will not be made public until Martinez's plea hearing, which is set for Sept. 10.
Each charge Martinez faces carries a maximum penalty of a $100,000 fine and/or up to 25 years in prison.