BURLINGTON — A Burlington man allegedly had child pornography saved to a phone that used to belong to his mom.
Richard Funk, 40, of the 200 block of West Chestnut Street, is charged with three counts of possession of child pornography.
According to a criminal complaint: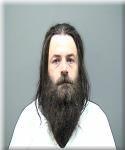 On May 21, an investigator was assigned to an internet crimes against children case. It was learned that on Feb. 28, the National Center for Missing & Exploited Children received a cyber tip from MediaLab/Kik, commonly known to the public as Kik, which is a private messenger and social media platform.
It was found that the Kik account "godd999" had uploaded a photograph and three videos containing what appeared to be child pornography from 11:18 p.m. to 11:35 p.m. on Feb. 25.
The uploaded files contained child pornography of a girl between ages 7 and 8, a girl between 8-10 and of another girl between 7 and 8.
The investigator learned from AT&T that the IP address belonged to a person who lived at the 200 block of West Chestnut Street with Richard Funk.
On Monday, a search warrant was executed and officers approached Funk in the driveway. At the time, Funk stated he did not have a cellphone; however, in later conversations he stated he had two cellphones that he can only use with WiFi.
Funk stated the Motorola cellphone located on his bed was his phone he primarily uses and that there was a flip phone located on an end table in the living room next to him that also was his.
An analyst downloaded the contents of Funk's cellphone and found approximately 15 to 20 images depicting what appeared to be females under 18 years of age with five being identified as obvious child pornography.
The officer then spoke to Funk and the other resident and asked if the phone was used by Funk or both of them. Funk stated it was his deceased mother's phone and that he only uses it as an alarm or for Facebook. The other resident said she used it to sell items on Facebook Marketplace.
When the officer told Funk they had to determine if it was him or the other resident who had downloaded the child pornography, Funk responded with "she doesn't need to go to jail for anything." After being pressed further on who was using the phone and downloaded the files, Funk admitted that it was him.
When brought to an interview room, Funk said that "It's stupid internet (expletive). It was hit or miss, but it wasn't for me." He said that it got weird with things like underage pictures, animals and food.
He said that he got into a Kik group where you get things sent to you and you send them to others and trade images. He said it was good at first, but that he kept getting added to Kik groups.
He said eventually got out of it because it got creepy and people were talking about things like children and bestiality. He said he was involved in it from the end of January to the beginning of February but then left.
As of Friday morning, Funk remained in custody at the Racine County Jail on a $10,000 cash bond, online court records show. A status conference is set for July 15 at the Racine County Law Enforcement Center, 717 Wisconsin Ave.