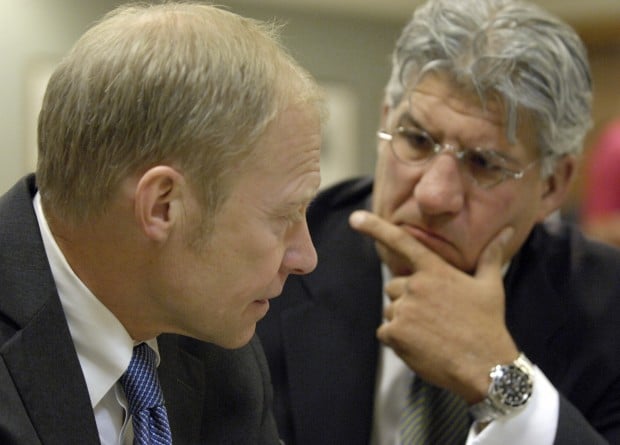 RACINE — Lawyers involved in the high-profile Curt Johnson criminal case will have the chance to argue their sides before the state's highest court in February.
Wisconsin's top prosecutors filed an appeal with the Wisconsin Supreme Court on May 17 in the child sexual assault case against an heir to the Johnson family household products fortune. Curt Johnson, 57, is charged with repeated sexual assault of the same child for allegedly molesting his teenage stepdaughter.
Johnson, of Wind Point, is the former chairman of Diversey Inc. and a son of the late SC Johnson chairman, Sam Johnson.
Five of the seven Wisconsin Supreme Court justices decided Nov. 14 to take up the appeal, which involves whether the alleged victim may testify in court without first agreeing to release her medical records for review. Justices David Prosser Jr. and Michael Gableman did not participate in that order granting review, recusing themselves.
Defense attorney Michael Hart said oral arguments are set before the state's highest court on Feb. 25.
Racine County prosecutors charged Curt Johnson in March 2011 after his then-15-year-old stepdaughter accused him of sexually assaulting her.
Johnson's Racine County criminal case remains on hold because of this appeal.
"Obviously we're waiting for direction from the Supreme Court here," Racine County Circuit Judge Eugene Gasiorkiewicz said during a two-minute hearing Friday.
Gasiorkiewicz set a status conference for April 4 in the Racine County case.
"Mr. Johnson need not appear (for that court date) — unless, of course, we have a (Supreme Court) decision by that time."
Johnson wasn't required to appear in court Friday.
The Wisconsin Department of Justice's petition to review an appellate court ruling in the case cited multiple constitutional issues. It stemmed from a Court of Appeals ruling in April that Johnson's stepdaughter shall not testify in court unless she first agrees to release her medical records.
These medical records were requested months ago by defense attorneys.
Last fall, Gasiorkiewicz ruled that Johnson's attorneys could seek those records, but that Gasiorkiewicz would review them privately in his chambers — providing pertinent information only to Johnson's attorneys and prosecutors. This is a common legal procedure called an "in camera" review.
But the teen and her mother, who currently live out of state, have refused to release those medical records.
The girl alleged that Johnson sexually assaulted her more than a dozen times between 2007 and 2010, according to court records.
A briefing from the state Department of Justice had been due to the Supreme Court justices by Friday, but earlier this week, the Wisconsin Department of Justice requested more than their 30 days to file that document.
They received an extension to Dec. 28.
Afterward, Johnson's defense attorneys then would have 20 days to file a response. Assistant attorneys general then would have 10 days in which to file a reply to defense lawyers' response, according to a court order.