A package of criminal justice bills proposed by a group of Wisconsin Republicans is already facing strong resistance from community members and state leaders.
Advocates say that elements of the "Tougher on Crime" package go too far in seeking to punish lawbreakers and may even infringe on civil rights guaranteed under the U.S. Constitution.
Among the tenets of the package are:
.
Causing someone on parole or probation to be jailed for longer periods of time if they are accused of another crime.
Instituting a mandatory minimum sentence for repeat shoplifters.
One of the big goals of the package is to crack down on repeat offenders.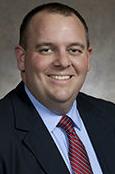 "I continue to see news story after news story about repeat offenses, and the repeat offenses are becoming more and more aggravated and more and more serious and people are dying," Sen. David Craig, R-Big Bend, said during committee testimony, as reported by Wisconsin Public Radio.
And although he noted he doesn't support "Tougher on Crime" in its entirety, Sen. Van Wanggaard, R-Racine, said he wants to address "the revolving door" of lawbreakers getting released from jail or prison, then going right back in with new crimes, through the use of stiffer sentences and stricter rules governing people out on parole or probation.
Corey Prince, a Racine activist and chairman of the Wisconsin NAACP Criminal Justice Committee, described the entirety of the package as "absolutely horrible." The package has also drawn criticism from the American Civil Liberties Union and End Domestic Abuse Wisconsin, among other grassroots groups.
The Wisconsin Department of Corrections itself is opposed to a number of the bills in the package.
In a two-page statement, DOC Secretary Kevin Carr said: "Across the country, states … have been changing their approach to criminal justice, from an old school, ineffective mentality of 'lock them up and throw away the key,' to a smart, safe, and rehabilitative approach that supports the transition of formerly incarcerated people back into our community."
The nature of these bills, Carr said, would lead to more people ending up incarcerated, thus leading to more taxpayer spending and more broken families.
"There are serious and immediate safety consequences within existing DOC facilities if any legislation increases the incarceration rate," Carr said, pointing out that Wisconsin's prisons are "already operating at an average of 133.7% of their design capacities."
What's in the package?
One bill — co-sponsored by Rep. Chuck Wichgers, R-Muskego, who represents the northwestern corner of Racine County, including the village and town of Waterford — would lead to people on probation or on parole being in jail longer if they are charged with a new crime, regardless of if they are guilty.
You have free articles remaining.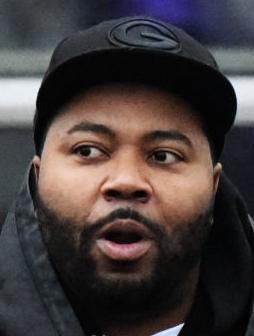 "The P.O.'s job at that point is to decipher if (a crime was committed). But he (the accused) does not automatically have to go for a hearing," Prince explained of the current situation.
But if the bill is passed, the Department of Corrections would automatically request that a hearing be scheduled to determine whether someone's parole or probation would be revoked. The effect of this would be that, instead of a maximum of three weeks, the person charged but not convicted of a crime could be stuck behind bars for months waiting for a hearing, according to Prince.
Advocates say this proposal is excessive and infringes civil rights.
"You would, in effect, be required to have a (parole or probation) hearing on something you have not been found guilty of," Prince explained.
Another bill in the package would expand the list of crimes for which minors can be adjudicated, making it easier to lock up young offenders and label them as "a danger to the public" if they commit any crime that would have been considered a felony if committed by an adult.
"Of course that's horrible," Prince said.
Another component of the package would institute a mandatory minimum sentence of six months for someone convicted of retail theft three times "no matter how minor the offense and no matter how far apart the offenses were," Prince explained. "That is outrageous."
Prince also said that one of the bills infringes on the right to face one's accuser, a guaranteed right under the U.S. Constitution. That bill, whose co-authors include Wichgers and Wanggaard, would allow for a witness who is considered by the court to be "at risk of being intimidated" to give a deposition without ever appearing at trial.
Prince said this would deprive the accused of his or her Sixth Amendment right to be able to question a witness.
Wanggaard, a retired police officer, said that is not the case: "When you do a deposition, both sides are allowed to be there to ask the questions."
Upcoming
"Tougher on Crime" received a hearing at the state Assembly last week and is scheduled for a hearing in the Senate this week.
Even if some of the bills were passed before the end of the current legislative session in February, there's a good chance they would be vetoed by Gov. Tony Evers.
One of Evers' campaign promises was to lower Wisconsin's prison population by 50%. As Carr pointed out, this package would likely have the opposite effect.
Earlier this month, Evers and a group of Democrats introduced their own package that would set incarceration limits for non-criminal supervision violations, make it easier for incarcerated people to earn release if they complete vocational or educational programs, and allow for shortened community supervision if prior offenders comply with certain programs.
"Tougher on Crime" also deviates from the direction of the federal First Step Act, which aims to reduce recidivism nationwide. It was signed by President Donald Trump in December 2018 after celebrity power couple Kim Kardashian and Kanye West lobbied the president for reform.
Protesters target GOP lame-duck session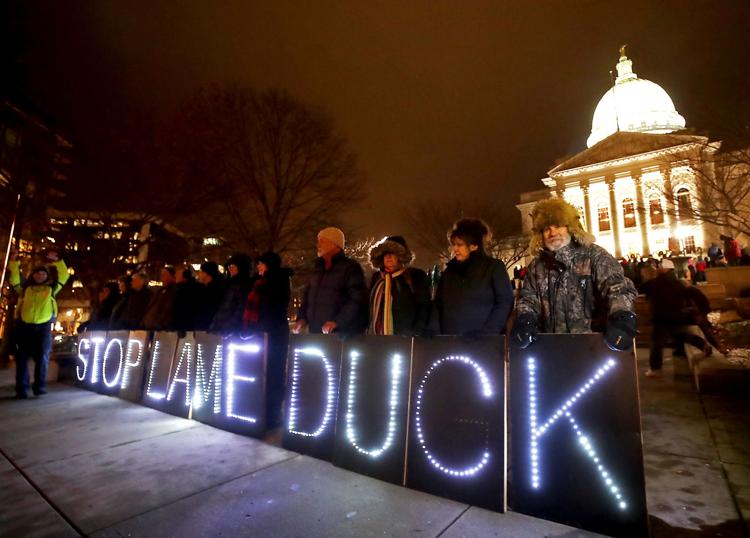 Protesters target GOP lame-duck session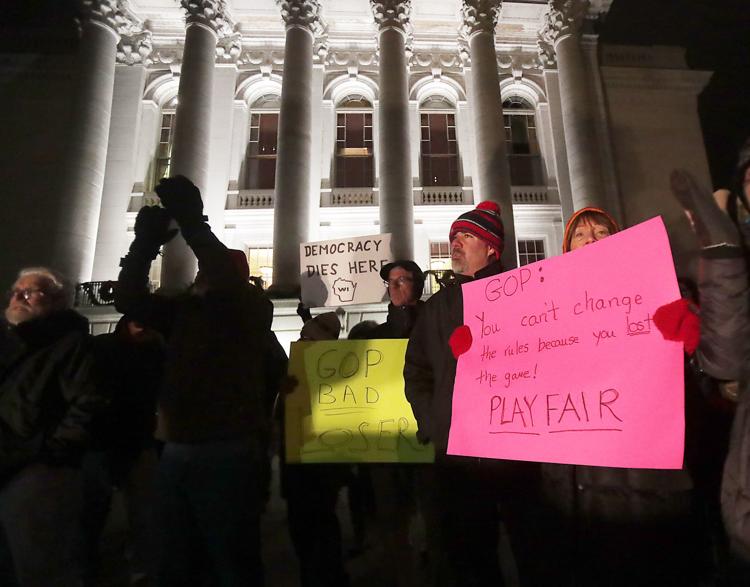 Protesters target GOP lame-duck session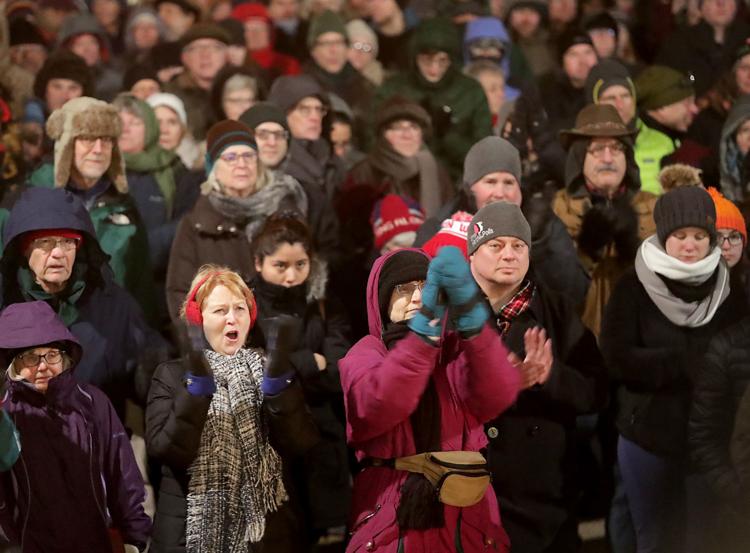 Protesters target GOP lame-duck session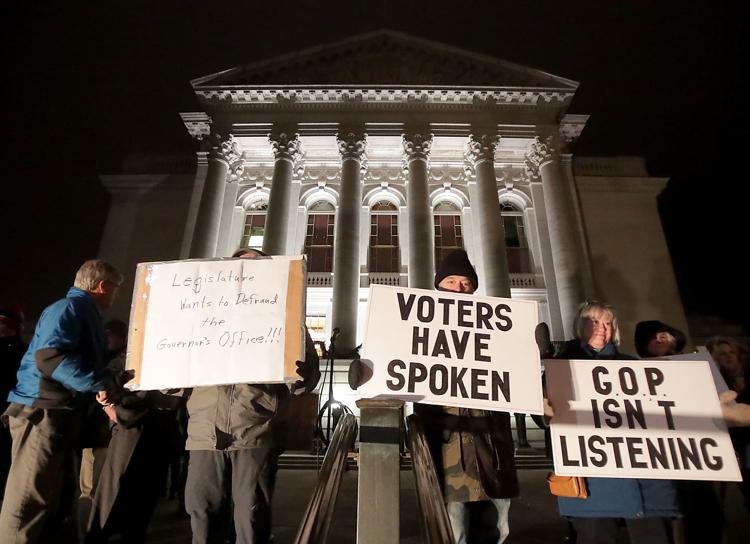 Protesters target GOP lame-duck session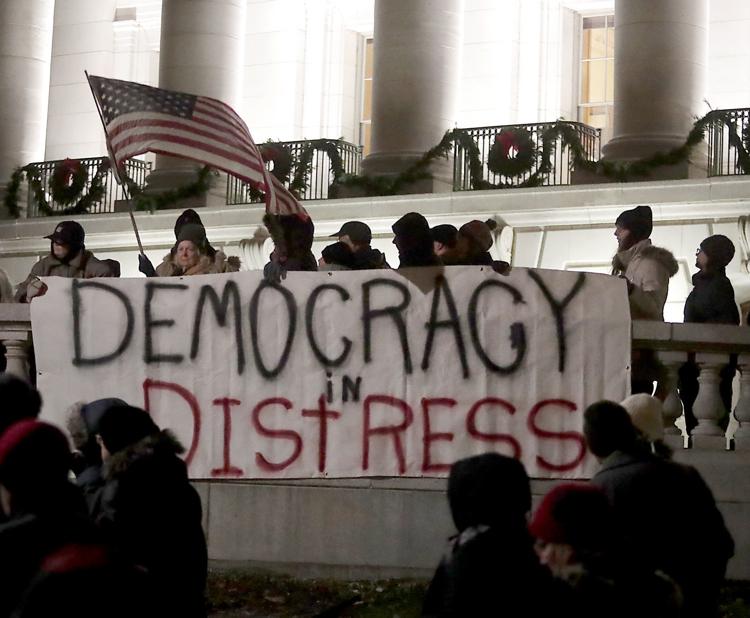 Protesters target GOP lame-duck session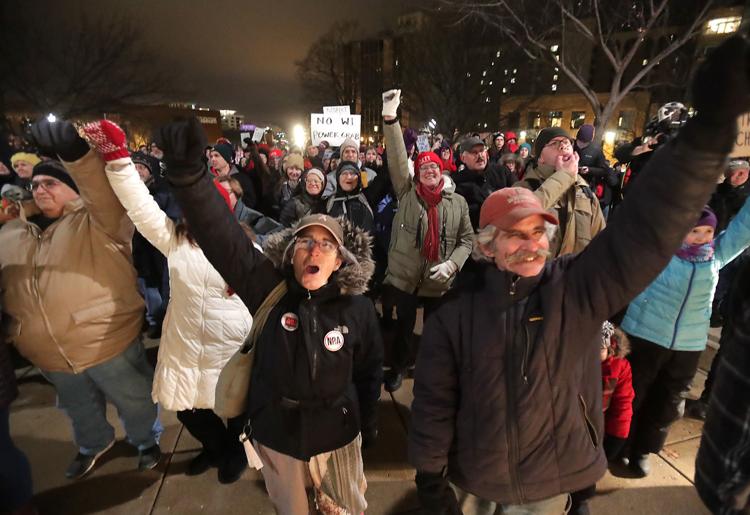 Protesters target GOP lame-duck session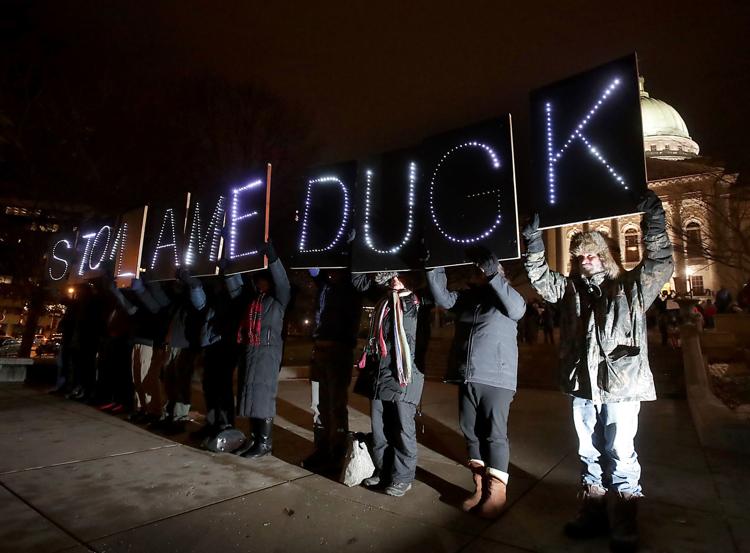 Protesters target GOP lame-duck session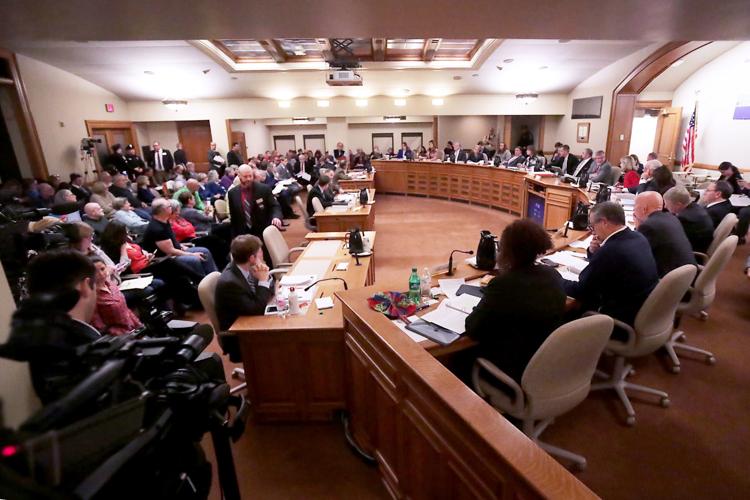 Protesters target GOP lame-duck session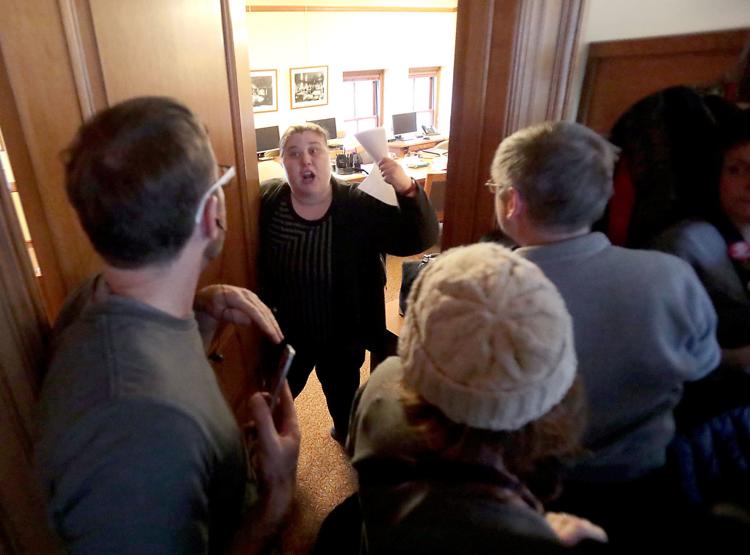 Protesters target GOP lame-duck session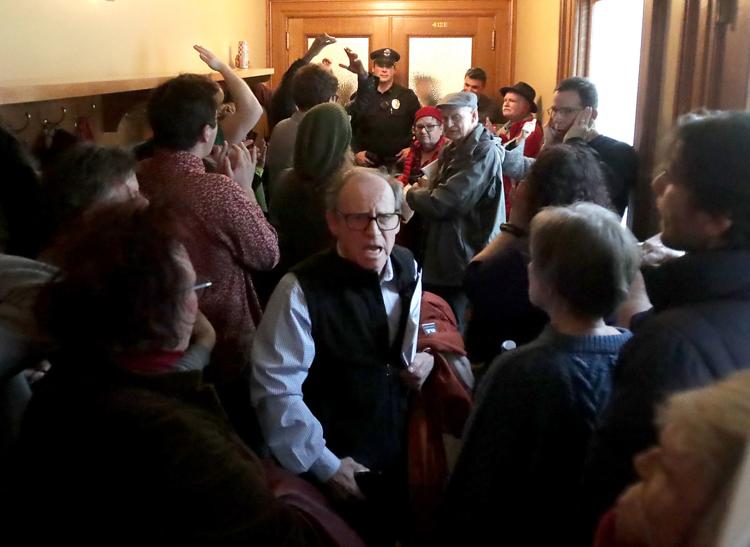 Protesters target GOP lame-duck session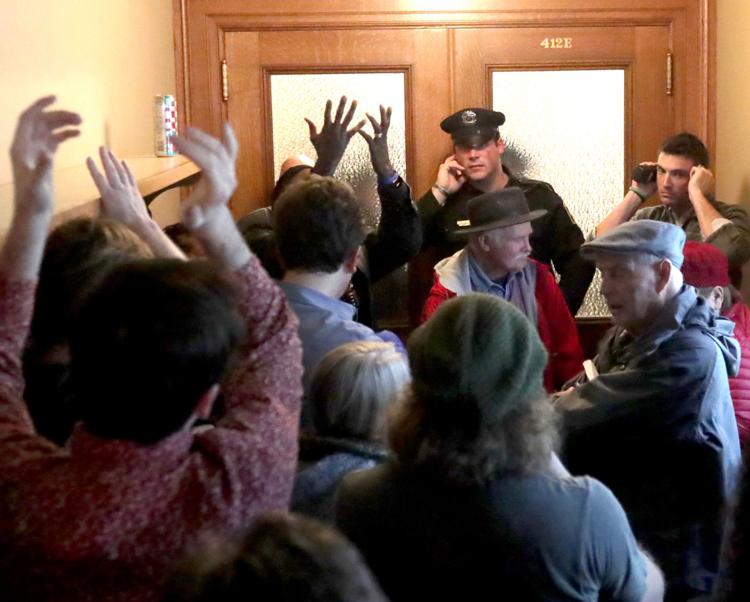 Protesters target GOP lame-duck session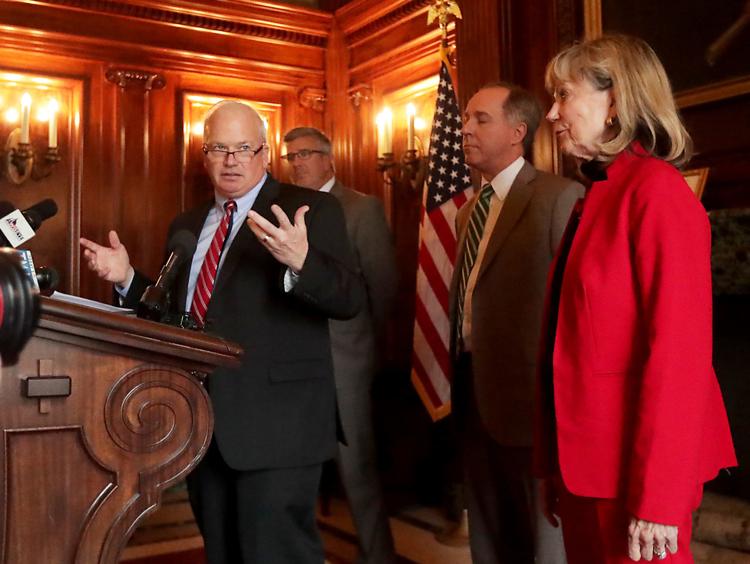 Protesters target GOP lame-duck session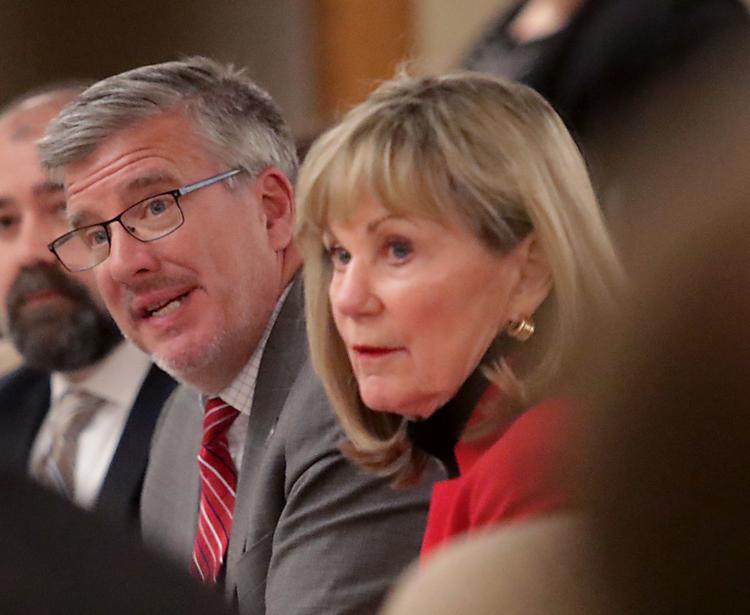 Protesters target GOP lame-duck session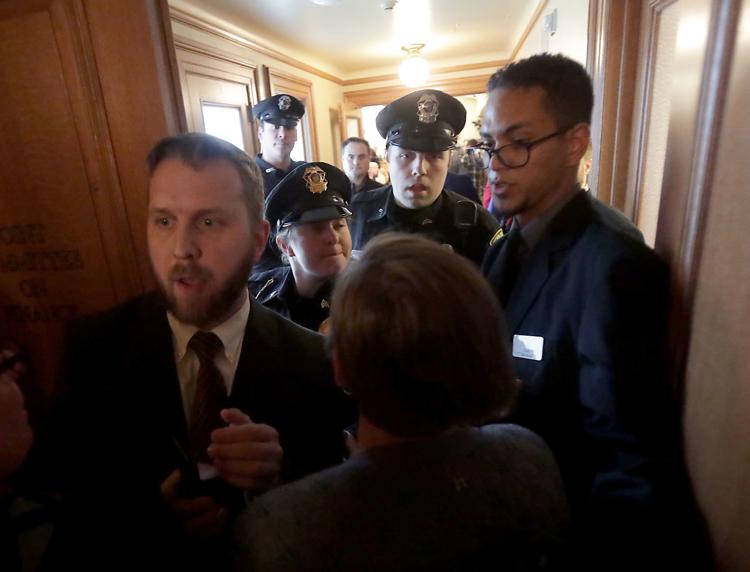 Protesters target GOP lame-duck session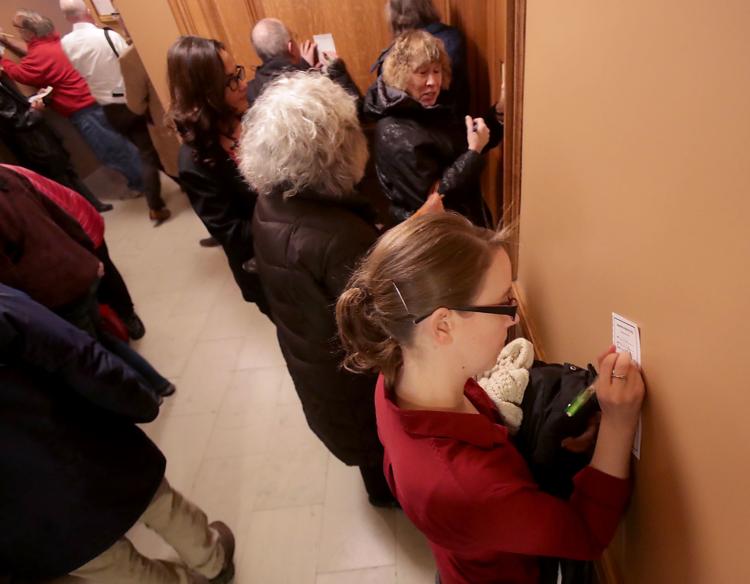 Protesters target GOP lame-duck session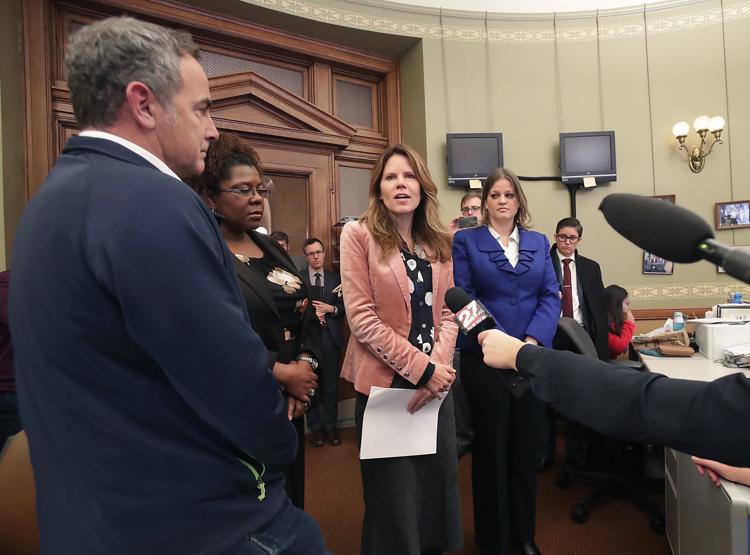 Protesters target GOP lame-duck session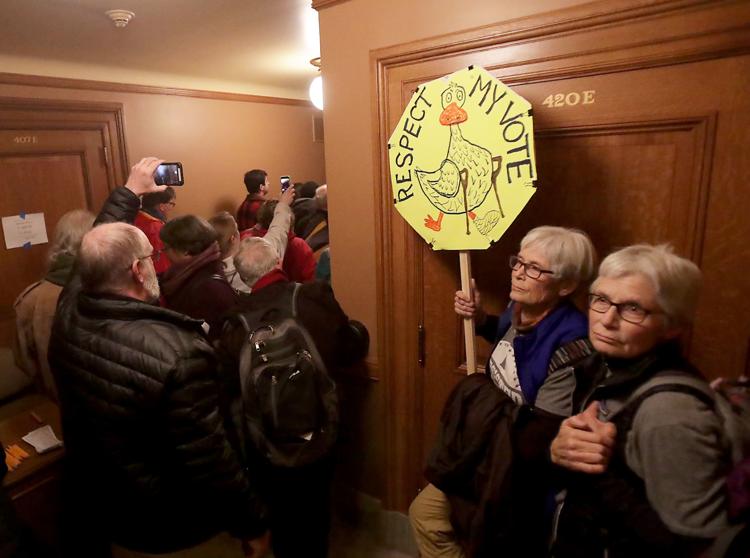 "There are serious and immediate safety consequences within existing DOC facilities if any legislation increases the incarceration rate." Kevin Carr, secretary of the Wisconsin Department of Corrections

"I continue to see news story after news story about repeat offenses, and the repeat offenses are becoming more and more aggravated and more and more serious and people are dying." State Sen. David Craig, R-Big Bend
"I continue to see news story after news story about repeat offenses, and the repeat offenses are becoming more and more aggravated and more and more serious and people are dying."

State Sen. David Craig, R-Big Bend
"There are serious and immediate safety consequences within existing DOC facilities if any legislation increases the incarceration rate."

Kevin Carr, secretary of the Wisconsin Department of Corrections