MOUNT PLEASANT — An alleged drug dealer reportedly beat a victim with a glass bong during an armed robbery, and allegedly stole multiple electronic devices and over $2,500 in cash.
Matthew N. Spiegelhoff, 18, of the 1800 block of North Summerset Drive in Mount Pleasant, is charged with two felony counts of armed robbery, a felony count of substantial battery and a felony count of burglary of a building or dwelling in connection to the case.
According to a criminal complaint:
At 9:11 p.m. on Sept. 15, a Mount Pleasant officer was dispatched to the 700 block of South Emmertsen Road for a report of a burglary in progress. The officer was advised that the burglary was a home invasion and a victim had been hit over the head with glass and was bleeding from the head.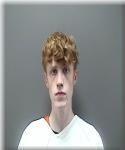 Upon arrival, the officer observed the victim being treated by South Shore Fire Department medics.
The victim stated he was hanging out with another person in the basement when he heard a noise coming from upstairs. He indicated that he thought the noise came from his brother, but then three people entered the basement and started attacking him. He said he was repeatedly kicked, punched and then hit in the back of the head with a piece of glass. He recognized one of the people as Spiegelhoff, who was an area drug dealer from whom he had purchased marijuana.
The victim stated Spiegelhoff accused him of owing money for THC vaping cartridges. Spiegelhoff then allegedly struck him in the head with a glass bong, causing injury. Two other suspects repeatedly kicked and punched him after this, with one of them the victim knew as "Gideon" and the other being a Black male wearing a gray hoodie, blue jeans, black shoes, black gloves and a facemask.
An officer met with the victim's friend who stated he, the victim and "Gideon" were hanging out in the basement. He indicated that "Gideon" stated his ride was there and went upstairs. He then let the two perpetrators in and all three came back downstairs and assaulted and robbed them. He stated one of the perpetrators had a sledge hammer and the third suspect had brandished a "switchblade knife" towards him. He stated he was not assaulted in the incident but that the third suspect took his iPhone 7, which is valued at about $300.
The following items were reported stolen from the residence:
An Apple iPhone XS Max valued at about $1,000.
An Apple iPad Pro valued at about $2,000.
An Xbox One gaming system valued at about $400.
$2,700 in cash.
The victim had to have four staples in his head to treat the laceration.
Spiegelhoff was given a $5,000 cash bond in Racine County Circuit Court on Monday.