RACINE — A Dirty P gang member has been charged in the Sept. 11 shooting incident in the area of 16th Street and Boyd Avenue.
Dontrell D. King, 23, of the 1000 block of Pearl Street, is charged with two felony counts of first-degree recklessly endangering safety with use of a dangerous weapon; felony counts of possession of a firearm by a felon, attempting to flee or elude an officer and possession of narcotic drugs; and a misdemeanor count of obstructing an officer.
According to a criminal complaint:
On Friday, the accuser reported to an officer that he abandoned his car at the intersection of 16th Street and Boyd Avenue after having been shot at by "P Boys" from the porch of a house. The house was determined to be at the 1500 block of Boyd Avenue and "P Boys" was determined to mean "Dirty P" gang members. The victim stated another person was with him when the shots were fired.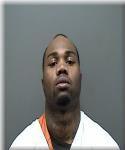 A Racine Police officer advised that the area around the 1500 block of Boyd Avenue was searched and no shell casings were located nor did it appear the victim's car was struck. He also reported that several calls were received about shots being fired in the area around 16th Street and Boyd Avenue.
An investigator spoke with the victim who provided the name of "Furl" as being the suspected shooter. The investigator recognized that name belonging to King, an alleged Dirty P member. The investigator also interviewed the individual that was with the victim, who stated that he observed three muzzle flashes from the porch and identified the shooter as King. Both picked King out of a photo lineup.
Officers conducted surveillance of King in the 1000 block of Pearl Street and observed him going back and forth several times between the house and a Chevy. When he took off in the Chevy, officers tried conducting a traffic stop but King reportedly continued to accelerate and ignore traffic signs in an attempt to flee until he reached the area of 11th Street and South Memorial Drive. He then reportedly fled from the vehicle without stopping. He jumped the fence and ran through yards temporarily avoiding officers until he finally was taken into custody at the 1800 block of 12th Street.
A search of the Chevy uncovered a Glock handgun with an extended magazine sticking up between the driver seat and center armrest that had eight live rounds. A plastic bag containing five blue pills that were later identified as 30 mg Oxycodone hydrochloride was located in the driver's side door handle/pull.
King was given a $100,000 cash bond in Racine County Circuit court on Tuesday.
A preliminary hearing is set for Sept. 24 at the Racine County Law Enforcement Center, 717 Wisconsin Ave., online court records indicate. He remained in custody as of Tuesday afternoon at the Racine County Jail.