RACINE — A Racine Police Department cruiser, covered in flowers whose petals were reflected in its sleek, black hood, served Tuesday as a makeshift memorial for slain Racine Police Officer John Hetland.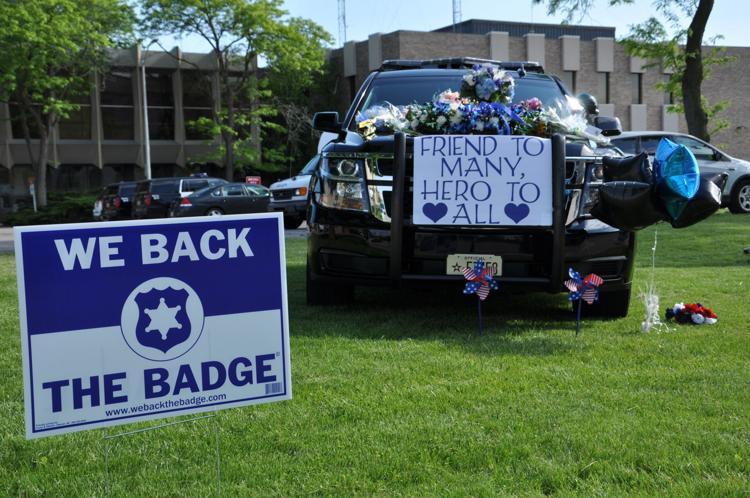 Hetland, 49, a 24-year-veteran of the Racine Police Department who was nearing retirement, was shot and killed Monday night as he attempted to intervene in an armed robbery at Teezers Bar & Grill, 1936 Lathrop Ave.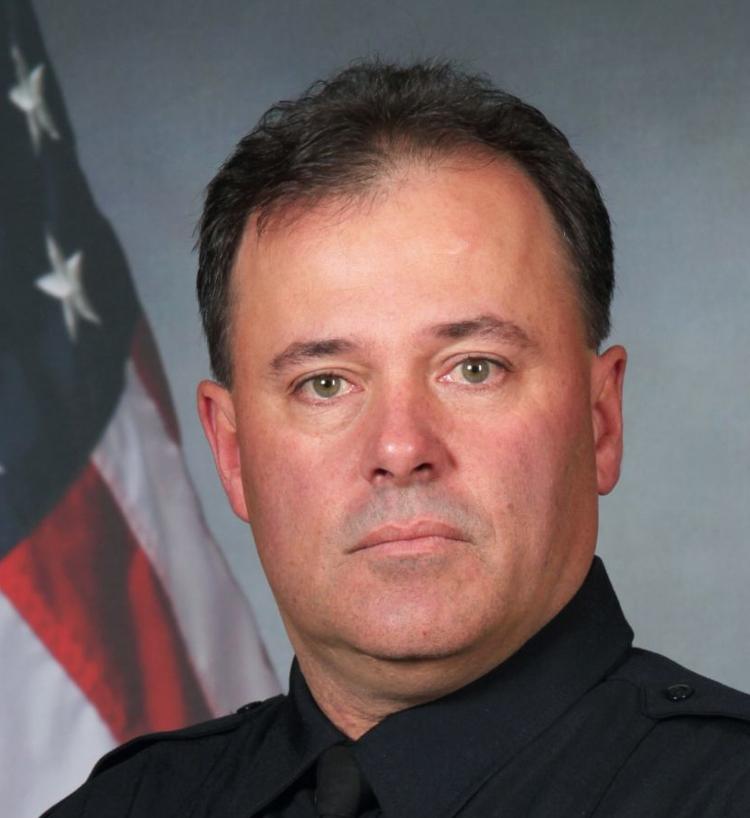 A row of "We Back the Badge" signs lined the grass in front of the Police Department, 730 Center St., where the vehicle was parked. On the bumper hung a sign that read "Friend to many, hero to all."
Across Washington Avenue, the flag at City Hall flew at half-staff on Tuesday, and Mayor Cory Mason said during an afternoon press conference that it would remain that way until Hetland's burial. Hetland leaves behind two children, a 15-year-old son and 8-year-old daughter.
"The City of Racine and the City of Racine Police Department are in mourning today," Mason said. "And today those officers need your support more than ever. They're going through a tragic time. They've lost a brother who has been a mentor and a friend to them, who has helped protect the city for years."
At about 9:40 p.m. Monday, Hetland, who was at Teezers to have dinner with a friend, witnessed an armed robbery in progress.
The suspect allegedly went behind the bar while wielding a gun and demanded money from the bartender. Hetland jumped over the bar in an attempt to take down the suspect, Kenosha County Sheriff David Beth said during a Tuesday afternoon press conference. Beth was unsure if Hetland identified himself as an officer or if he had his service weapon with him.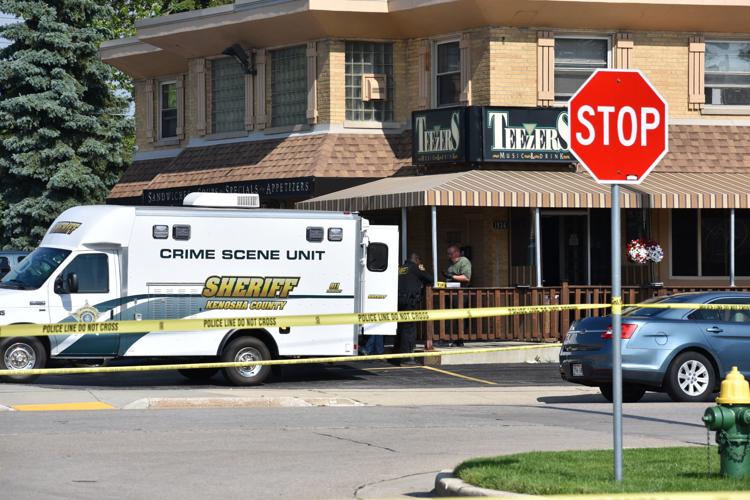 The Kenosha County Sheriff's Department is heading the investigation into the incident, with assistance from Racine Police, the Racine County Sheriff's Office, the Mount Pleasant Police Department, Wisconsin State Patrol, the Kenosha Police Department, the state Division of Criminal Investigation and Wisconsin Crime Laboratory.
As the officer tried to gain control of the suspect, Hetland was shot once, reportedly in the chest. The suspect then fled the scene, heading southwest.
Police described the shooter as a black man in his 20s, 5 feet, 8 inches and weighing about 150 pounds.
Police had not caught the shooter as of Tuesday evening, but Beth said law enforcement had some video footage of the suspect and was working to obtain more from nearby businesses.
"We will catch this person," he said.
Although Hetland was off duty at the time of the shooting, his death is regarded as a line-of-duty death because he was taking action consistent with his law enforcement duties, according to Jim Palmer, executive director of the Wisconsin Professional Police Association. Hetland's was the first line-of-duty death for the Racine Police Department in 45 years.
Support for law enforcement
Police Chief Art Howell said Hetland was a trusted and highly respected member of the department, serving in various positions over the years, including as a field training officer and member of the Greater Racine FBI Gang Task Force.
During Tuesday's press conference, Mason said the city supports its law enforcement officers and urged the public to do the same.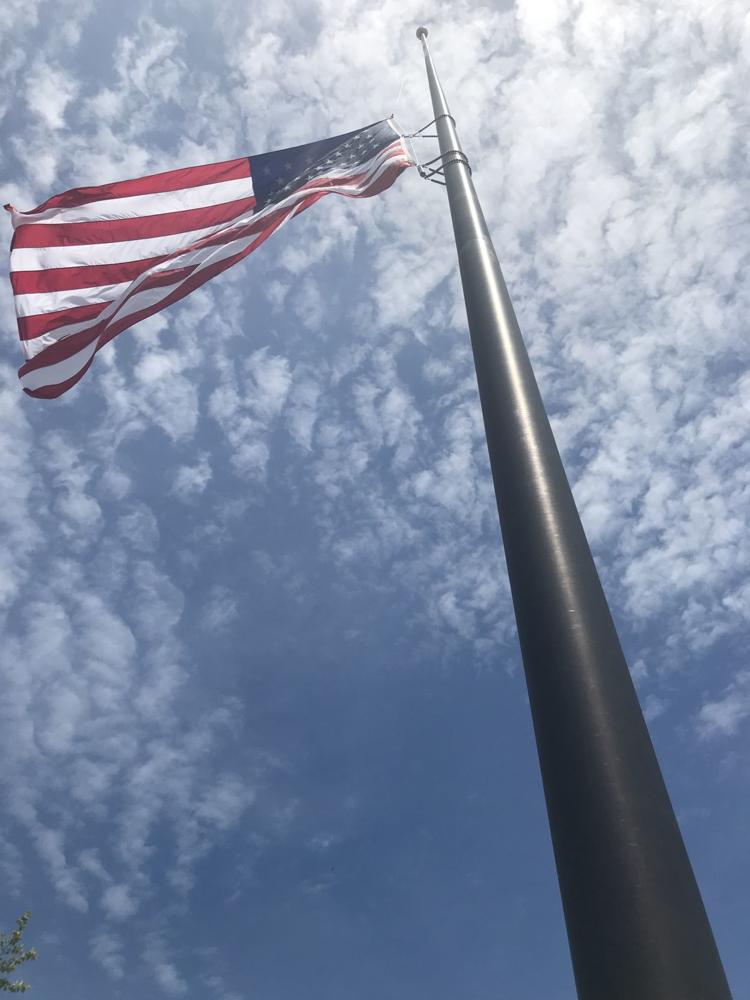 "We grieve his loss, but we offer our love and support for those officers that are still out there today doing their jobs," Mason said.
Beth said Hetland, like all other officers, was a "superhero."
"Last night in Racine, we lost one of our superheroes," Beth said. "He wasn't even officially working at the time, but he was doing what he was trained to do for the past 24 years: protect the public."
You have free articles remaining.
You're out of free articles
Sign in or create a FREE account to keep reading.
Beth — who had one of his deputies, Frank Fabiano Jr., slain while responding to a call in 2008 — said that law enforcement on scene late Monday and throughout Tuesday had witnessed an outpouring of support from Racinians, as they lined up to bring flowers and food and to hug the officers.
Dozens of police vehicles responded to the scene Monday night, including cars from Mount Pleasant, Sturtevant and the Racine County Sheriff's Office, in addition, of course, to numerous City of Racine police units. Kenosha County Sheriff's units responded to the scene later. Several police K-9 units were also observed on scene as a search of the neighborhood around Teezers commenced.
Lathrop Avenue and Russet Street, a block west of Lathrop, were closed to through traffic in both directions from 19th Street to 21st Street during the course of the investigation. Dozens of spectators and media crews, kept behind police tape on the east side of Lathrop Avenue, watched police at work.
Processionals
Hetland's body remained at the scene at Teezers until shortly before 9 a.m. Tuesday, when police vehicles created a processional and Hetland's body was taken to the Milwaukee County Medical Examiner's Office for an autopsy.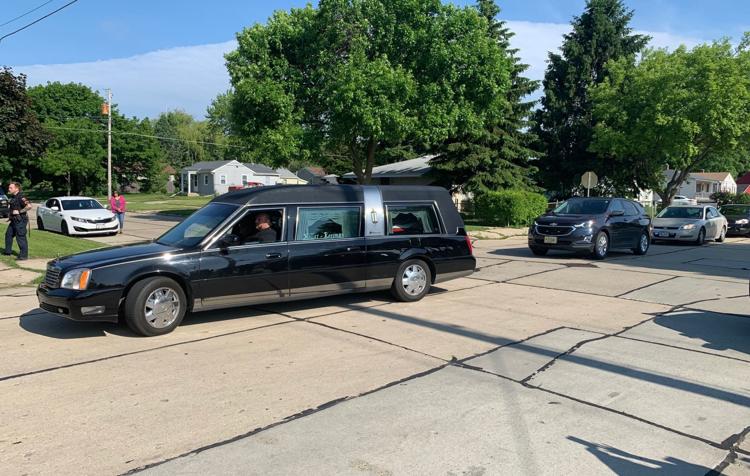 Earlie Briscoe, who lives about two blocks from Teezers, said that seeing the hearse transporting Hetland's body from the scene was emotional and difficult to watch.
"When I saw the hearse getting ready to pull out, I just broke down," Briscoe said. She said an officer saw her crying and approached her. He hugged her and told her "thank you."
"I've never witnessed anything like this," Briscoe said.
Michael Burmeister, a Racine native, said that when he saw the news, he came to the area to find out what he could about the shooting.
"I hope this is a wake-up call to show that life is precious, and that we all need to preserve life whenever we can," Burmeister said.
Hetland's casket was returned from Milwaukee later in the afternoon Tuesday and another procession proceeded down Washington Avenue from the Interstate and proceeded to Ohio Street, where it headed south to Meachem Road and eventually to Draeger-Langendorf Funeral Home & Crematory in Mount Pleasant.
Scene finally quiet
Teezers remained closed Tuesday, even after police tape had been removed from around the business.
A group of people gathered outside Teezers at about 9:45 Tuesday night, with candles in hand to pay tribute to the officer. Cheri Paulick, a bartender at Hiawatha, 9809 Durand Ave., in Sturtevant, where Hetland was a customer, organized the gathering.
"His smile was infectious," Paulick said of Hetland. "You could never tell when he had a bad day."
Paulick said she formerly worked at Teezers and knew the bartender who was behind the bar during the incident.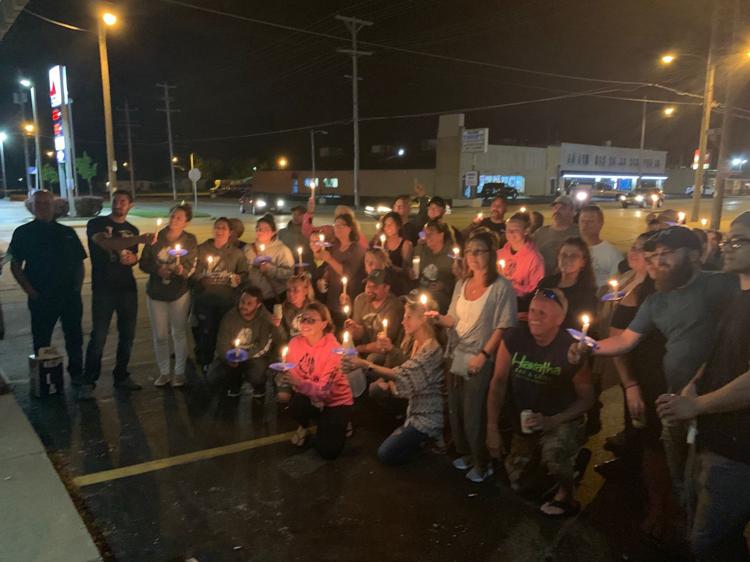 "He's (Hetland) our hero," Paulick said. "And he would have done that for any one of us bartenders. He did what he thought he needed to do."
Teezers has been under new ownership since Feb. 1 when it was bought by co-owners D.J. Daams and Dino Paros. The two men also own Coasters Bar & Grill, 1301 N. Main St.
On Tuesday, Teezers had changed its Facebook profile picture to a thin blue line, in honor of law enforcement and had posted a picture of the suspect, advising anyone with information to contact police.
Processional for Officer Hetland
Racine police gathered on Tuesday morning outside of Teezer's Bar, 1936 Lathrop Ave., where Racine Police Officer John Hetland was killed while off-duty while trying to stop an armed robbery. From there, the officers formed a processional following the hearse to Milwaukee for the autopsy.  
Processional for Officer Hetland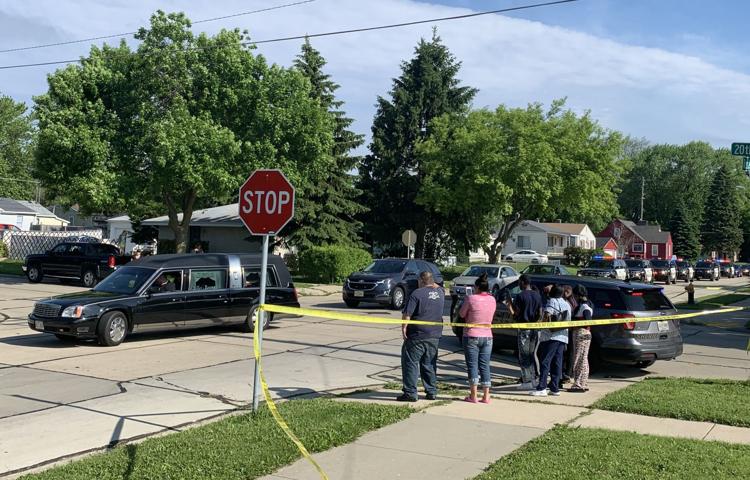 Processional for Officer Hetland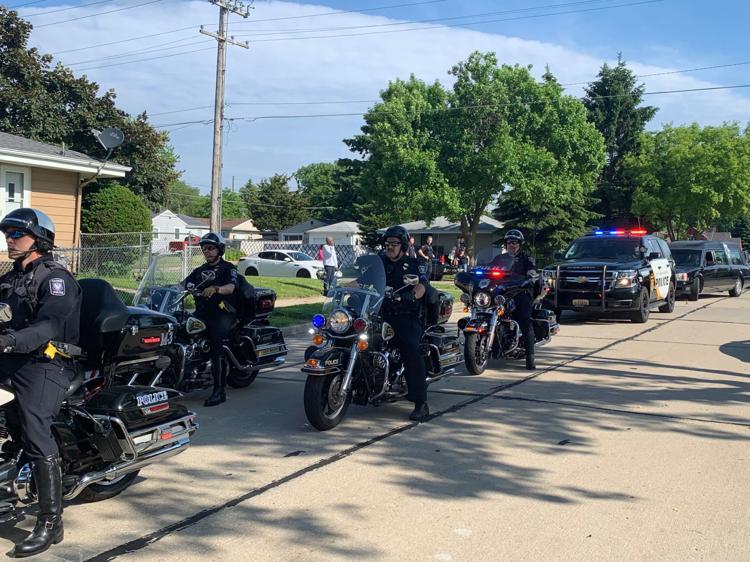 Processional for Officer Hetland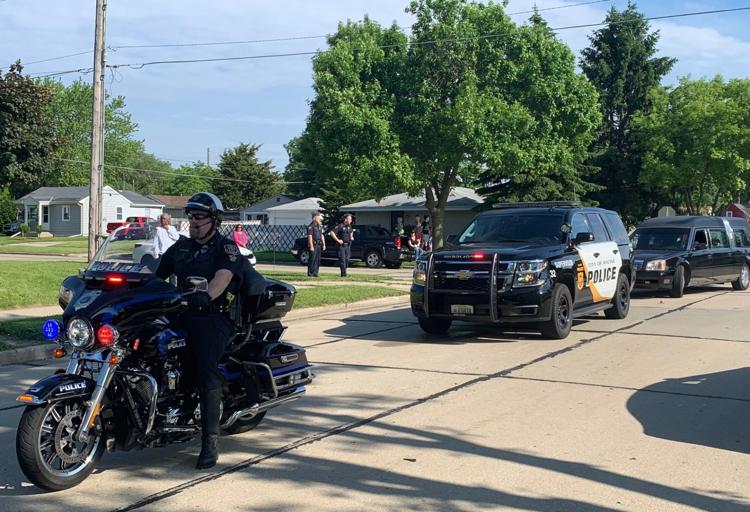 Processional for Officer Hetland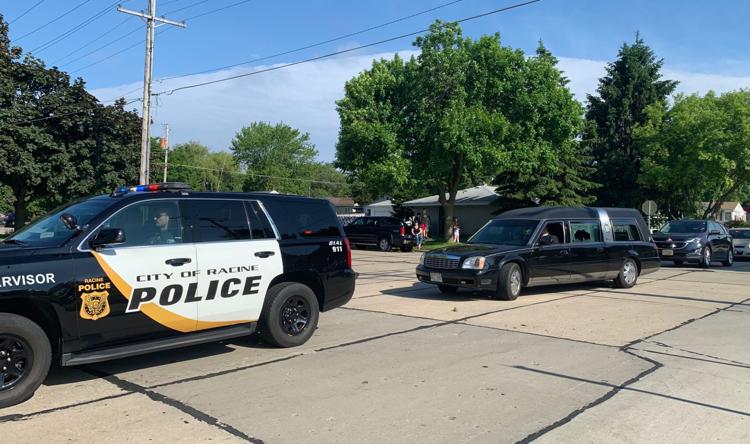 Processional for Officer Hetland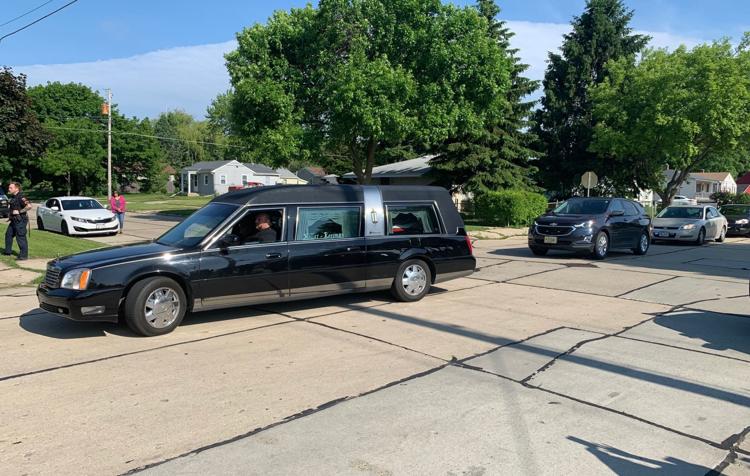 Processional for Officer Hetland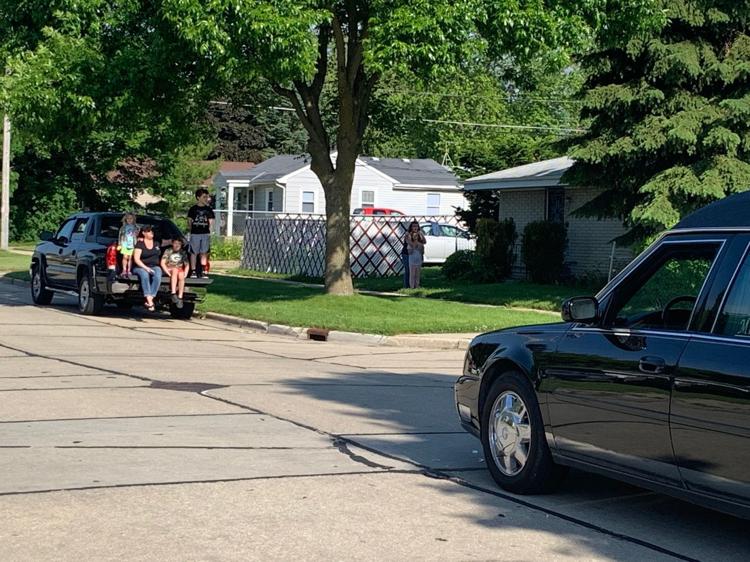 Processional for Officer Hetland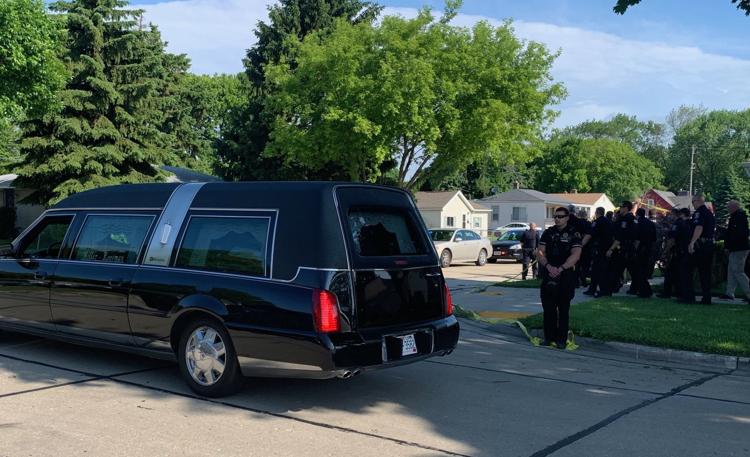 Processional for Officer Hetland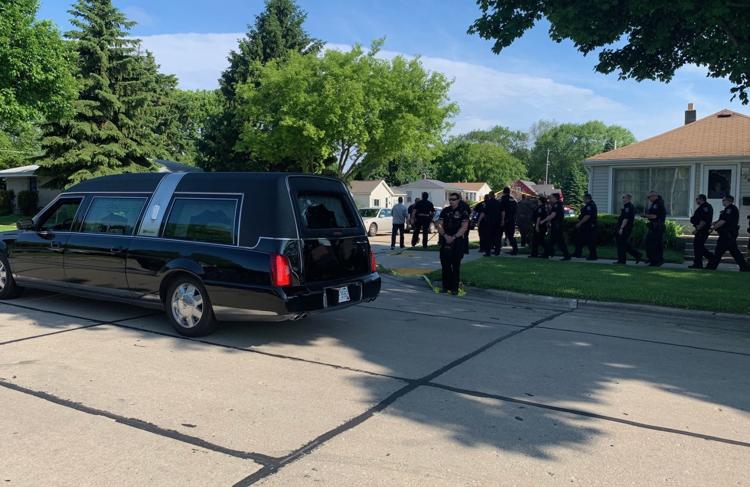 Processional for Officer Hetland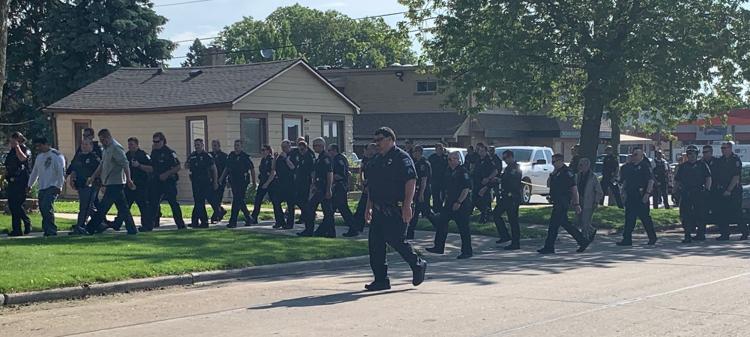 Processional for Officer Hetland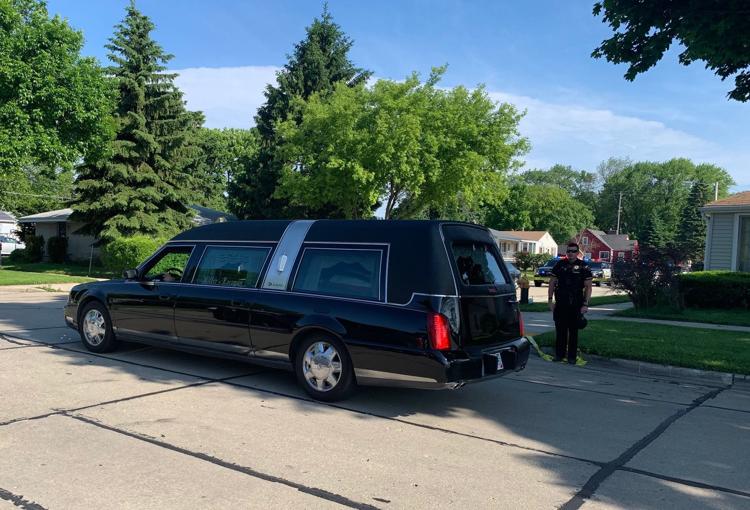 Processional for Officer Hetland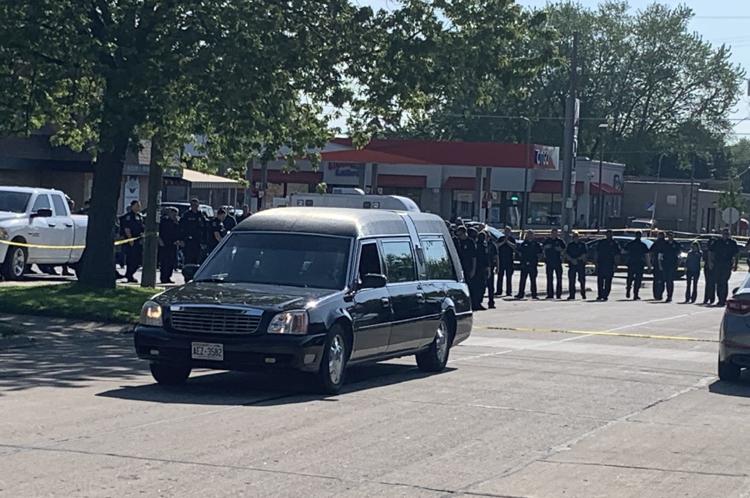 "Last night in Racine, we lost one of our superheroes. He wasn't even officially working at the time, but he was doing what he was trained to do for the past 24 years: protect the public." David Beth, Kenosha County Sheriff