RACINE — The accumulating costs of providing health care to current and former employees has left the City of Racine questioning how to spend its limited financial resources.
As of 2015, the city carried an unfunded liability for its retired employees' benefits of more than $503 million, according to an analysis by the Wisconsin Policy Forum. The report described the unfunded liability, determined by the city's contracted actuary, as a "significant threat" to Racine's long-term fiscal health.
The figure accrued as a result of a benefits package the city previously offered that covered 100 percent of the health care premiums for life for eligible employees. City officials say changes to its benefits package have tempered the liability.
The lifetime benefit was cut off for most employees hired after 2007, the Policy Forum's report states. Eligible active employees and new hires, however, are promised coverage between their retirement age and age 65.
A more recent actuarial study set the figure for the city's unfunded liability around $386 million. The drop of more than 20 percent is attributed to the city's decision to move some retirees to the Medicare Advantage plan for prescriptions.
History of the benefit
"Unfunded liability" refers to the estimated amount the city could have to pay for retirement benefits promised to its employees, amortized over 30 years. The bulk of the liability is for health care benefits, according to the Policy Forum.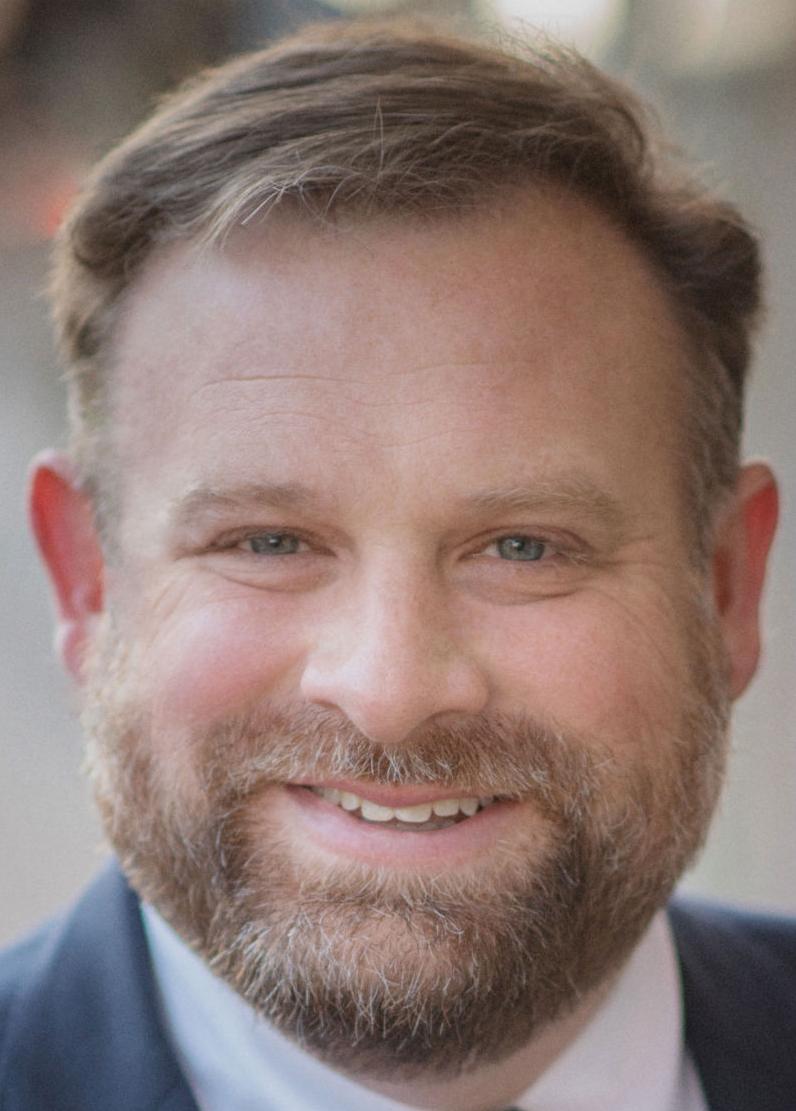 The analysis states that the actual liability won't be known until the benefit is exhausted and all the claims are paid. Mayor Cory Mason said that the total liability estimate is valuable but subject to change, as demonstrated by the recent drop.
"It gives you some indication of where you are, but it's not written in stone," he said.
David Brown, the city's finance director, said he expects the latest estimate to remain fairly stable, unless another opportunity for a major change comes along.
Unlike a pension, the city does not have to set aside money today for when the bills eventually arise. Many local government bodies opt instead to pay for the benefit as it is used.
"Politics being what it is, city councils, school boards and county boards agreed to provide benefits that somebody else would pay for later," said Charlie Carlson, a partner at the financial consulting firm Carlson Dettman. He has more than four decades of experience working with public sector employers on collective bargaining agreements, compensation plans and human resource systems.
The Policy Forum stated that Racine's pay-as-you-go health care costs were projected to increase on average $464,000 annually between 2016 and 2025, while its total operating levy grew an average of only $138,000 each year between 2012 and 2016.
Carlson said the City of Racine is not alone among Wisconsin communities that previously offered generous health care packages. The practice was common in areas where private-sector jobs were protected by strong union contracts. In the mid-1970s, that was a trait of southeast Wisconsin, Carlson noted.
Circumstances were different when the benefit was extended. Today's workforce is aging, with the Bureau of Labor Statistics estimating that 41 million workers by 2024 will be at least 55 years old. Many people are also retiring, Carlson said.
Costs rising
And health care costs are rising. BLS data show that growth in health care inflation, as measured by the Consumer Price Index, is outpacing growth in overall inflation.
In 2000, for example, the overall CPI grew 3.4 percent, while the medical care CPI grew 4.1 percent. Ten years later, overall inflation rose 1.6 percent, and medical care grew 3.4 percent. Last year, the overall CPI increased 2.1 percent, compared to 2.5 for medical care.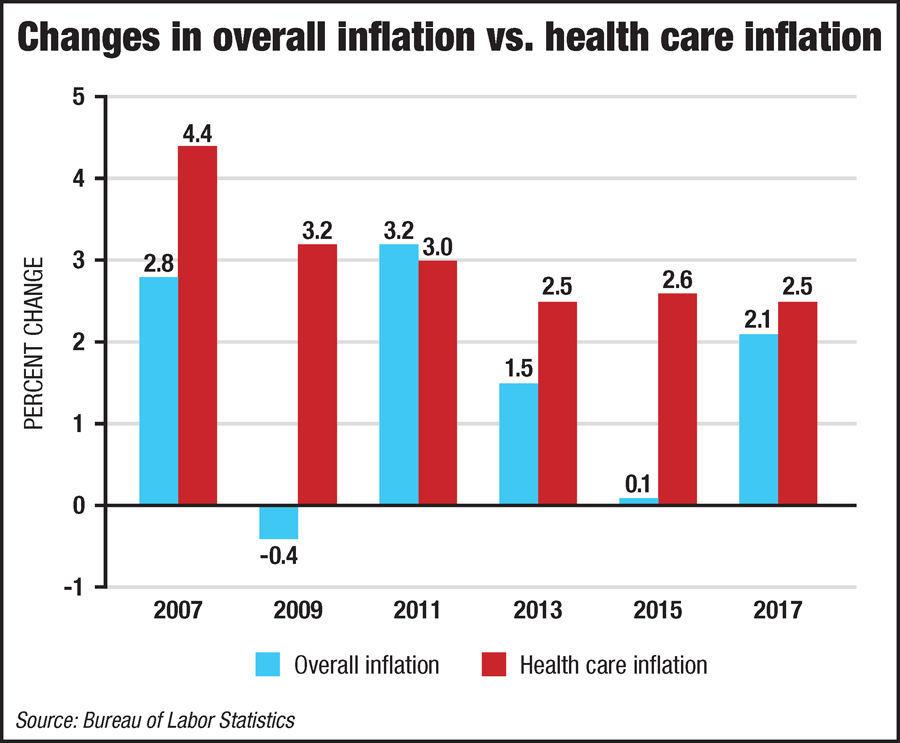 "You've got an extraordinary number of people drawing from what are now very expensive plans, and older folks tend to be the heaviest users of health insurance," Carlson said. "So the cost just exploded."
The Policy Forum's analysis shows that the City of Racine's liability grew about 38 percent between 2012 and 2015. The figure sat at about $364 million in 2012, and it rose to about $503 million three years later before dropping to the new estimate below $400 million. The analysis also states that increases in retirees' health care costs have been the main driver in recent years of the city's health care expenditures.
In 2016, the city spent about $13 million to pay for retirees' health care costs, well below the $32.7 million its actuary projected it should contribute to account for annual expenses and funding the long-term liability. City officials said that last year's actual contributions were around $10 million.
Racine is not alone. The Policy Forum noted in its analysis that the City of Milwaukee carries an unfunded liability of more than $1 billion. But on a per-capita basis, Milwaukee's liability amounts to about $1,715 per person, compared to $6,454 for every Racine resident at the end of 2015.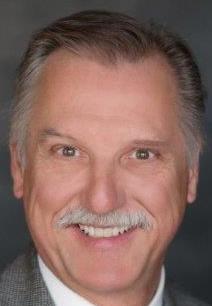 Jim Palenick, the city's administrator, said he expected updated reports to show the unfunded liability decreasing. Some of the people who were drawing the benefit are no longer alive, he said, and the city has made changes to its policy.
"All those things in combination are having an actuarial effect on the cumulative total," he said.
The Policy Forum's analysis also states that the liability estimate may be "overstated" if the city can beat the rise of medical inflation.
"The sheer magnitude of the unfunded liability means it would need to diminish by a huge margin for it not to be considered an overwhelming fiscal challenge for a local government with the revenue constraints and other expenditure pressures faced by the City of Racine," the analysis states.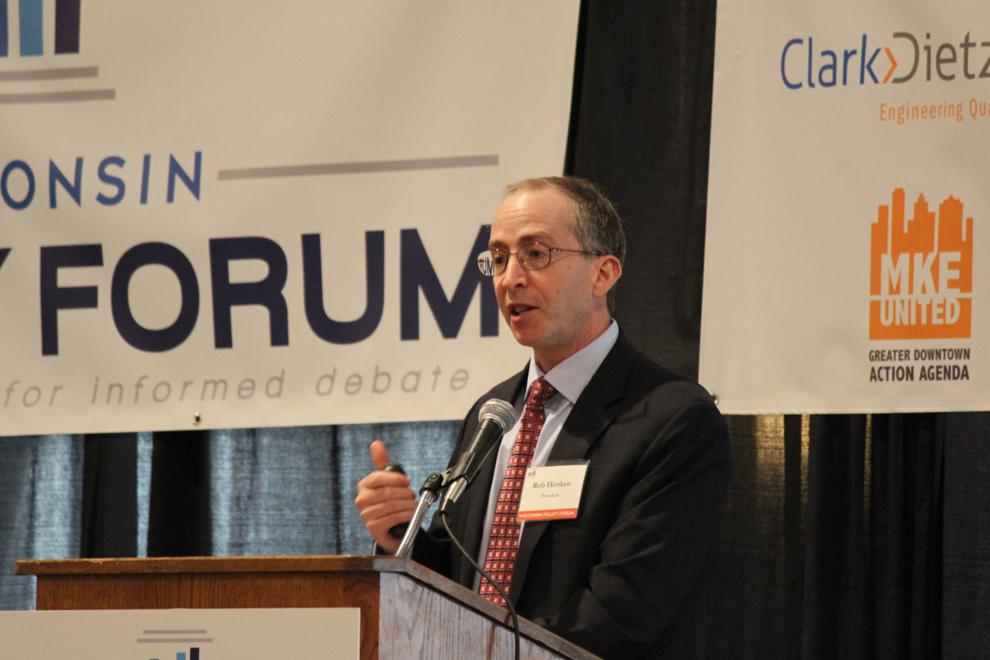 Rob Henken, the president of the Wisconsin Policy Forum, said the decrease in the overall liability is good news, but that it doesn't materially change the prognosis. The unfunded liability, he said, serves as a guidepost for city leaders and is a "warning signal" about costs that could eventually come due.
"It's all a concern, because it's going to be many decades until the obligation for the city to fund this … is going to start to go down," he said.
Other policies at play
The previous health benefit is not the only factor contributing to the financial struggle the city faces. Other city practices and state policies are also at play.
The City of Racine is effectively landlocked. The issue stems from the city's prior practice of providing sewer service to locations outside its boundaries without requiring annexation into Racine. That leaves the city with little room to grow.
In Wisconsin, municipalities' main source of revenue is through property taxes. Wisconsin communities need to grow if they want to increase their taxation capacity. State law, however, limits a municipality's ability to raise taxes by the amount of new construction that occurs within its bounds.
Henken said the idea behind the law was to protect taxpayers from increasing bills that were the result of rising property values.
Palenick said the city's landlocked borders, combined with the state's funding model, mean that Racine's best chance to grow the tax base is through in-fill development.
"The hope is (that you) somehow grow your way out of this," Palenick said.
Between 2012 and 2016, the Policy Forum's analysis shows, Racine's new construction never exceeded annual growth of 0.5 percent.
'What can we do?'
The analysis describes Racine's long-term financial picture as "very precarious."
"There is a threat that the city's limited revenue growth will be consumed annually by its long-term obligations, which would jeopardize service levels in general fund departments and preclude investment to meet new service demands or promote economic development," the report states.
Outside of growing its tax base, Palenick said the city has few options for dealing with its budgetary pressures.
"No one's looking to raise taxes," he said. "No one wants to have major cuts in services. No one wants to have people laid off and other things eliminated. So how can you generate additional revenues by greater investment, greater property and therefore greater taxes coming from that property? Because short of that, it's pretty obvious what we would have to do. We would have to make significant cuts somewhere."
Mason shared a similar sentiment. He said the statutory limitation on revenue streams, combined with increasing costs, means that "at some point, something's got to give."
The Policy Forum also noted that Racine could face legal challenges if it tried to further modify its health insurance benefits for retirees. The city may be limited to changes that affect only new hires or certain classes of its current employees. Officials could not identify potential future changes, stating only that they will always be vigilant for opportunities, such as the switch to the Medicare Advantage plan.
"It's not something that you just turn a corner and here's this holy grail that takes care of everything," Brown said. "It's just constantly looking at it every year: What can we do? What kind of changes can we make to keep costs in check?"
But any options could also pose unintended consequences. Palenick said it could be difficult to alter everyone's benefits the same way, even if it's an option. A less competitive benefits package could hurt Racine's chances at attracting a workforce.
"To the extent that we don't have quality benefits, it's an issue in recruiting and retaining people," Palenick said. "It is a Catch 22."
"No one's looking to raise taxes. No one wants to have major cuts in services. No one wants to have people laid off and other things eliminated. So how can you generate additional revenues by greater investment, greater property and therefore greater taxes coming from that property? Because short of that, it's pretty obvious what we would have to do. We would have to make significant cuts somewhere."

Jim Palenick, Racine city administrator