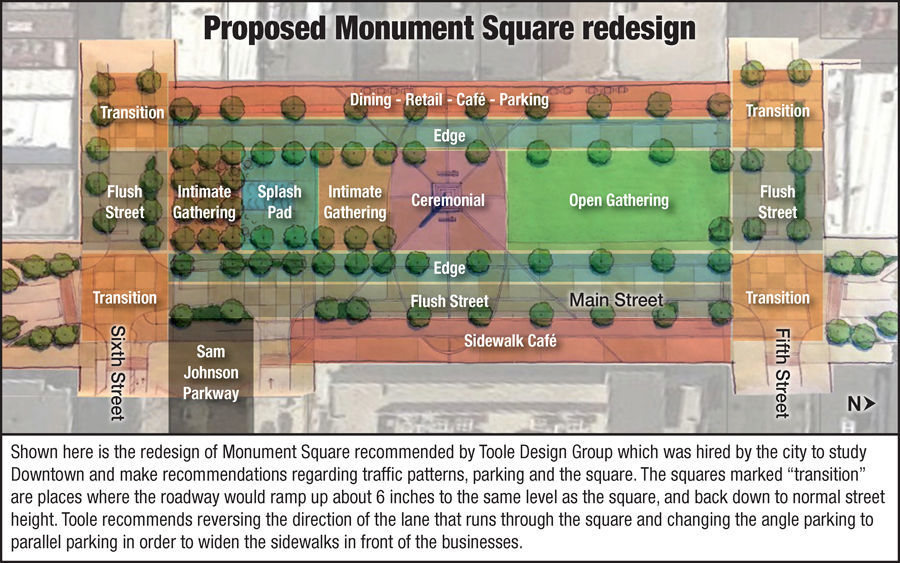 RACINE — Monument Square, at one time known as Haymarket Square, has taken numerous forms over the decades. And it's time to consider a new iteration, say the consultants hired to study and reimagine Downtown.
Silver Spring, Md.-based Toole Design Group presented its final designs and recommendations Thursday evening at the Johnson Building, 555 Main St., to an audience of about 50 people. Part of the presentation was Toole's vision for what Monument Square could be.
Ian Lockwood, a principal and transportation engineer for Toole, showed photos of how other U.S. cities had transformed their downtowns or central squares to create successful gathering places and event sites.
With Monument Square, Toole set out to design a space that, among other things: had flexibility, space for children and would be right for small to medium-size events; is inclusive for everyone by being flush with the adjacent streets; connects with all forms of transportation, including walking; provides shade; provides views; and is intuitive for various uses.
Ken Ray, Toole's deputy director of landscape architecture, then listed Toole's observations about how Monument Square is lacking, including these points:
The surrounding streets are barriers.
The hard surface to soft surface proportion is wrong.
It has a lack of shade.
There is no "clear plaza function."
The small monuments and art are hidden by hedges.
The metal bollards, or posts, are unnecessary.
Numerous changes suggested
Ray said changing Downtown's one-way streets to two-way streets would be a precursor to redoing Monument Square. With those changes, Toole's redesign of Monument Square recommends replacing its angle parking with parallel parking, to widen the sidewalk in front of the businesses and thereby invite more outdoor seating and dining options.
But Toole also recommended creating angle parking — back-in parking — along the east side of Wisconsin Avenue in that block, the "B side" or loading side for those businesses. With those additional spaces, the net parking loss would only be five spaces, Lockwood said.
Toole suggested flipping the direction of the lane that goes through the square and bringing the trees out somewhat from the facades of the businesses to create about a 20-foot-wide sidewalk.
The recommendations include raising the adjacent portions of Main, Sixth and Fifth streets by 6 inches, with ramps at the edges, to meet the square's level. That would make it accessible to anyone getting out of a car in those areas.
The redesign envisions much more grass and many more trees than the current Monument Square has. Toole also recommended a small water feature within the square's south end.
The Civil War monument would not be moved.
In answer to a question about how long the changes might take, Toole Project Engineer Raj Mohabeer said the street changes might require one year for planning and a second year of implementation.
"It will move as fast as the staff is able to," he said. "Just support them in the process, but it can be done relatively quickly."
To redo the square itself, Mohabeer said, would require about one year for planning, another year for design and "in about five years, it gets built."