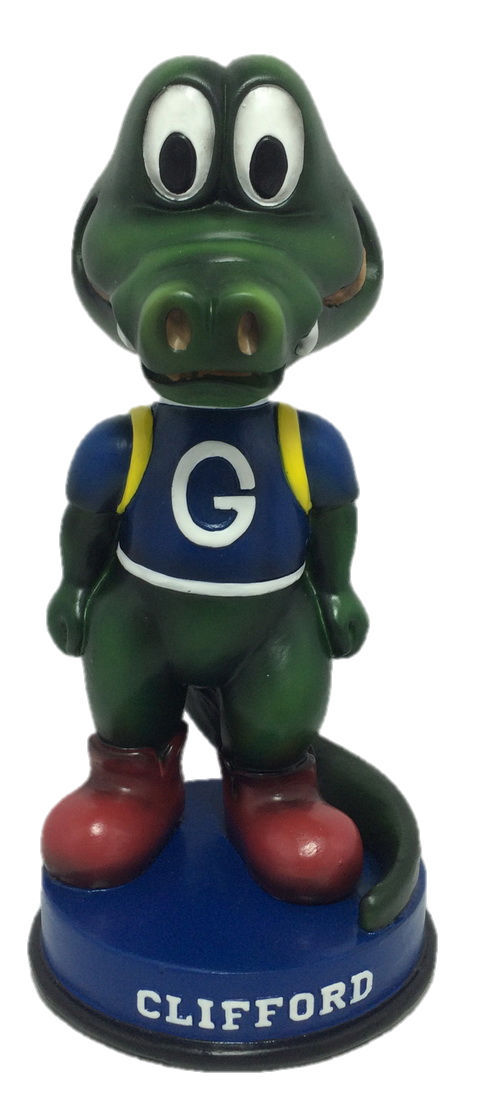 CALEDONIA – Gifford Elementary School's mascot is in the news again and his head is bobbling.
He is joining the ranks of a multitude of Brewers players and national celebrities because Clifford the Gator now has his own bobblehead, which was publicly unveiled Thursday.
Clifford the Gator, the mascot which stands in front of Gifford Elementary School, 8332 Northwestern Ave., greets students every morning as they are dropped off for school.
But last March students arrived to school and found their mascot Clifford headless after vandals removed his head. It was later returned, but it was severely damaged.
It took all summer to repair him, and Clifford missed the first two weeks of school. He finally returned in early September with both his original body and head fully restored.
Hearing this story, Phil Sklar sought out the school to see how he could help.
As the co-founder and CEO of the National Bobblehead Hall of Fame and Museum in Milwaukee, which is expected to open next year in a yet to be announced location, Sklar thought a bobblehead could help the school build up its school spirit and raise money.
He went back and forth with school representatives to decide on a final design.
One thousand bobbleheads were made and they are being sold for $15 each, with $5 going back to the school.
Clifford the Gator has been the school mascot for Gifford Elementary for over 20 years, according to a press release, and Clifford has stood outside Gifford since about 2002 when third-grade students worked with a local artist to design the statue.
"The students at Gifford are so proud of Clifford, our beloved mascot. When they see the high quality memento they can purchase, as a keepsake memory of their earliest years in education, they will cherish him, too." Les Hunt, Gifford's principal said in a press release.