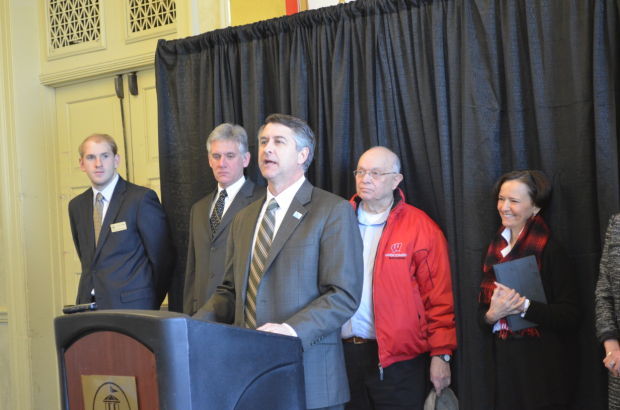 RACINE — Repairing Pershing Park Drive has been on the city's list of infrastructure improvement jobs for a while.
Now it's about to get a $250,000 grant from the U.S. Environmental Protection Agency to help pay for the work and transform it into a project that also will help keep contaminated stormwater out of Lake Michigan.
Rather than constructing the street so that stormwater flows into gutters and traditional storm sewers, as it had planned to do, the grant-supported project calls for creating a number of bioswales along the roadway. Constructed from soil, plants and other natural materials, bioswales are natural channels designed to retain and filter stormwater.
"What we are going to do is take all the runoff from the municipal parking lot ... and reroute that surface runoff over land through a bioswale that will be constructed pretty much along the entire west side of Pershing Drive," City Engineer John Rooney said.
Announced Wednesday afternoon at a press conference at Memorial Hall, the $250,000 "Great Lakes Shoreline Cities Green Infrastructure Grant" is also expected to help fund part of the ongoing restoration work at nearby Samuel Myers Park. Stormwater retention has been a key part of the plan to transform the beach and surrounding vegetation.
Combined with a $167,000 grant from the nonprofit Fund for Lake Michigan, the EPA grant could end up providing more than half of the dollars needed for the $720,000 Pershing Drive project.
To come up with the rest of the money, the city will use infrastructure improvement funds it had already allocated for Pershing Park Drive and the replacement of the nearby municipal parking lot, City Administrator Tom Friedel said.
"It allows us to do a project that we would have normally spent half a million dollars on, from all local sources, and make it a $720,000 project from more sources," Friedel said. "We are doing a better project than we could have."
The restoration of Samuel Myers Park, which was in its early stages last year, is expected to cost close to $1.2 million, but Julie Kinzelman, laboratory director for the Racine Health Department, said she has already received a number of smaller grants that have provided upwards of $400,000 of the cost. The full restoration includes removing invasive plant species, adding native plant species and possibly creating walking trails and a boardwalk.
Work on both projects is expected to begin in earnest this summer, with the Pershing Park Drive project expected to be wrapped by the fall.
Joined by representatives from the EPA and the Fund for Lake Michigan, Mayor John Dickert said Wednesday that the EPA grant is the result of lobbying the Legislature and Congress to continue to fund efforts that protect and rehabilitate the Great Lakes.
"Oftentimes people ask me, 'What are you doing when you are out in Washington D.C.? What are you doing when you are out in Madison?' Well, what we are doing is we're working very hard to tell the story of Racine ... to make sure that we bring back the funds necessary," he said.