RACINE COUNTY — After church festivals across the county were canceled last year due to COVID-19, some are back this year, some are virtual and some are still tentative.
The two biggest in Racine County, at St. Lucy and St. Rita, are aiming for big returns in 2021. But St. Lucy's festival is being held outside of the city, and St. Rita still needs help from the community to pull off its festival.
The planned returns with changes are emblematic of what stage American society is at regarding the pandemic: it's almost over, but not quite yet.
Guidance
The "Catholic Comeback" from the Archdiocese of Milwaukee is a guide to returning to parish operations and ministry. The last version of the guide was published May 20 and states outdoor festivals are allowed starting July 1 and must follow all requirements, restrictions, guidelines and safety protocols established by the Centers for Disease Control and Prevention, the local municipalities and local health departments. Takeout or outdoor food service is preferred.
Festival organizers must develop COVID-19 safety plans for the festival, submit and get approval, if necessary, from local health departments and municipalities and send copies of the safety plans to Archdiocese and Catholic Mutual Group representatives.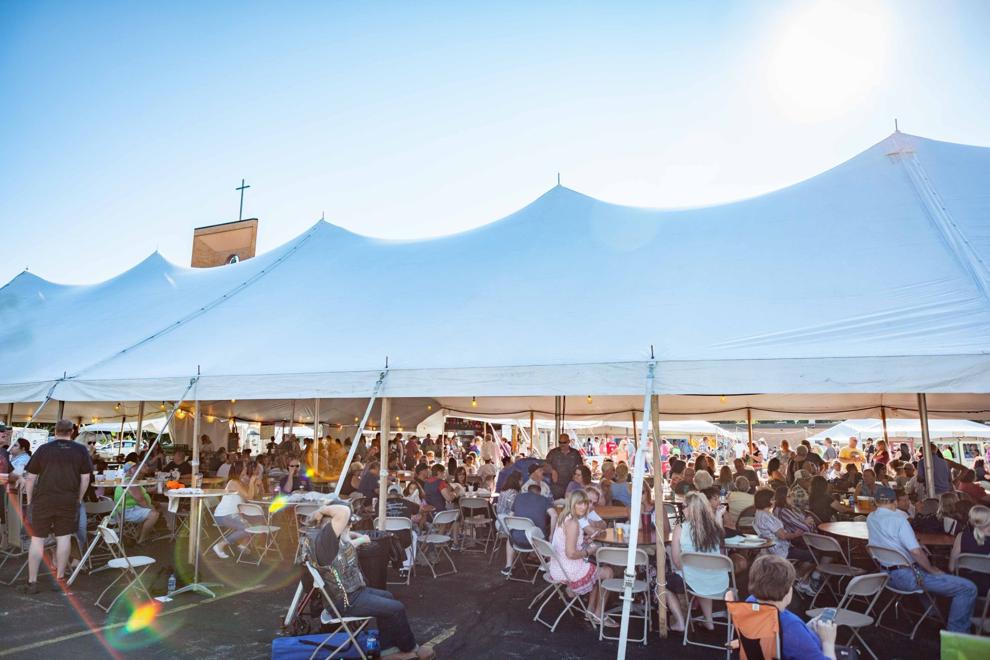 St. Lucy Music Festival
Attendees of St. Lucy's Festival fill the music tent in July 2017. This year's event will focus primarily on music and has been renamed the St…
Lucy, meet Sebastian
St. Lucy Festival is back this year after taking a year off due to COVID, and things will be a bit different. The festival has a new name, dubbed St. Lucy Music Festival, and will be located at St. Sebastian Catholic Church, 3126 95th St. in Sturtevant, instead of at St. Lucy in Racine.
Festival dates are July 9-11.
A virtual silent auction will take place all weekend, in contrast with the festival's usual in-person silent auction. St. Lucy's meat sweepstakes will continue all weekend.
Beer, wine and soda will be available for purchase as well as a smaller selection of food … but brats, hamburgers, hot dogs, fried food and snacks have not been taken off the menu. The fest will not have indoor dinners, a kids' game area, bakery nor the typical rummage sale.
"We're making this simple; this is a simplified version of our festival," said St. Lucy Music Festival chair Pat McLeod.
McLeod said it feels good to have the event going on again this year.
"We're really excited," McLeod said. The location change was because organizers weren't sure what the restrictions would be in Racine at the time of the festival, and Sturtevant didn't have restrictions. St. Sebastian is St. Lucy's "sister parish," meaning both churches share a pastor.
With this year's fest focusing on music, the lineup features bands from multiple genres such as country rock, old school rock, top 40 and more. Find more information about the bands and performance times, as well of a schedule of events on the website, stlucychurch.org/festival.
"St. Lucy's Festival is always a huge draw in Racine. That's when you run into people you know once a year," McLeod said. "Things are opening back up but there really haven't been any big festivals yet. We're excited to have people back out to see their friends and hear the music. We want everybody to come back out again."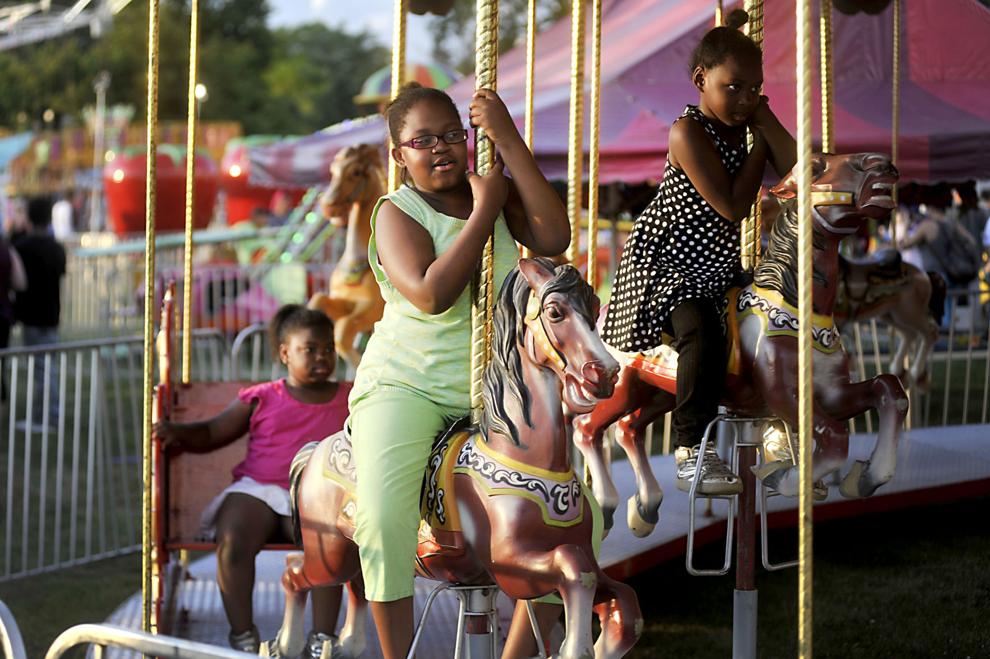 St. Rita Festival 2019
The Bailey sisters — from left, Sharay, Shamereki and Sharee — ride a merry-go-round during the 2019 St. Rita Church Festival. Organizers say …
St. Rita Festival 'fluid right now'
The St. Rita Festival in Racine is tentatively scheduled for Aug. 20-22, and the organizers need volunteers to make it happen.
"We're like any church festival. You have to have volunteers because it's nonprofit," said Dan Schrank, festival chair.
Within the last year that the festival didn't take place, some volunteers stepped down or grew older, causing the volunteer list to shrink, Schrank said.
Schrank declined to provide any details of preliminary festival plans because the festival still is tentative. "Nothing's concrete or final at this point." However he noted plans will be finalized around mid-July.
"We're taking all direction from the Central Racine County Health Department," he said. "If we have enough volunteers, we'll have a festival, and the number of volunteers we get will determine the size of the festival. It's fluid right now."
"If we don't have a 75% volunteer commitment by July 1, we might have to cancel our plans," the website said.
Schrank said he hopes there is a festival at all, and that it is "a place for parishioners and the community to get together and have a place to congregate with one another."
"People will hopefully be able to relax and enjoy life, which would be a nice change from last year," Schrank said.
Fundraiser without a festival in Burlington
The St. Mary Fun Fest in Burlington will go virtual once again this year. Instead of the usual live music, a bags tourney, inflatables and face painting for the kids, this year's event includes a silent auction, annual sweepstakes with the chance to win up to $5,000 and a $250 Gooseberries Fresh Food Market gift card raffle.
The cafeteria will be open for participants to view auction items June 26 after 4:30 p.m. Mass until 8 p.m. Sweepstakes and Gooseberries grocery raffle tickets are available at the St. Mary Rectory, 108 McHenry St. in Burlington.
"I'm excited about it (the online event), but I'm looking forward to an event where we can get together," said Melinee Burnett, festival chair for St. Mary Fun Fest. "We want something in person soon."
The parish may do something small in the fall, such as a dinner, she said.
Waterford looking to 2022
St. Thomas Aquinas Parish, 305 S. First Street (Highway 20) in Waterford, has canceled its St. Thomas Country Fair again this year.
The decision came due to the Catholic Comeback's date of July 1, and the St. Thomas Country Fair is typically held in June.
Festival organizers did not respond to requests for comment. However, the fair's website states: "We looked at many options, including moving to a later date, but with band contracts and other scheduling challenges, we had to make the difficult decision to cancel. The St. Thomas Country Fair will return! Save the date for next year's fair, June 2-5, 2022!"