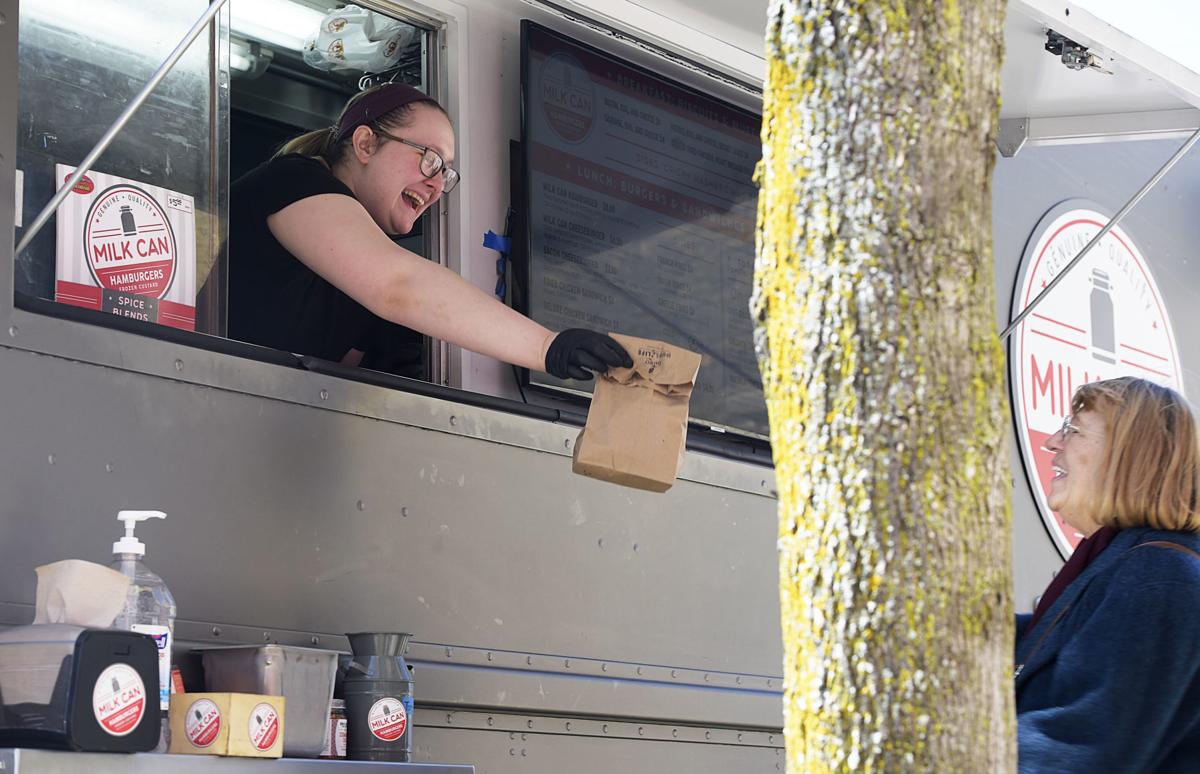 RACINE — "I just make good burgers man. It's enough to pay the bank," Kurt Fogle says to a customer while standing on State Street's sidewalk near Downtown on a sunny Thursday morning.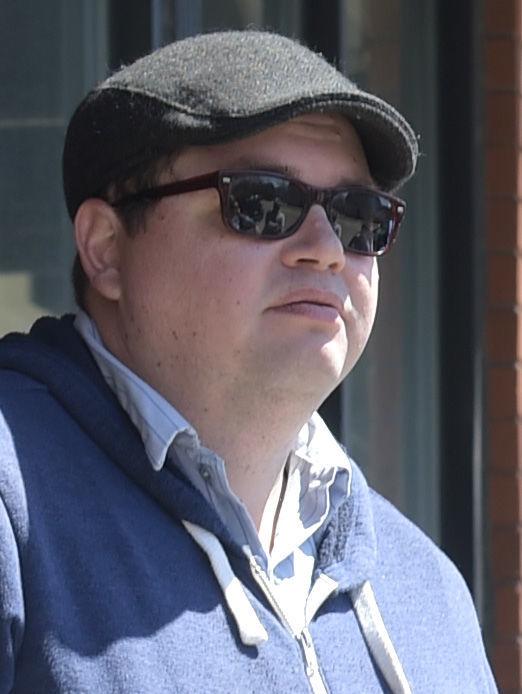 Fogle, a 2000 graduate of Park High School, is now the owner of the Milk Can Hamburgers & Frozen Custard, a food truck that has not been without its share of struggles even before it started serving roadside burgers in Milwaukee last fall.
Milk Can was supposed to be a brick-and-mortar vendor at a new Milwaukee food hall, 3rd Street Market Hall, planned for 275 W. Wisconsin Ave. as part of a wider transformation project known as "The Avenue." But those plans have been continually pushed back over the past year. And now, due to coronavirus, they are effectively on hold.
So, Fogle put his burger-making talents on the road by opening the food truck, which has been serving since October. It's usually parked at 644 N. Plankinton Ave., just west of the Milwaukee River and across the street from The Riverside Theater.
But on Thursday, it came to Fogle's hometown.
Fogle and Angela Downs, who co-owns the Pakistani street food restaurant Chit Chaat at 550 State St. with her husband, have been friends since they went to Park High School together.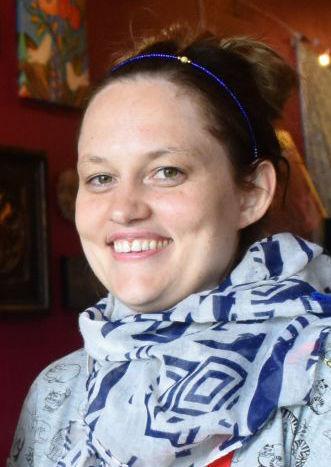 Downs saw the fast success and attention Milk Can has gotten in just its first few months of business, so she invited her former classmate to park in front of Chit Chaat for a day.
"I saw his business blowing up on social media. So I thought, 'Let's do a collaboration,'" Downs said while her husband, Junaid Shafique, worked inside the food truck with Milk Can's normal staff.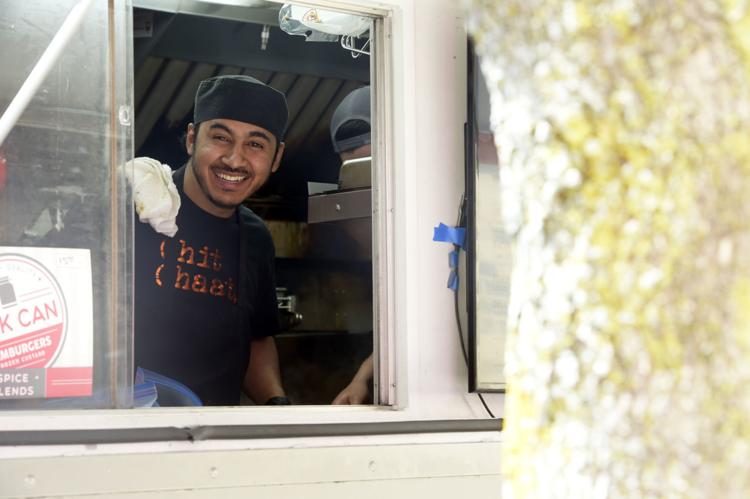 The Wisconsin classics even received a Pakistani treatment, with a "lamburger" with pickled cabbage, cilantro and mint being offered alongside the typical American burgers.
Among Milk Can's early online rave reviews was one from Lori Fredrich, a senior writer with OnMilwaukee.com. She told readers "You gotta go" check out Milk Can because "The cheeseburger was exquisitely messy (you'll need napkins) with a beautifully toasted bun, a tasty beef patty, plenty of condiments, great pickles, tasty onions and just the right amount of cheese. The fries are crisp and coated with a seasoning blend that makes them downright addictive. If you've ever had tortilla chips seasoned with that citrusy-salty-and-slightly-sweet spice blend that you can't stop eating ... these are just like that."
More than two dozen hungry customers crowded in front of Chit Chaat on the State Street sidewalk during the lunch hour Thursday afternoon. Looking at it, you might forget there's a pandemic going on, except for a lot of the customers are wearing masks and were standing a few feet apart from one another while they waited for their food.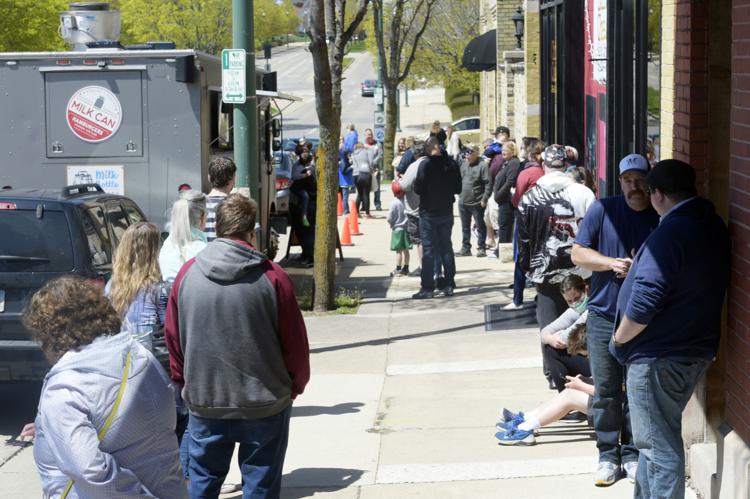 Like restaurants being open for takeout, food trucks are allowed to be open amid Safer at Home: they don't have any common seating areas to close off anyway.
Tracy Baumstark, one of Thursday's State Street customers, said she came down on Thursday after hearing online that Milk Can "had really good food."
Although an abundance of people working from home and canceled events have forced food truck business nationwide into a downward spiral, Fogle has been optimistic.
"I think the stay at home order has made it (a food truck) more of an entertainment option," Fogle said. "It's familiar enough that you trust it. It's slightly different enough that makes it interesting."
That level of uniqueness is what Fogle is relying on to stay alive while the entire food service industry suffers. Months down the road, when Wisconsin returns to normal and 3rd Street Market Hall is finally able to open, Fogle will reassess Milk Can's food truck business.
For now, it'll be serving on wheels.
Concerned about COVID-19?
Sign up now to get the most recent coronavirus headlines and other important local and national news sent to your email inbox daily.