CALEDONIA — The new Casey's General Store at the corner of Four Mile Road and Charles Street opened on Thursday.
It took nearly two years of construction delays and neighborhood complaints — resulting in limited hours of operation and lighting restrictions for the gas station/convenience store — but the Casey's at 1306 Four Mile Road is expected to finally be open on Thursday, Feb. 20, the company confirmed to The Journal Times.
A grand opening celebration is planned for March 6.
The store hours are 5 a.m.-10 p.m. seven days a week, with carryout hours from 5 a.m.-9:30 p.m. seven days a week; Casey's General Stores are known for their pizza, particular in the corporation's home state of Iowa.
"At Casey's, our purpose is to make the lives of our guests and communities better each day. We are excited to join the Caledonia community," Katie Petru, director of communications for Casey's General Stores, said in a statement.
Despite those setbacks, it is kind of opening ahead of schedule. In October, Petru told The Journal Times that the Caledonia Casey's would likely open for the first time in the second half of 2020.
The structure at 1306 Four Mile Road finally started going up in fall 2019.
With the opening this week, there will be our Casey's locations operating in Racine County:
Caledonia, 1306 Four Mile Road
Waterford, 991 Main St. (Highway 20/83), which opened in early 2018
Burlington, 100 S. Dodge St., which opened in the first half of 2019
Rochester, 2728 Beck Drive (Highway 20 at Highway 36), which opened in December.
Open for business!
Here are a few businesses and restaurants new to Racine County in 2019.
Cheers! West Racine no longer dry with opening of Dunk's Public House
RACINE — The T-shirts that John Dunk had made underscore the significance of his new West Racine business venture. They declare, in a typeface that looks like it came straight from the 1920s: "Prohibition ends at last!"
Dunk, whose prior tavern was John's Dock, officially opens his new one, Dunk's Public House, at 5 p.m. Thursday, Nov. 21. Dunk's is nestled into the middle block of West Racine's three-block heart.
It's West Racine's first bar since at least 1920 when U.S. Prohibition began. Prohibition ended in 1933 — but not entirely in Racine where, two years later, the City Council created three "dry" districts in 1935.
Earlier this year, the city lifted West Racine's old alcohol ban.
"I'd like to think it's historic," Dunk said Wednesday. "In our soft opening, we're meeting a lot of the neighbors who are excited that they have someplace to go without getting in their car and going somewhere."
Dunk's journey into West Racine began in fall 2018 when his landlords, the Dick Pugh family, declined to extend his lease at John's Dock, 303 Dodge St. Dunk went out looking for a building to buy and found 3207 Washington Ave., which he said housed a bakery from the 1920s to the 1970s. Most recently, Security Finance was located there.
The word "dock" no longer applied to Dunk's new location, so for his new business' name he chose "public house," a chiefly British term for a licensed saloon or tavern (pub for short), a term which Dunk said is found throughout Western Europe. A customer suggested it, and the Dunk family voted it in.
One thing that did carry over from John's Dock was the staff: All eight of Dunk's present employees — including his son Ben — came from his previous bar.
Revised menu
Dunk found his new building last October, got approval to transfer his liquor license last Nov. 14 and closed on the purchase in December. He'd hoped to open in March or April but wound up putting a lot more money, work and time into the building than he expected. The original maple floor — which had been trapped under several layers of other materials — is now on proud display, as are the brick side walls.
Including the new kitchen, Dunk estimated he sank about 2½ times more money into the renovations than he spent for the building itself.
For Dunk's Public House, he chopped the number of menu items from John's Dock by about two-thirds. "We have upscaled some of it," Dunk said, and most of the appetizers are handmade.
The menu features salads and soups, a Friday fish fry and a la carte entrees including:
Large chicken legs. Dunk said he chose them because they give a better meat:bone ratio than wings;
Burgers, pulled pork sandwiches and Dunk's sloppy joe;
A black bean burger; and
The BBBBBLT, with five bacon slices.
There are eight beers on tap, seven of which will be craft beers.
Blessing in disguise
Dunk said being made to leave his riverfront location creates new opportunities. "Our summer business was amazing," he said. "… But we made a living for four months out of the year, and we spent everything we made trying to stay in business until the next summer."
In his new location, he said, "We're excited about the opportunity to have business all year round."
About the West Racine business district, Dunk said, "It's a shame to see that it's not as vital as it once was. Hopefully, we can make a little bit of a difference here. It's a great neighborhood."
Starting Friday, Dunk's Public House will be open Monday through Saturday from 8 a.m. to bar close; 8 a.m. to 9 or 10 p.m. Sunday; and 11 a.m. to 10 p.m. for food. For more information, call 262-800-1094.
11092019-JT-Holiday_Parade-GSP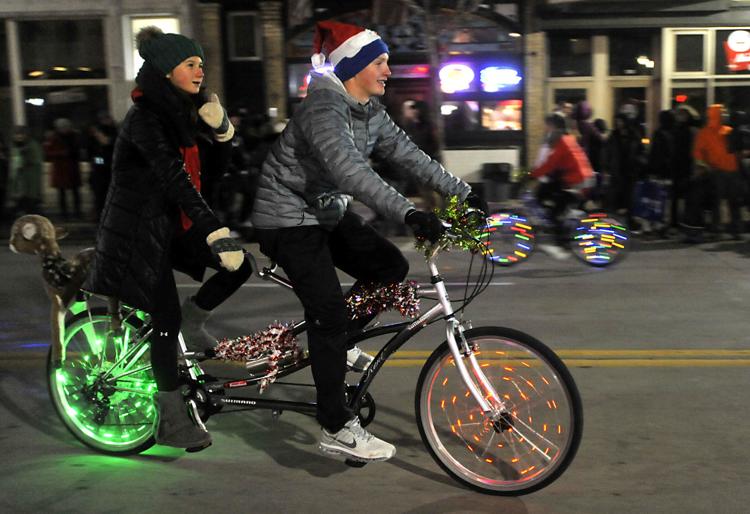 11092019-JT-Holiday_Parade-GSP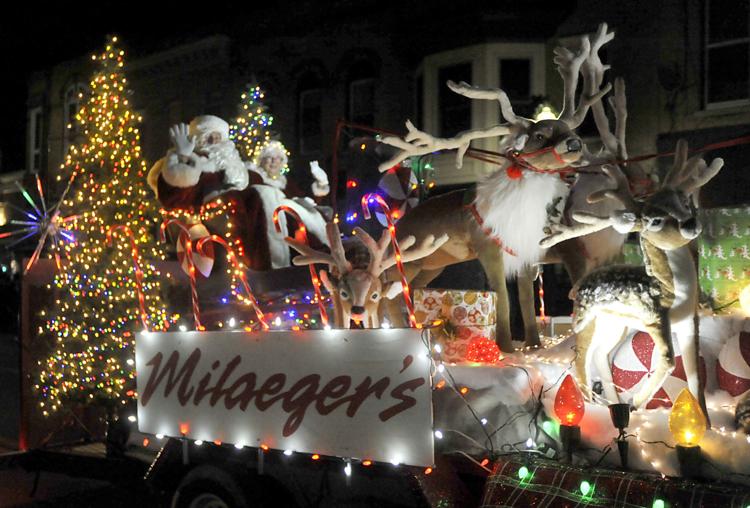 11092019-JT-Holiday_Parade-GSP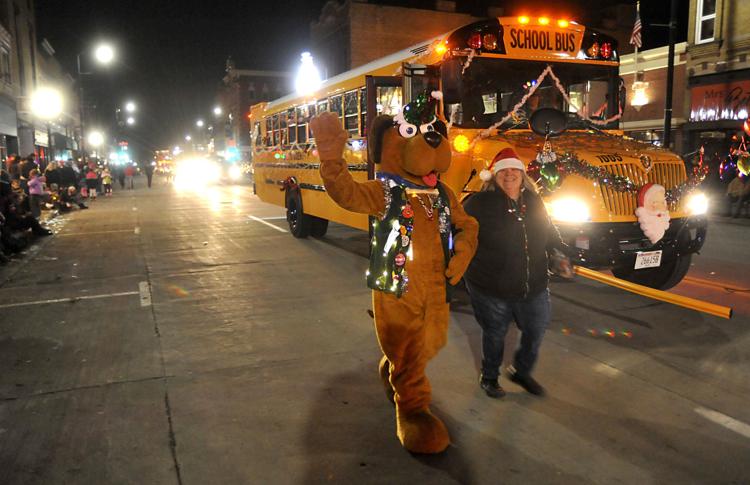 11092019-JT-Holiday_Parade-GSP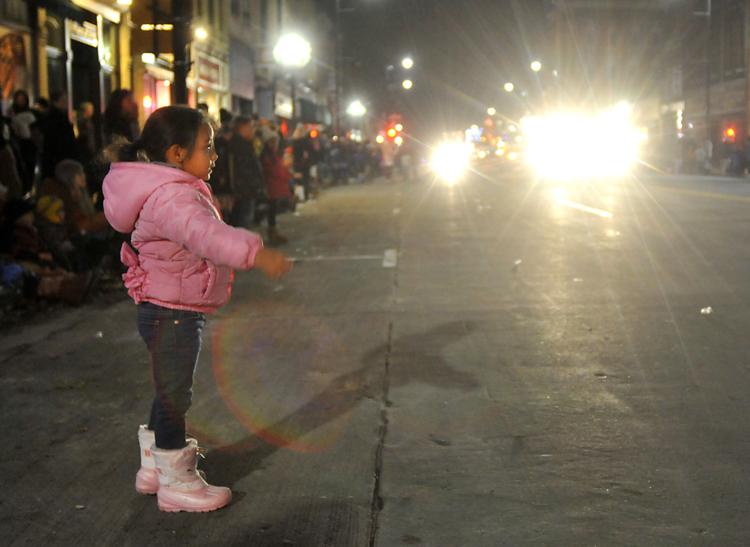 11092019-JT-Holiday_Parade-GSP
11092019-JT-Holiday_Parade-GSP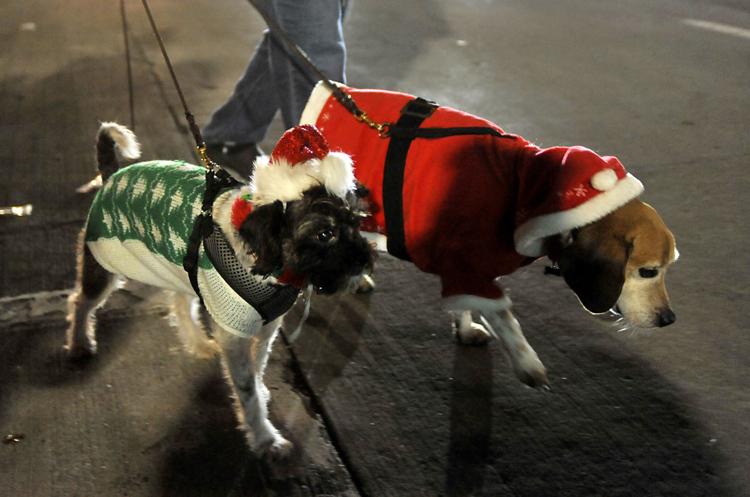 11092019-JT-Holiday_Parade-GSP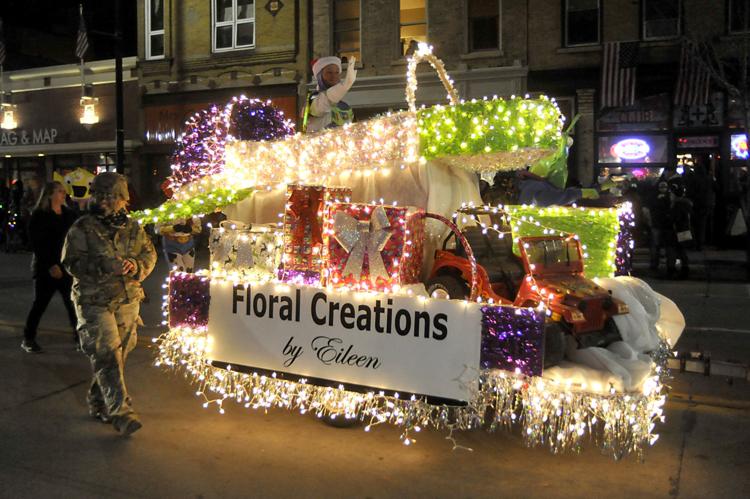 11092019-JT-Holiday_Parade-GSP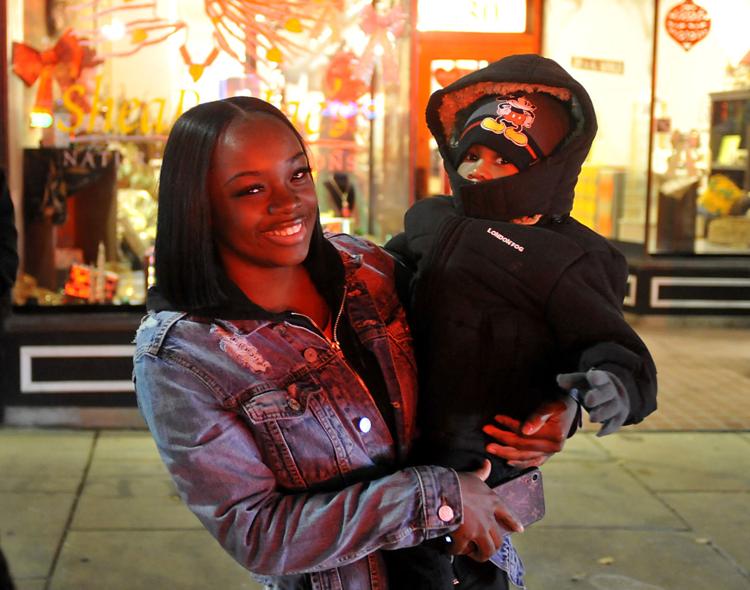 11092019-JT-Holiday_Parade-GSP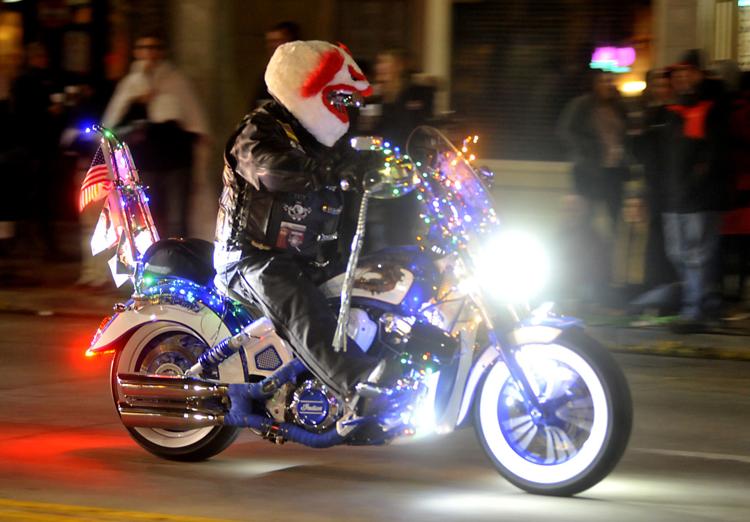 11092019-JT-Holiday_Parade-GSP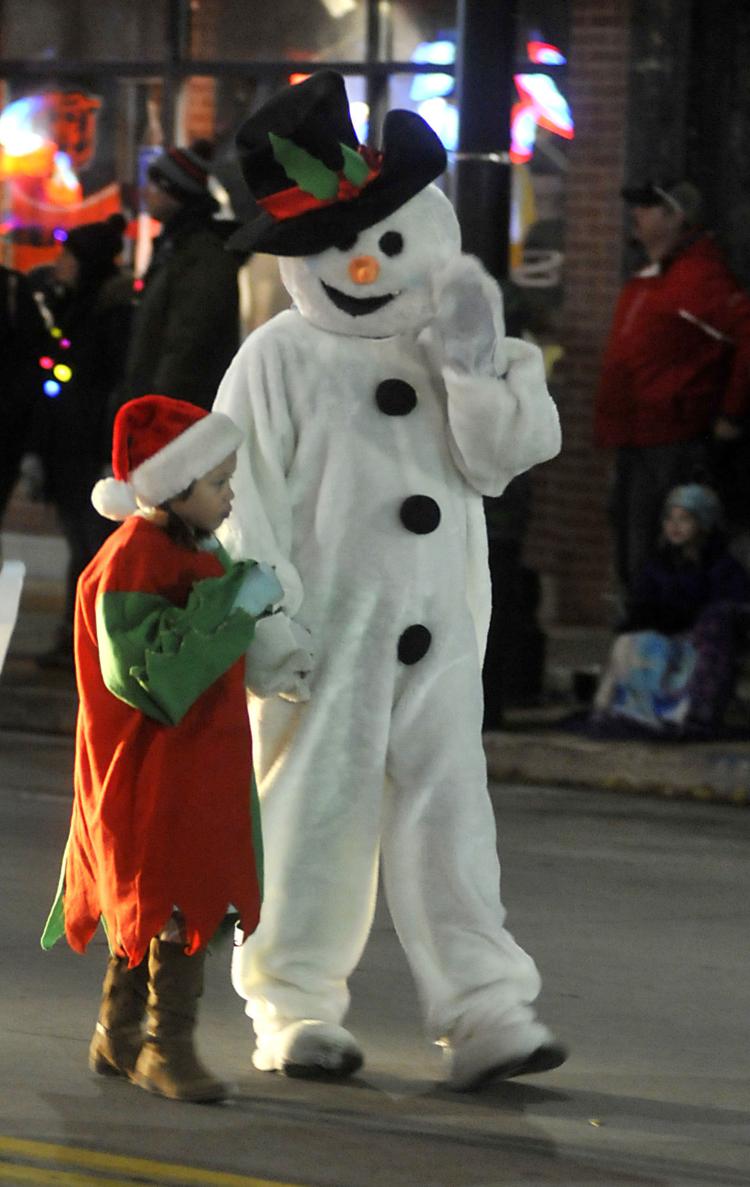 11092019-JT-Holiday_Parade-GSP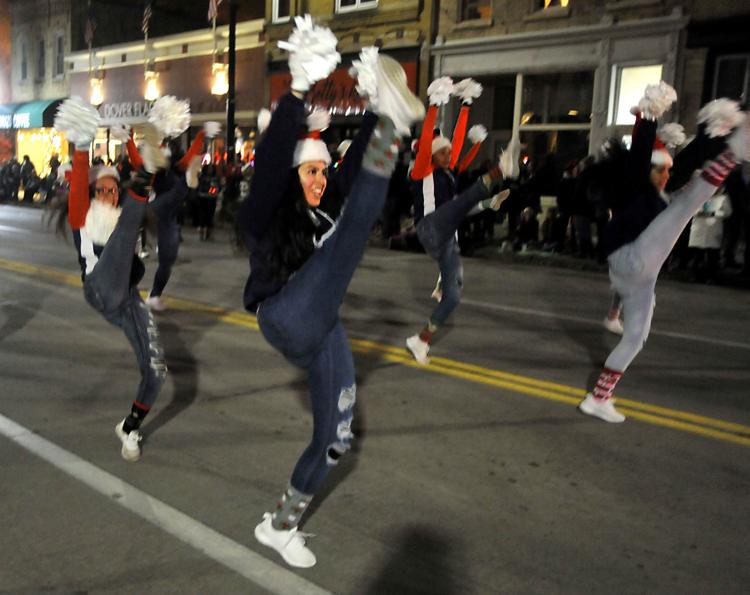 11092019-JT-Holiday_Parade-GSP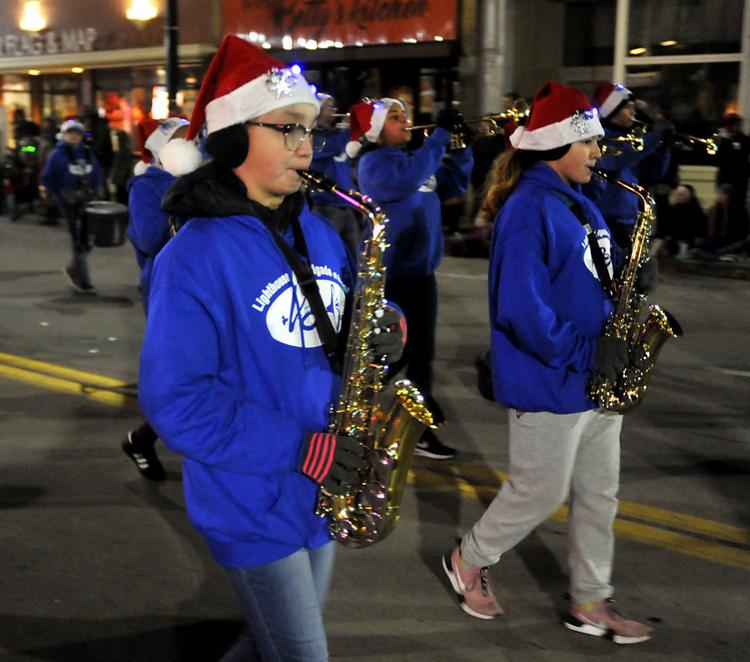 Doering&Co. Real Estate opens Downtown Racine office
RACINE — Doering&Co. Real Estate, which has had its head office in Waterford, has opened an office in Downtown Racine.
Doering&Co.'s first office in the county was at 229. E. Main St., Waterford. its new office is at 410 Main St., Suite 1. To mark the occasion, the firm has scheduled a public open house from 4-8 p.m. Wednesday at 410 Main St.
A full-service real estate company, Doering&Co. offers a performance-based platform which holds itself accountable for each suggested list price and reducing its commission percentages when the selling price falls to certain levels.
Leading the company's Racine team will be real estate agents Kelly Jensen and Jenny Kortendick. Together, they will cover a territory that includes Racine and Kenosha counties. For more information, call Jensen at 262-939-3650 or Kortendick at 262-994-1069.
Starbucks, Qdoba coming to Highway 20 near I-94
MOUNT PLEASANT — A Starbucks and a Qdoba Mexican restaurant are coming to a new retail building along Highway 20 just east of Interstate 94.
The approximately $3 million retail center at 13330 Washington Ave. is a project of John Holborow, president of Evo Development of Milwaukee, and other investors. The center replaces a former Shell gas station, which was razed.
The new retail structure, which is nearing completion, is 7,958 square feet in size on a 1.9-acre parcel. Holborow said Thursday that Starbucks is taking 2,148 square feet and Qdoba will take 2,500 square feet. Starbucks is currently working on building out its space, and Qdoba has just gotten started.
Ron Stokes of Qdoba said the restaurant is expected to open in about the second week of January and employ 20 to 25 people. It will be open from 10:30 a.m. to 10 p.m., seven days a week.
"Super excited about opening our 53rd location in Wisconsin," Stokes said.
Starbucks did not respond to inquiries for this article.
Holborow said Kwik Trip, which has a gas station and convenience store across Highway 20 from the new building, at 14001 Washington Ave., had bought the Shell station property at some point. When Kwik Trip sold the land for the Evo project, it came with a deed restriction precluding the development of another gas station there.
This project was being planned, Holborow said, before he and the other investors even knew that Advocate Aurora Health Care was building a $228 million medical center immediately east of there.
"Obviously, having a Starbucks and Qdoba gives the project some validity, and with Aurora and All Saints, people are pretty quickly starting realize there's a lot more going on here than Foxconn," he said.
"A lot of the key components we look for were already there," Holborow added, "and it's a market that just continually gets stronger."
Primary entry point
Village Planner Robin Palm wrote in an executive summary of the retail project, "Village staff believes developing this parcel will bring some much-needed revitalization back to the primary entry point into the village."
The village is requiring the developers to install sidewalk along the public roadways adjacent to the development.
"Mount Pleasant was a pleasure to work with," Holborow said. "… They really have a nice process. Everyone we have talked to are really excited about the two tenants."
Starbucks currently has three locations in Racine County: at 5658 Washington Ave., Mount Pleasant, in the Village Center shopping center; 2805 S. Green Bay Road, Racine, outside Regency Mall; and at the Fox River Plaza in Burlington. A licensed vendor also sells Starbucks products at the Barnes & Noble store at 2710 S. Green Bay Road in Mount Pleasant.
According to the Starbucks website, it had 30,000 stores across 80 markets as of June 30. A new store recently opened at the Somers Market Center at Highway 31 and Highway S in Somers.
In Racine County, Qdoba has a restaurant at 6035 Durand Ave., also in Mount Pleasant. According to its website, Qdoba can be found in 48 states and Canada as well as at universities, airports and malls.
Space for more tenants
The signing of the Starbucks and Qdoba leases leaves 3,198 square feet remaining for lease in the new retail center. Holborow said that space could be divided into two storefronts or leased to one user. The developers are talking to both types of potential tenants, he said.
Evo's commercial development partners have included Arby's, AT&T, Cousins Subs, CVS Pharmacy, Dollar General, Jersey Mike's, Mattress Firm, Noodles & Co., Panera Bread, Papa John's, Qdoba, Starbucks and Wisconsin Vision.
The developers wrote in their application to the Village of Mount Pleasant that the building at Highway 20 and I-94 is positioned so the lot could be split in two and the northern half developed as well.
"Village staff believes developing this parcel will bring some much-needed revitalization back to the primary entry point into the village." Robin Palm, Village of Mount Pleasant planner
Cotton Exchange's owners sell but stay on, for now
WATERFORD — One of the area's signature restaurants, the Cotton Exchange, was sold earlier this month.
But don't expect to see big changes there any time soon, says former co-owner Kathy Prailes. She and her husband, Dan Prailes, are staying on as co-managers for some time.
The Prailes represented a bridge from the former Cotton Picker restaurant to the Cotton Exchange. Both of them worked at the former: Dan as a bartender and cook and Kathy as the manager, informally.
In 2000 the Foster family — Kathy's maiden name — took over what had previously been The Barn which was sitting vacant at 345 Hickory Hollow Road, and fronting the busy intersection of highways 20 and 83. The Cotton Exchange was started in that historic barn.
The Cotton Picker, a longtime landmark at highways W and 36 in Burlington, closed in 2012, but the 15,000-square-foot Cotton Exchange is still going strong as a restaurant and event center, serving more than 1,000 customers weekly. It still employs about 35 people "and can take on a few more," Kathy remarked.
Prailes said neither she nor Dan ever expected to make running the Cotton Exchange a lifelong pursuit. So, as their time there was approaching 19 years, they put their business on the market with a broker and found a buyer; the sale closed Oct. 1.
Prailes declined to name the buyer but said it is someone with several different businesses. The Journal Times was not able to reach the buyer or buyers last week.
"We were ready to try something new," Prailes said. "Our children are graduating from high school, and they were not interested in continuing with the business. Before we found ourselves stuck here forever," they decided to pass the torch to someone new.
Going forward
For now, Prailes said, "We're still running the show as co-managers and plan to leave "within the next year." She expects things to continue largely as they have been.
"Our goal is for us to have our employees take on those leadership roles," Prailes said.
Asked if she feels good about the Cotton Exchange's future, she said the newest employee has been there for five years. "So I think they have potential," Prailes said.
And will the community accept a Cotton Exchange with owners who are no longer local people?
"I think they should," Prailes responded. "… When I go, the people will be the same."
She continued, "I really hope to see the Cotton Exchange continue to flourish and support the community. We have stressed that over and over and over."
Referring to the new owners, Prailes said, "They're definitely go-getters. … They want nothing more than to grow and to succeed."
For more information, call 262-534-9291.
Unique gift shop 'pops up' in Downtown Racine
RACINE — Custom-made map towels of old Racine and Kenosha counties. A magnetic, wall-mounted knife rack made from a wine barrel top. Wine bottle candles — with the bottle lying on its side.
Those are among the eye-catching gift items one can currently find at Downtown's newest shop, Authentique, 408 Main St. The store is a smaller version of the original Authentique at 625 57th St. in Downtown Kenosha, opened by founder-owner Kimberly Warner two years ago this month.
"We are a gift store, but we offer unique items," Warner, a Yorkville resident, said Sunday. "Because I am such a supporter of not only small business but women in business, about 90% of the products that I search out and find are from small businesses that are owned by women."
To keep her store — now stores — fresh and interesting, Warner said, she switches out products continually.
"But I try to carry about 85 to 90% of things you can't find anywhere else in Wisconsin. Sometimes we carry things that aren't anywhere else in the country, like our wine barrel lines that come from Canada."
Warner's new Authentique — the name is French for "authentic" — is only destined for a three-month run, through Dec. 31.
"The concept for the pop-up shop in Racine," she said, is "I was hoping that this would be a three-month sample to maybe get Racinians to drive to Kenosha (where she has four to five times more display space) because it's incredible how many people in Racine have never been to Downtown Kenosha, and vice versa.
"I wanted to help rebuild (Downtown) Racine with a pop-up shop during this fourth quarter, the busiest month, so we're hoping to give people a taste of what the big store is down in Kenosha … my heart is really in rebuilding downtowns."
The story is more important
Warner said finding items for her inventory starts with her love of shopping. When she spots something that hooks her, she goes to meet the other small-business owner and then buys directly from them. Then she shares information about the makers at her main store.
"I'm trying to meet these people and show my customers the story of where their gift comes from, because the story is so much more important to the gift than the actual gift." People feel more connected to the gift when they know the story behind it, she said.
Warner said Authentique has a wide price range: there is jewelry from $25 to $135; smaller items for $12 or $14, greeting cards for $4 but also candles that cost $180, "and they sell."
Authentique is currently open noon to 5 p.m. Wednesday through Friday, 10 a.m. to 5 p.m. Saturday and 11 a.m. to 4 p.m. Sunday. However, the plan is to add days of operation starting in November and ramp up to seven days a week by Christmas. For more information call 262-612-3032.
CBD, hemp dispensary opens near Downtown
RACINE — A new CBD retail store near Downtown is also part lounge, and the owners also plan to add a café where one will be able to get CBD-infused beverages.
Elevated Apothecary opened this spring at 910 State St.
"At the core of it, we're a CBD and hemp dispensary," said co-owner Bob Pursley, who opened the business with Rob Warrender.
"We don't want it to feel like a retail store. We want it to feel like somewhere you can go in, hang out, get knowledge — all the things that nobody else had been doing yet," Pursley said. "Everybody's kind of: 'Yeah, we have this product; buy it, get out.'
"And there's a lot of bad information; there's a lot of bad products," he continued. "Everything in here has been third-party-lab tested. We know what's in it; we know that we can stand behind it … we're only going to carry companies that we can validate what's in there."
The store's dab bar — so called because just "a little dab'll do ya" — offers concentrates from the hemp plant that lack THC but have other properties when smoked, Pursley said.
"It smells the same, tastes the same, but there's no THC, so it's not psychoactive," he said. "None of it will cause the typical head high associated with the marijuana product."
Then why do people smoke it? "Physical effects," Pursley replied. "It's almost immediate for poor mood, anxiety, anger, things like that. It helps immediately with pain; it just doesn't last as long as, like a tincture or an edible would. Those break down a little slower. They take a little longer to uptake as well."
A former pipefitter, Pursley was injured on the job, underwent back surgery said he used CBD to help with his own pain.
"We have people that stop in on their way home from work and, instead of going to the bar for a few drinks to unwind, they come in here and do one or two dabs, and away they go," he said.
Planned CBD cafe
The owners are only using a little less than half of their 1,300 square feet of floor space but plan to expand their hookah and dab bar lounge as well as add a café, Pursley said.
"The main focus would be coffees and teas, as well as smoothies, that you can either get (CBD-) infused or not."
"We're seeing that teas, coffees, things like that people can get infused are a draw," he said.
Instead of using tinctures as Pursely said some big-city bars are starting to do and that will separate from the beverage, Elevated Apothecary will use a water-soluble CBD by a company called Lifted Liquids. "It's head and shoulders above everybody else," he claimed.
Pursley said they also plan to add a small stage in the back and bring in acoustic acts.
Among Elevated Apothecary's best-selling items have been the pet products, Pursley said. Those include tinctures, sprays, cat treats and dog treats.
"The biggest thing that you find is: people who have animals that are extremely anxious: separate anxiety, going for car rides, fireworks," he said. The products work great with his own German shepherd with neighborhood fireworks or during thunderstorms, Pursley said.
Elevated Apothecary is open 11 a.m. to 7 p.m., Tuesday through Saturday. For more information call 262-800-1077.
Abrazo Coffee opens in Downtown Racine
RACINE — Downtown's newest coffee shop opens Thursday with a menu of coffee drinks, smoothies and juices.
Abrazo Coffee is located at 321 Main St. in the space formerly occupied by The Rush juice bar which closed in January.
Jennifer Cruse, Abrazo's co-owner-operator, who had been working in the medical field, said she didn't necessarily set out to open a coffee shop.
"When it was The Rush, we were frequent customers," she said about herself and husband/shop co-owner, Jim Cruse. "I love small coffee shops. … I just feel like there's a special atmosphere in coffee shops, and when Heidi (Linden) closed, I was just very disappointed."
Eventually, Cruse decided to pursue the idea she had only toyed with in the past.
She and Jim had lived in the Oak Creek area, moved to Mount Pleasant, and Jennifer said she fell in love with Racine.
"And we're just very passionate about community and bringing that piece to here. That's really my goal."
"I love people; I love coffee, and I'm just very excited about being able to do this," she said about her new shop which seats 25 people.
Cruse took over Linden's juicing equipment, although she had to learn that part of the business from Linden. "In fact, it was pretty much a turnkey business which is why we were interested in the opportunity … and so we jumped on board with it."
Cruse said she chose the name Abrazo Coffee because "abrazo" means hug or embrace in Spanish. "It is named in honor of my mom (Shirley Carey); she just passed away in February. …
She was known for her hugs — strangers, friends, family alike.
She just always wanted to make someone feel like they were important and special, and that's pretty much what we want you to feel when you walk in."
Stone Creek coffee
The Cruses chose Milwaukee-based Stone Creek Coffee roasters which Cruse said was "by far the most responsive and helpful" of the area coffee companies, with "great coffee."
They will also carry Pilcrow Nitro Coffee, a cold coffee infused with nitrogen gas to give it a frothy, creamy texture and dispensed from a tap.
For the smoothies, Cruse said, they will use organic fruits.
They're starting with one nondairy smoothie called Go Green, with more of those to come.
They will carry Milwaukee-based Rishi teas and continue with the affogato that The Rush carried, a coffee dessert with espresso and ice cream.
For juices, they will start with just three, also made with organic fruits and vegetables. "We're actually carrying one of (Linden's) recipes over, calling it The Rush in honor of what this was before."
"It's exciting to have a juice/coffee bar again," said Kelly Kruse, Downtown Racine Corp. executive director. "It's a great gathering place for drinks and conversation in a relaxing atmosphere. We are thrilled they chose Downtown."
Abrazo Coffee — which will have WiFi — will be open 7:30 a.m. to 3:30 p.m. Tuesday-Friday and 8:30 a.m. to 2 p.m. Saturdays. For more information call 262-456-7866.
The Maple Table, 'farm to table' restaurant opens in Downtown Racine
RACINE — Downtown's newest restaurant, The Maple Table, is also "farm to table."
The Maple Table opened Thursday at 520 Monument Square in a former — and completely transformed — former food court where the Downtown Subway restaurant was located.
The owners, Tony and Tamara Lopiparo of Caledonia, come by their previous restaurant experience at Tony's father's Greenfield restaurant, That's Amore. Tamara worked there for the past five years, and Tony for about the past 20.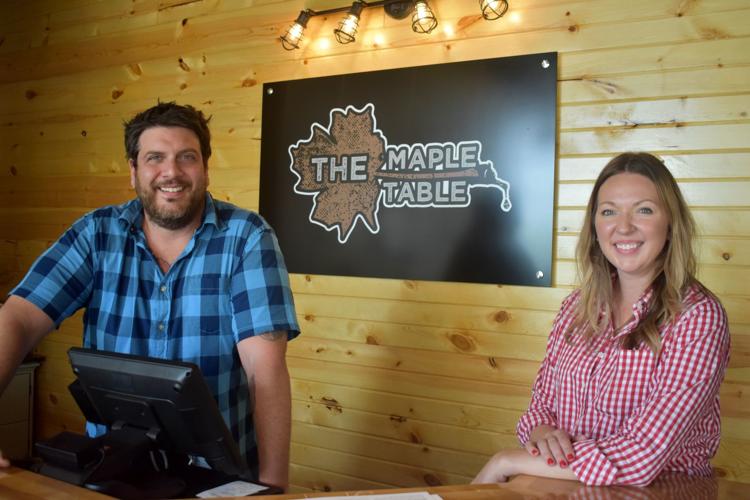 The couple left That's Amore and struck out on their own to open The Maple Table and knew they wanted their new venture in Downtown.
"Racine's amazing," she said. "Their Downtown is very eclectic, it's unique, and it's growing. The market down here is very happening right now."
They decided on a breakfast-lunch restaurant because the Lopiparos have two young daughters, Tamara explained. "And we've worked second shift our whole lives," she added. "We wanted the flexibility to be home with our little girls."
Their 5,600-square-foot restaurant can seat up to 175 people, including the private party room in back. The main dining area can seat 90 people. And Tamara designed the restaurant's farm/rural/rustic décor.
About their farm-to-table approach to food, Tamara said, "We locally source as much as we can: responsibly, humanely treated; we use organic when we can." Their in-state suppliers include Sassy Cow Creamery in Columbus, Jones Dairy Farm of Fort Atkinson and Torke Coffee of Sheboygan.
And the Lopiparos also show their environmental ethic by using paper straws, compostable take-out containers, wooden stir sticks and so on.
The menu
The Maple Table's menu was primarily designed by Amy Delap who has about 20 years of experience as a chef.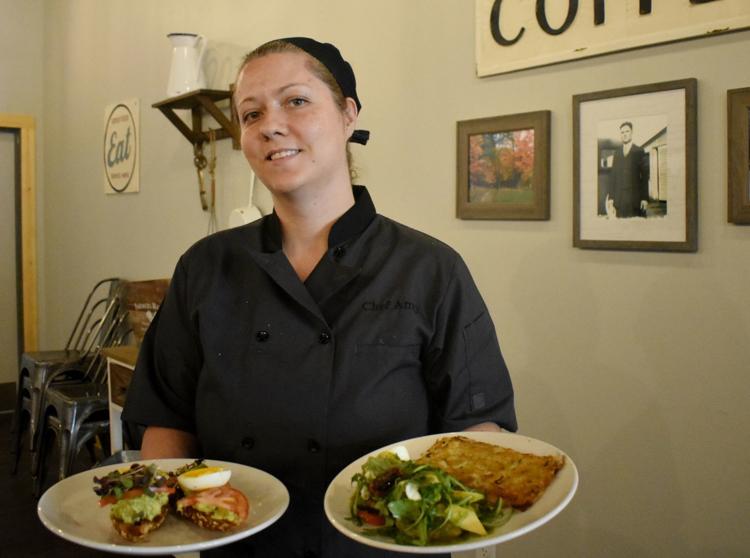 "Almost all of our menu is scratch-made, homemade," Tamara said. "And you can taste the difference."
The large, two-sided menu offers about 16 different item categories including frittatas, Benedicts, sweet things, soups, small plats, and build-your-own burgers.
Menu items include Barbacoa Benedict, shrimp and grits, three types of five-egg omelets (or build your own) and soup-salad combinations.
Sandwiches include pecan chicken salad, blackberry and brie grilled cheese and the garden bagel, the latter with herbed cream cheese, smashed avocado, cucumber, red onions, arugula, tomato, radish, carrots and sprouts. There are three soups daily: baked French onion, loaded potato chowder and a soup of the day.
Pressed to choose, Tamara named her three favorite menu items as the California crab cake Benedict, shrimp and grits and baked French onion soup.
The Maple Table will also have a Friday fish fry from 11 a.m. to 9 p.m. Tamara said, "What's nice is: Between 2 and 4 on Fridays we do an Early Bird. It's $8 dollars; you get just a smaller version of our full-service fish fry."
The restaurant has a full liquor license and bar in the front of the restaurant with views toward the lake and overlooking Monument Square.
The Maple Table is open from 6:30 a.m. to 2 p.m. Monday-Thursday, 6:30 a.m. to 9 p.m. Friday and 7 a.m. to 2 p.m. Saturday and Sunday. For more information call 262-456-7899.
Vintage Postcard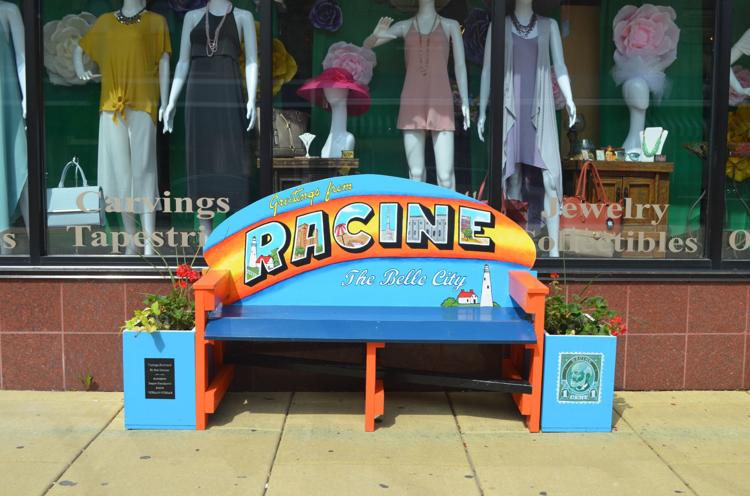 2019's Public Art Project features benches
The theme to 2019's Public Art Project is benches featuring Racine's past, present and future. The benches are located throughout the Downtown area and will remain there through the summer. 
EverGreen, Ever Learning, Ever Growing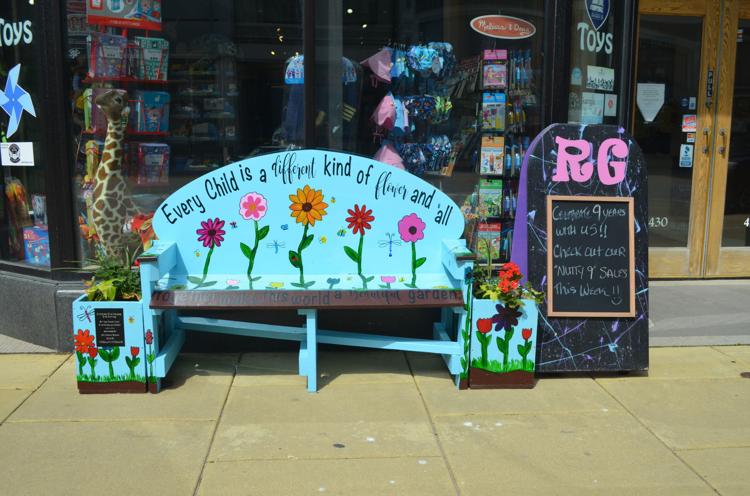 Do I Have a CASE For You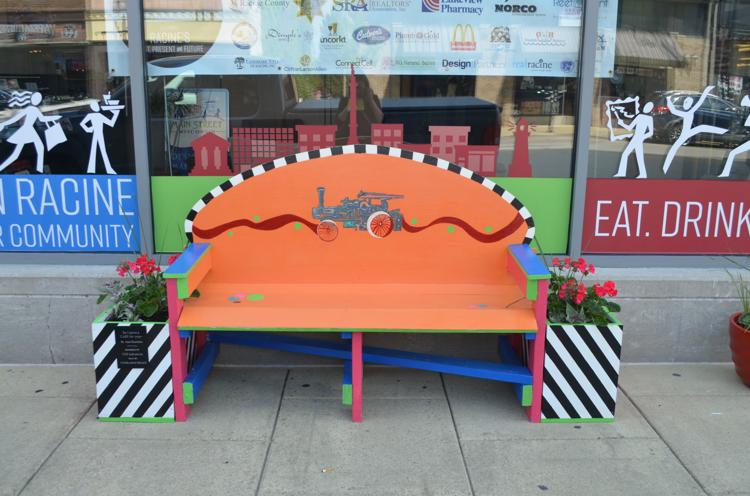 Recycled Parts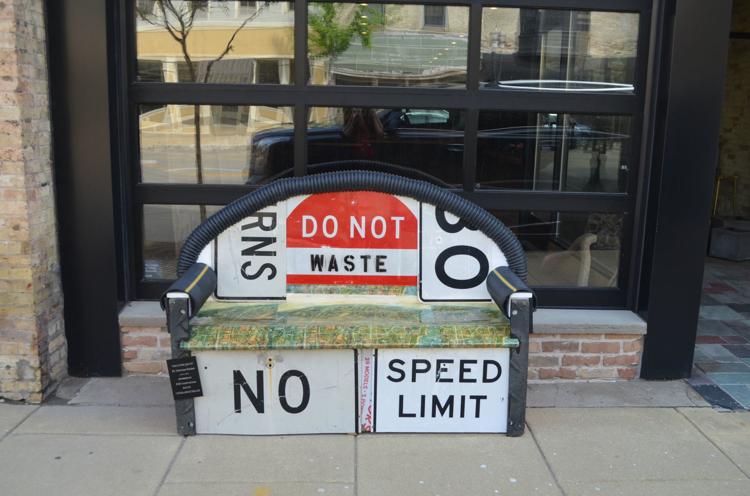 Golden Books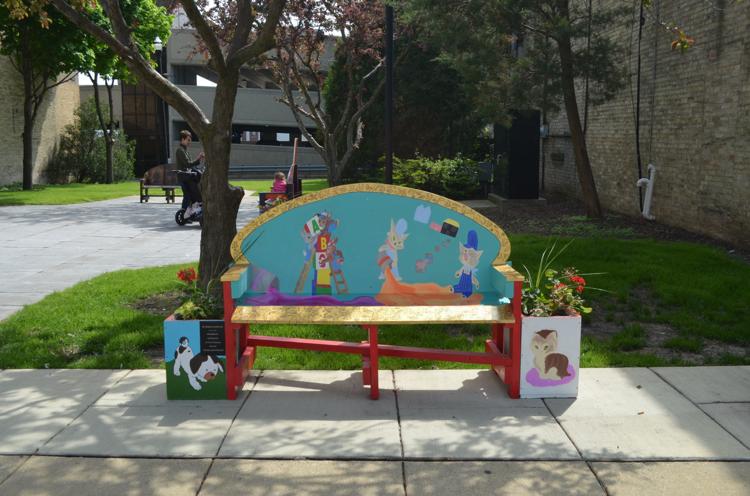 Panther Pride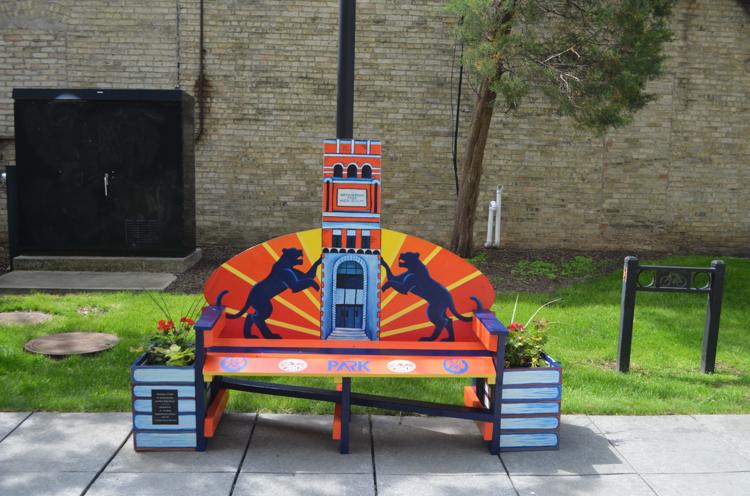 Horlick High School — Past, Present, Future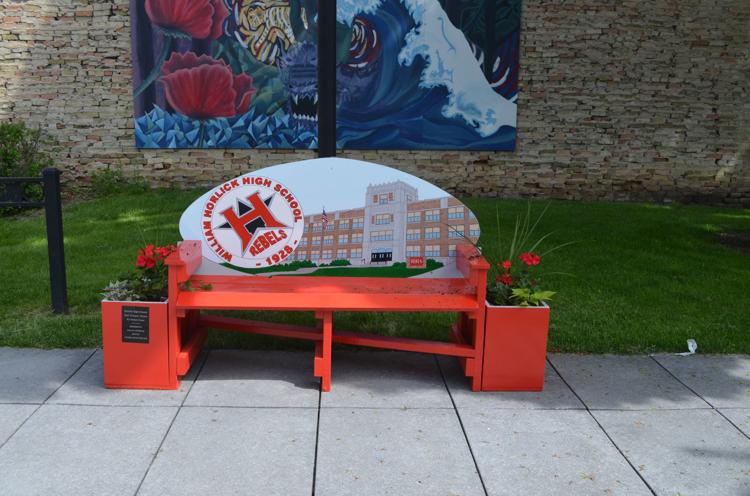 It's time For My Stories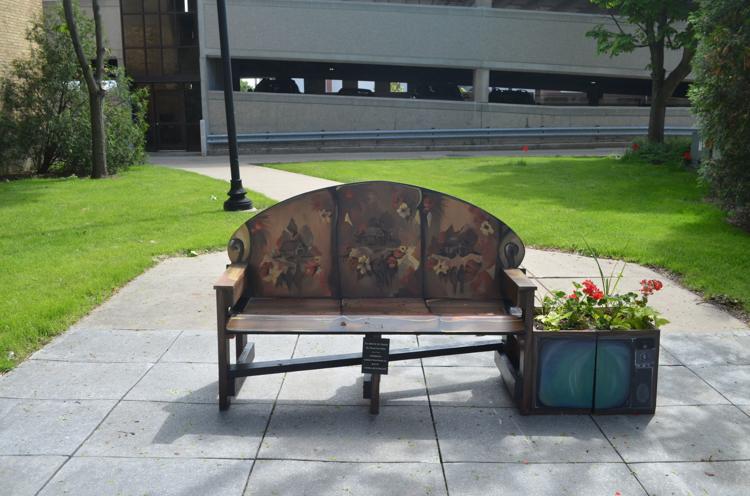 Root of the City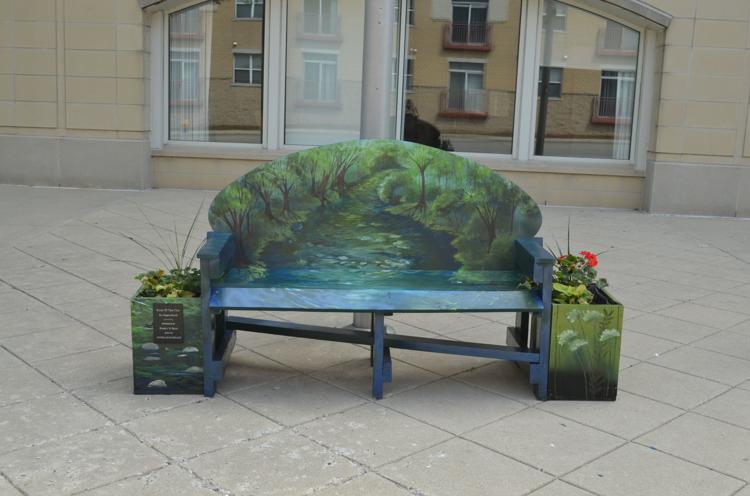 Visions of Racine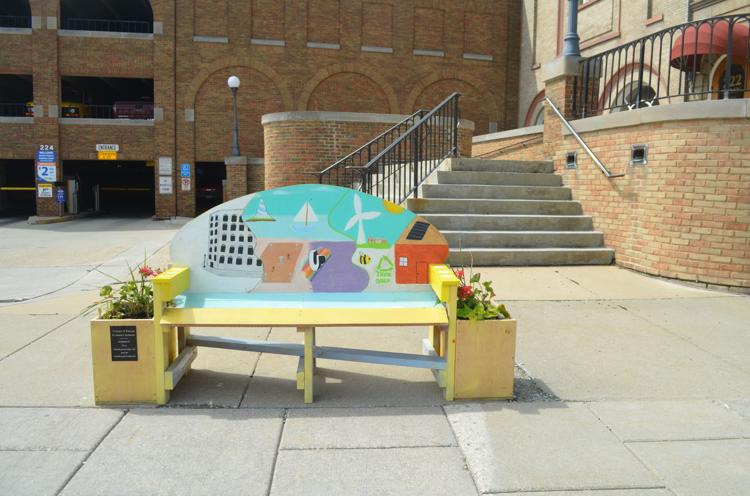 Wild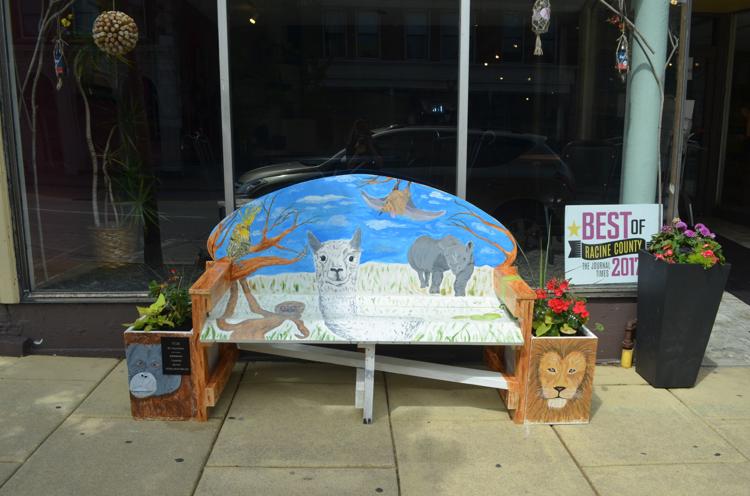 Rooted in the Past, Growing Toward the Future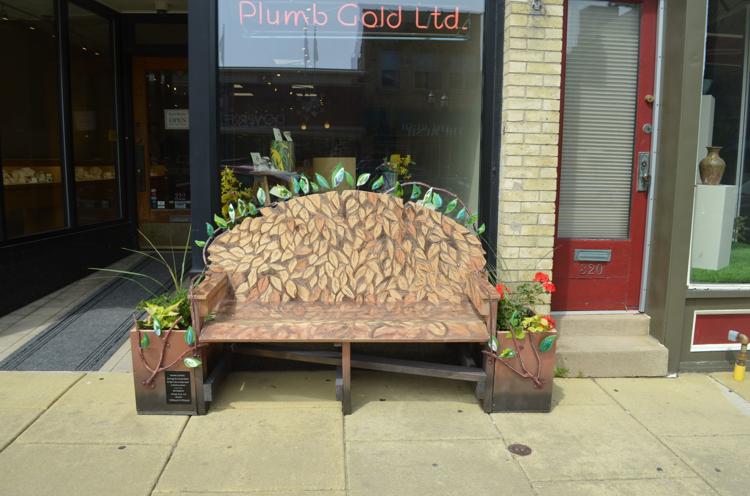 Smiles of Tomorrow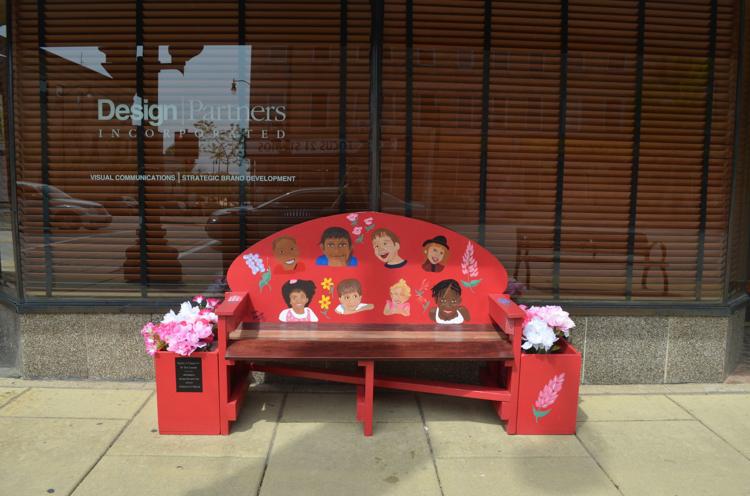 Twin Disc Power Bench
Wingscape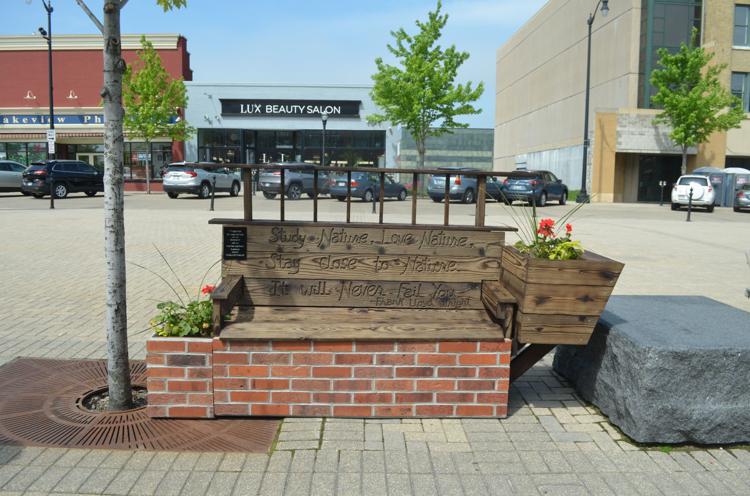 For The Love of Racine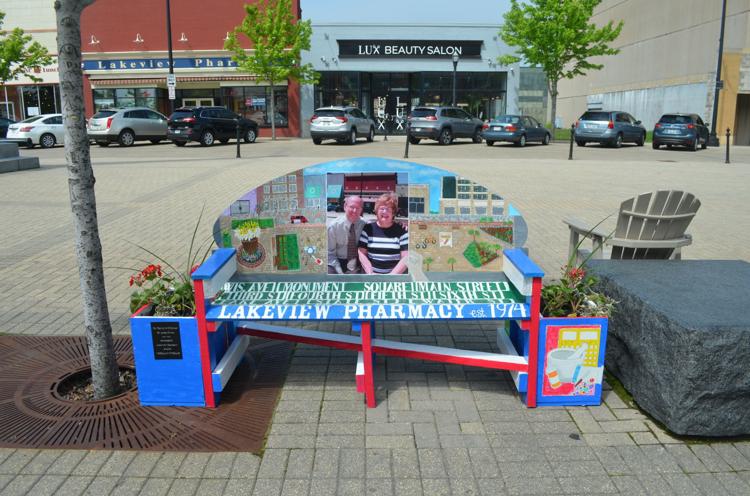 Lunch Break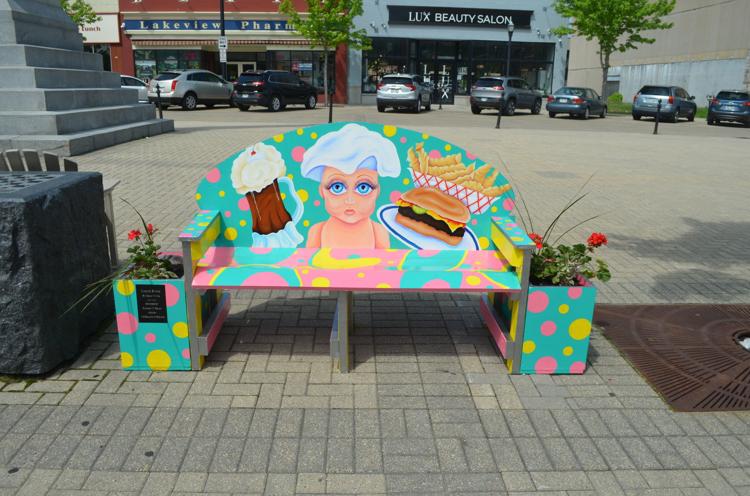 Stars and Stripes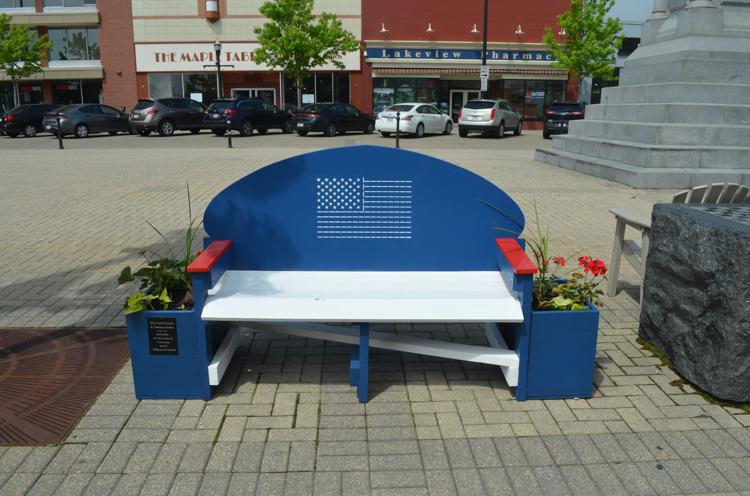 Sunset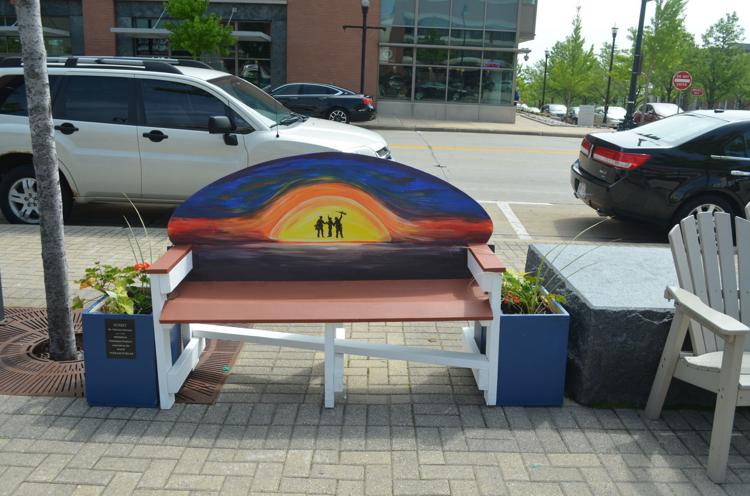 Knock It Out of the Park -Racine Belles
A Perfect Day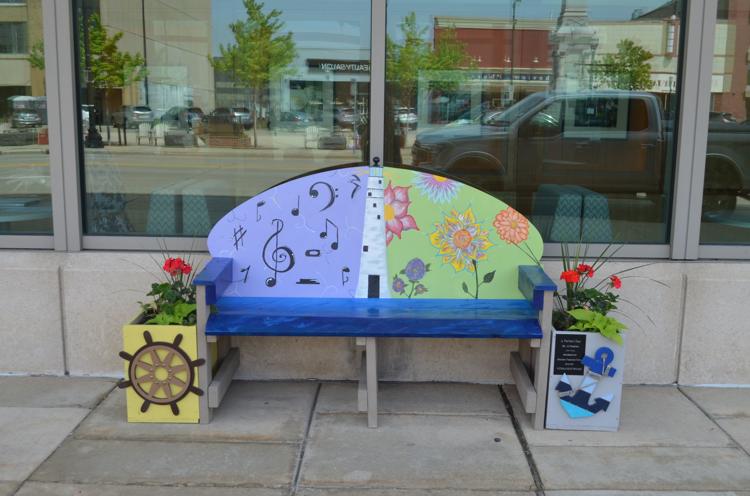 Racine: ART-chitecturally Strong!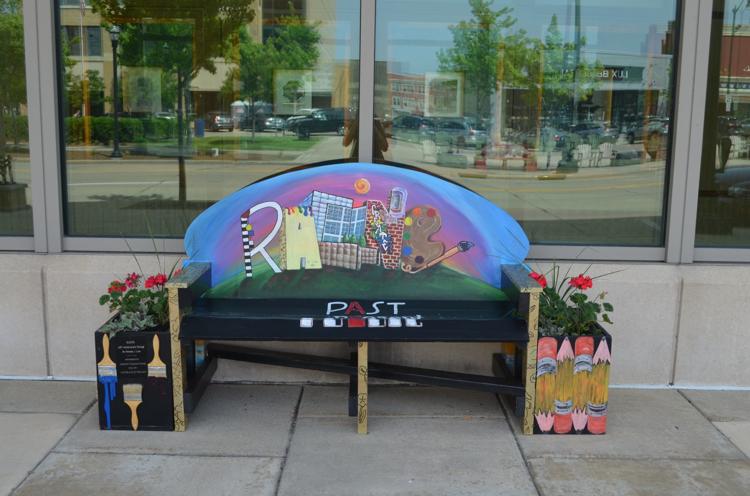 Gene Johnson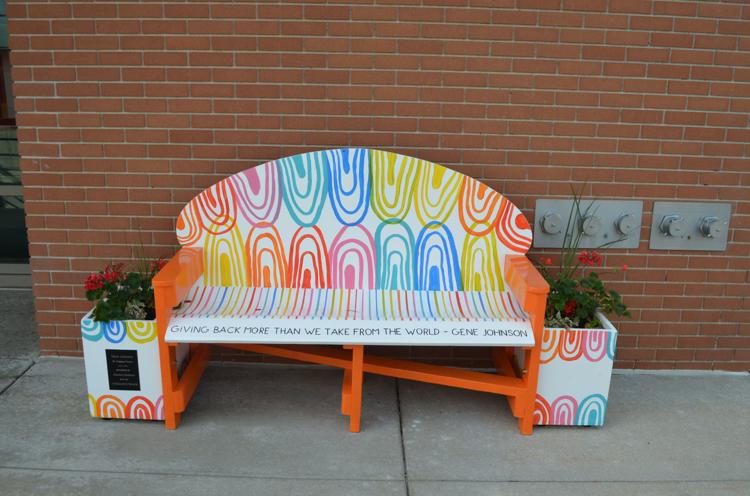 Racing For Kringle!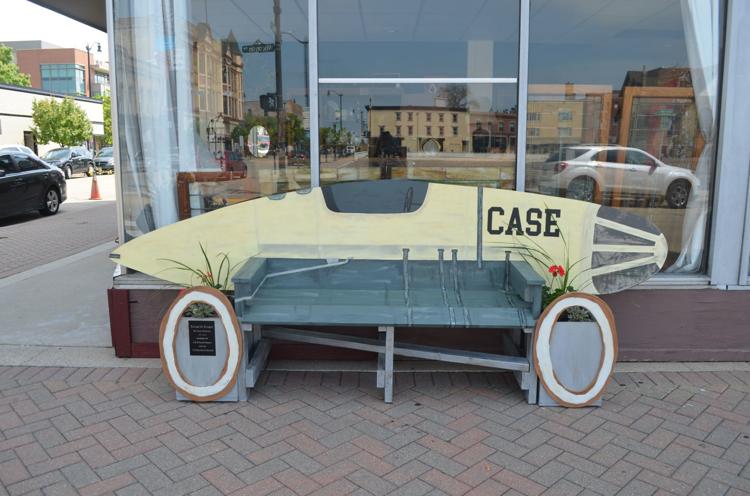 Racine in Pixels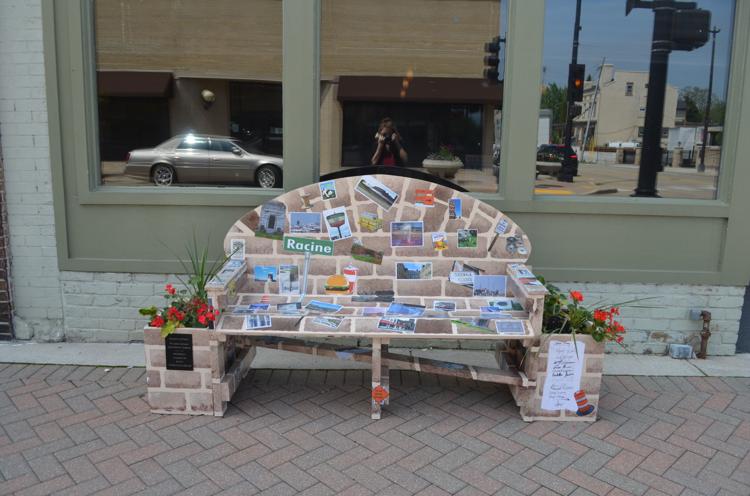 Quilted Butterfly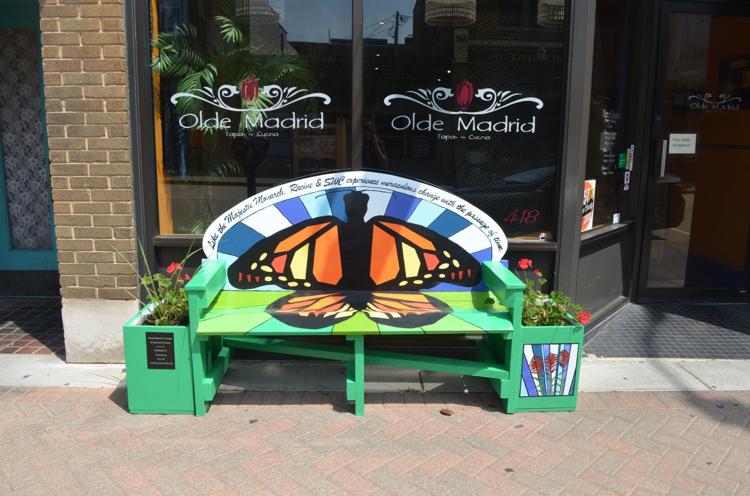 All the Seeds of Today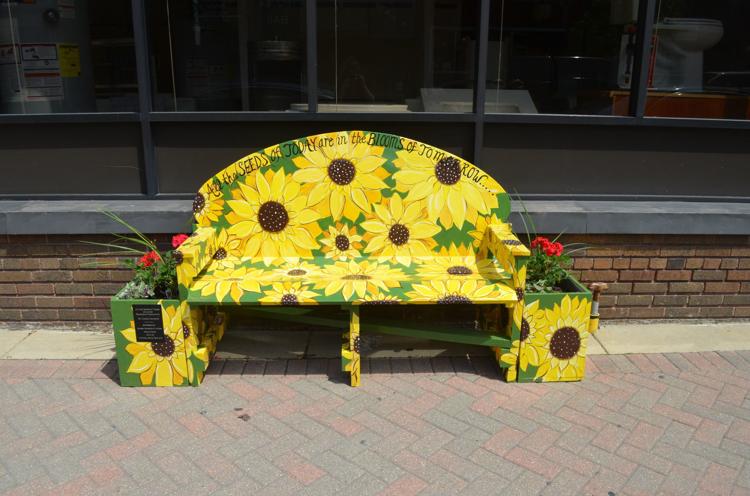 The Tooth Fairy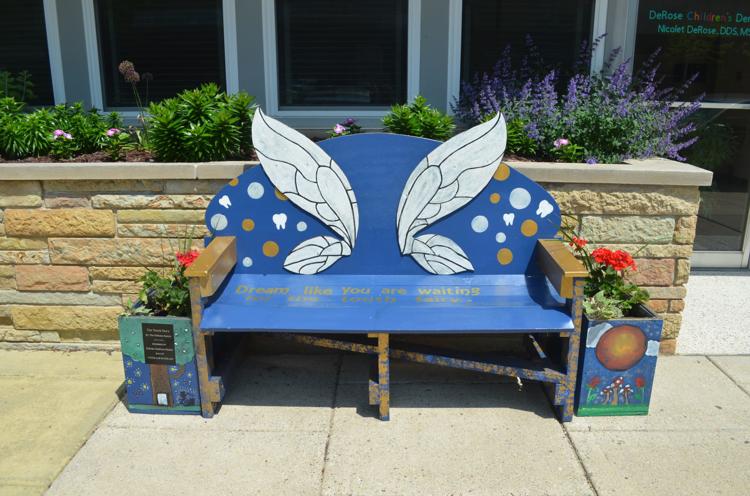 A Midsummer Day's Dream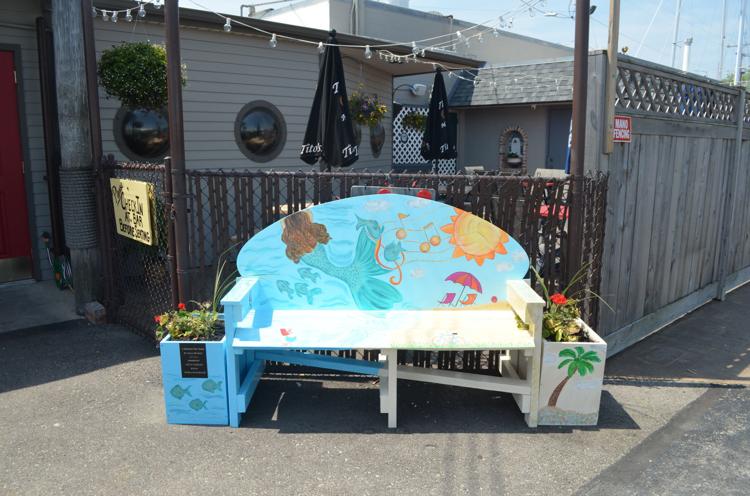 Egg Plant Cafe Downtown
Egg Plant Cafe & Catering recently opened in its new location, 240B Main St. in Downtown, having moved from 3751 Douglas Ave. The cafe is open 7 a.m. to 3 p.m. every day but Friday when it is open to 9 p.m. for a fish fry. For more information call 262-456-1329.
New Pakistani restaurant, Chit Chaat, opens in Downtown
RACINE — Downtown's new Pakistani restaurant, Chit Chaat, was busy on its first official day Wednesday.
Pakistan native Junaid Shafique, 25, who came to this country last July, and his wife, Angela Downs, opened Chit Chaat in the former Out of the Pan restaurant, 550 State St., space. It is part chai tea and espresso bar as well as Pakistani lunch and supper restaurant, with supper dishes served tapas style.
Downs has said Shafique, who she met while both were working in Japan, learned cooking and how to make chai teas from his mother, then took it further on his own. Downs — who has a long history in the retail food and beverage business with Starbucks — said she has learned from her husband about the authentic chai tea that can be found in the roadside stalls in India or Pakistan.
The name Chit Chaat comes partly from "chaat" (rhymes with hot), which means "savory snack," Downs explained. It is common in Indian and Pakistani street food, she said: If something is served chaat, it comes covered with foods such as chickpeas, yogurt, chutney and onions.
Downs has said what she thinks makes their restaurant different from other Indian and Pakistani restaurants is that they offer "street food" that others have overlooked. Consequently, Pakistani street food is a key part of the menu; all items on that separate menu are available all day including samosa chaat ($6), pani puri chaat ($4), Hunza Valley chap shuro ($10), bun kebab ($6) and falafel wrap ($7).
In addition to the street food menu, each day for lunches (11 a.m. to 2 p.m.) Chit Chaat will offer one vegetable curry dish and one meat curry dish.
The separate dinner menu includes such items as a chicken biriyani platter ($13), Sikh kabab platter ($15), butter chicken curry ($14), channa dal fry ($8), kofta curry ($13) and Nihari, a Friday and Saturday dinner with slowly simmered lamb curry ($18).
Curry spice levels can be adjusted from mild to hot.
Chit Chaat is open 10 a.m. to 8:30 p.m. Tuesday-Thursday and 10 a.m. to 9 p.m. Friday and Saturday. The phone number, as of Friday, will be 262-800-1079.
New Downtown Racine country bar opens today
RACINE — One can almost imagine tumbleweeds rolling down the street past Downtown's newest bar.
Marci's on Main opens today in the former Ricky's Place, 236 Main St. Owner-operator Marci Bruley, who has spent a quarter-century in the tavern business, decided to go with a country-western theme for her new bar.
Her son Austin Krieger, the bar manager, and some friends of both of theirs helped quickly transform the 60-seat bar, in just a few weeks, into a rustic saloon — albeit with 11 TV screens. Examples abound: One is that, with inspiration from Pinterest, Bruley took a wagon wheel and draped some hanging bulbs from it to create the light fixture that hangs above the middle of the bar.
"I bought the wagon wheel at Tractor Supply, and I bought the lighting off of Amazon, so we put that together," she said.
"Sometimes we'd have eight to 10 people here helping on their own time," Bruley said.
She and her helpers painted every wall a barn wood red then sanded them to create a "distressed" appearance. All the tables are built from reclaimed barn wood. There's a wagon wheel mounted on the wall opposite the bar, an electric guitar autographed by Martina McBride and a painted brand with an M in the middle, created by another friend/acquaintance.
The bathrooms are completely remodeled from the floors up including unfinished barn wood trim.
Bruley said the jukebox will have mostly country-western music but a little of everything.
Lots of games
Up in front, after opening weekend, there will be games: jumbo checkers, Twister, a giant Jenga and a big Yahtzee coming, and Shut the Box. There is also a good supply of ping-pong balls for playing Beer Pong. The TV near the stage will be used for karaoke on Thursdays.
On the drink side, Marci's has 12 tap beers, and they can be sampled in flights of four. The bar will also blend different mixed-drink fruity punches, in a large Mason party jar, that can be shared by four friends via curly straws.
"Those are going to be a big thing for us; we're really going to try to push our party jars as something different," Bruley said.
On one's birthday, a customer gets to sit on the Birthday Saddle mounted on an iron base at the front of Marci's, and quaff a free rail drink or tap beer from the glass cowboy boot.
"Friends have come through for me amazingly; a friend gave (the saddle) to me," Bruley said.
Right off the bat, Bruley is bringing in live music this Saturday night: Genesee Depot.
Marci's on Main is open 2 p.m. to close Monday-Friday and 11 a.m. to close Saturday and Sunday. For more information call 262-634-3151.
Jersey Mike's Subs opens at Highway 11 and 31
MOUNT PLEASANT — A self-described "Jersey boy" has opened a submarine sandwich shop partially named for his home state.
Jersey Mike's Subs opened Wednesday at 2860 S. Green Bay Road, a small retail center at the northwest corner of highways 11 and 31.
It is the second franchise location for Tom Kenny of Mount Pleasant, who owns medical device companies in the United States and abroad.
In December, Kenny bought the Jersey Mike's in West Milwaukee, just south of Miller Park, a shop that opened in 2011. That store is No. 1 in sales among 37 Jersey Mike's in two states, Kenny said.
Within the next 15 months, he said, he plans to add four to six more Jersey Mike's restaurants.
Asked what makes Jersey Mike's different from Subway or Cousins submarine sandwich shops, Kenny replied, "No. 1, I am a Jersey boy. I grew up with that type of sandwich. Every corner had an Italian deli much like Tenuta's" in Kenosha, he said.
Jersey Mike's subs are "piled high" with high-quality meats and other ingredients, Kenny said. The meats include prosciuttini, a peppered ham; capocolla (sometimes spelled capicola), a cured and smoked pork product; "high-end" salami; ham; and pepperoni.
The subs come enlivened with what the company calls The Juice, a blend of red wine, olive oil and spices. "It's how a Jersey Mike's sub gets its exquisite zing," the company states.
The shops also offer Sub in a Tub, a sandwich without the bread.
The original Jersey Mike's opened in the seaside town of Point Pleasant, N.J., in 1956, and Kenny said the recipes are "tried and true."
Rapid growth, fundraisers
The company was named the country's fastest-growing limited-service chain and fastest-growing sandwich chain in the 2018 Nation's Restaurant News Top 100. Jersey Mike's says the fast-casual sub sandwich franchise has more than 2,000 locations open and under development nationwide.
The company is picky about who gets to own a Jersey Mike's sub shop, Kenny said; it took him nine months to qualify, and just 2 percent of those who apply are granted franchises.
His new shop seats up to 36 people and will employ about 20 people.
Since 2010, Jersey Mike's locations throughout the country have raised more than $34 million for local charities and have distributed more than 2 million free sub sandwiches to help numerous causes.
To mark the opening of his first restaurant, Kenny is circulating thousands of coupons offering a free regular sub for a minimum $2 contribution to Case High School or Starbuck Middle School and, following that, Children's Hospital of Wisconsin.
He chose Children's Hospital because it helped his son Matthew when he was very young, Kenny said, and Matthew Kenny is managing this restaurant.
The restaurant is open 10 a.m. to 9 p.m., seven days a week. For more information call the shop at 262-456-7800.
Macabre photos and dark fashion pair up; new Main Street shop is not mainstream
RACINE — Two women whose interests run toward edginess and away from the mainstream have paired up to open a unique shop in Downtown.
Dark Room Unplugged actually consists of two businesses sharing one storefront at 408 Main St. In front is The Dark Room, a Gothic clothing boutique owned and operated by Cecilia Ballantyne. Behind her shop is Unplugged Artistic Event Planning, owned and operated by Evie Kalmar.
Kalmar's professional work is wide-ranging. For starters, she's a social worker at Safe Haven of Racine, the youth shelter.
Her other business, Unplugged Artistic Event Planning, is new to Main Street, but Kalmar, 32, has had it for 13 years. It involves modeling, the creation of macabre photography, displaying of other people's art and hosting of large events.
"I'm an alternative freelance model," she said. "So, I do conceptual art which is essentially composites that are put over photographs."
It's a group effort, she said, and the goals are being able to sell the work, get it into magazines and show it in gallery spaces.
Kalmar creates large events that may involve 150 people. She has one such event coming up in Oshkosh that will involve about 45 models, 45 photographers and hair, wardrobe and makeup people. They will shoot for an entire workday and produce hundreds of images. Kalmar showed a few examples, images that would fit perfectly into a spooky movie.
"This studio for me is really like a home base," she said, "because it's a lot of work," and she does those events about once every two months. Those photo shoots have been held at such places as the former Horlick Malted Milk complex and the Abandoned Haunted House.
About the latter, she said: "They love us. Every year I plan something with the owner of that place because the end result is really creepy."
Kalmar would like to do body-painting events at her studio. "And when I say 'body painting,' I don't mean someone scribbling – I mean someone taking an ornate background and making the model look like they're not even there, but there's a person in there," she said.
"So, instead of just the ordinary studio, I wanted to take it and do things that aren't really seen very much."
Other than Kalmar's clawfoot-type bathtub, her studio has few props so far — except for a separate room that is an entirely furnished boudoir.
The studio is open by appointment only. For more information call 262-412-6877 or visit Unplugged Artistic Event Planning on Facebook.
The Dark Room
Of the two businesses, The Dark Room, which opened Wednesday, is more easily described. About the business name, Ballantyne said, "It plays into the photography aspect that (Kalmar) is going for with the studio space, and it plays into the fact that it's all dark fashion, too."
About dark fashion, Ballantyne said, "I feel like there was a market that wasn't being tapped into in Racine." Many people are interested in wearing dark clothing, she said. She estimates the age range of those people, the so-called Goths, at 15 to 25.
She doesn't think there is another retail store selling Gothic clothing anywhere in southeastern Wisconsin.
The Dark Room's clothing comes from Europe, Ballantyne said, "so it's stuff that people haven't really seen before."
The clothing includes long dresses with moon cuts.
"I'm trying to stay away from occult symbols," Ballantyne said, "because maybe Downtown Racine wouldn't like that" – even though occult symbols, as well as Christian symbols, are big in Goth fashion.
She said set her prices below high-end boutique prices. Women's tops range from about $25 to $35 and dresses about $25 to $40. The highest-priced items are a long jacket for $80 and a pair of $100 shoes.
Among the purses is a coffin purse.
So far, The Dark Room carries only women's clothing, but Ballantyne said she plans to add men's as well.
The Dark Room is open 1-7 p.m. Wednesday and Thursday, 1-9 p.m. Friday and Saturday and 1-6 p.m. Sunday. For more information call 262-417-3397.
Big Belly Deli planned for Sturtevant
STURTEVANT — The deli inside Village Food & Liquor Mart in Sturtevant could soon be reopening under new ownership as Big Belly Deli, pending final approvals.
The Sturtevant Planning Commission on March 14 recommended giving a conditional-use permit to operate a deli and carryout food business to Saul Ortiz Puebla and his wife, Melissa Ortiz. Ortiz, who graduated in December with a nursing degree, said the business will primarily be her husband's, but she is helping him get it started.
Ortiz said her husband, a Mexico native, has been cooking in local restaurants for the about 11 years, including at the former Olympic Family Restaurant, 8609 Durand Ave., in Sturtevant; Castlewood Restaurant, 2811 Wisconsin St., in Sturtevant; and Douglas Avenue Diner, 5121 Douglas Ave., Caledonia.
Ortiz Puebla has been wanting to start his own restaurant, said Ortiz, who works part-time as a cashier at Village Food & Liquor Mart, 8929 Durand Ave. She said the last deli there closed Jan. 31.
Ortiz said the business name comes from the fact that she sometimes calls their daughter, Isabella, "Bella" or sometimes "Belly."
The couple are still working on the menu, which is far from settled, Ortiz said. But they expect to offer hot and cold sandwiches, omelettes, wraps, grab-and-go submarine sandwiches, half-pound burgers, salads, soup, appetizers and Mexican foods: steak and chicken tacos, burritos, enchiladas and chimichangas.
Prices are not determined yet, but Ortiz said the food will be affordable.
Big Belly Deli is scheduled to be open 8 a.m. to 8 p.m. Monday through Saturday and 8 a.m. to 4 p.m. on Sunday. The couple are waiting for Village Food's owner to acquire new kitchen equipment and a deli counter and hope to open their deli about the end of April or early May.
In the meantime, they are having a new sign made which will be mounted to the outside of the building.
New business coming to former Kiss the Cook
STURTEVANT — Frank Muto, whose family for more than 20 years operated Muto's Pizza on Durand Avenue, will be using the same building again — this time to run — The Small Hall & Catering.
From 1985 to about 2008, Muto and his parents, the late Joe and Lisa, ran Muto's Pizzeria at the building at 9225 Durand Ave. That's when they went out of business, but the family still owns the building.
The last business in the building was Kiss the Cook Café, operated there for about two years — and previously for four years at 2920 Taylor Ave. in Racine — by Kookie Niemiec, with lots of help from her husband, Rob Niemiec. She opted to close Kiss the Cook last May.
"We were doing OK," Niemiec said. But then Rob had a heart attack. Moreover, "It was very hard to find good help," Kookie said — in fact, she said some employees were stealing from them.
Muto said the building of about 1,100 square feet is, by code, authorized to seat up to 65 people. He plans to use The Small Hall for hosting small events such as birthday parties and baby showers, and to cater from there.
"That's how it all originally started," Muto said. "We were just doing a birthday party there for someone. And then, boy, everyone there just thought, 'This is just great. There's no small hall you can rent anywhere.'"
The food will be pizza at first, and then add Italian foods, he said. At this point, Muto has no plans to expand the operation to a restaurant.
Muto said he hopes to open in about mid-March.
Blue Bear restaurant planned for north side
RACINE — A popular south-side restaurant, the Blue Bear, could soon be coming to the north side, pending approvals.
On Wednesday, after a short discussion, the Racine Plan Commission unanimously recommended giving Blue Bear Operations Manager Tesa Santoro a conditional-use permit to operate a takeout restaurant and to install an electronic sign at 622 Three Mile Road. Santoro's application shows that she intends to open a second Blue Bear at that location, which is directly north of Shorecrest Shopping Center.
The application by Santoro, whose company is JTS Catering, says the site will offer catering, a bakery, a deli and a drive-thru with on-site seating for about 34 people. During the discussion with the commission, Santoro said she plans to apply for a liquor license to sell beer and wine.
Blue Bear, located at the northwest corner of Taylor and Durand avenues, opened in September 2016 as a breakfast, lunch and weekend brunch restaurant. It was opened by Brian Zielinski, who came to Blue Bear with 15 years in the restaurant business, and Santoro as the operations manager. She also moved her catering business into the Blue Bear.
From the start, Blue Bear's menu has been comprised of locally sourced, all-natural, from-scratch-only, farm-to-table foods, none of it produced with hormones or antibiotics or using genetically modified foods. Blue Bear, which has a full bar and seats 45 people inside, has been highly popular.
Santoro plans to open her north-side Blue Bear in a 2,725-square-foot building previously used as a catering operation, with a kitchen that occupies 60 percent of the floor space.
According to her application, the new Blue Bear would be open 6 a.m. to 10 p.m. every day of the week. It would offer deliveries from 5 a.m. to 5 p.m. Monday-Friday and 6 a.m. to 4 p.m. Saturday. Santoro said they did not yet have a hard deadline for opening.
The operation would have 12 to 24 employees, depending on whether they are full- or part-time.
Mount Pleasant's newest restaurant is in the Menards parking lot
MOUNT PLEASANT — A new food option in Mount Pleasant is quick, fresh and located in the back of the Menards parking lot.
The Racine-based restaurant Pico's Tacos and Cerveza, located at 550 Three Mile Road, has expanded its operations to a taco truck, minus the cerveza, that operates from the Menards parking lot just off of Highway 11.
For the last month, hungry or curious patrons have pulled up to the taco truck to purchase tacos, burritos, tortas, quesadillas and other traditional Mexican foods with a twist.
Angela Espinoza, who co-owns the business with her husband Carlos, said customers came out to the truck during some of the harsher weather this spring.
"People were coming either way," Espinoza said. "Rain, sunshine, they were out here."
With a license from the village and an agreement with Menards, Pico's Tacos truck might be the only regularly operating food truck in the village.
The truck can only operate when Menards is open and the truck's current hours are 11 a.m. to 7:30 p.m. Tuesday through Saturday.
Being the first taco truck in the village, Espinoza said they realize they are the test subject for how food trucks will operate in Mount Pleasant and are anticipating the possibility of changes once they have to renew their license.
Espinoza said the truck cost roughly $65,000 and they needed to completely gut the inside to make the kitchen.
"It took us about two months to get the layout and stuff done," Espinoza said.
But whether its tacos, barbecue, Chinese or whatever you can think of, Espinoza said don't be surprised if more food trucks start popping up.
"That's where the restaurant industry is heading," Espinoza said. "It's just very convenient."
However, unlike a traditional restaurant, food trucks are limited in storage and kitchen space, which leads the chefs to be more creative with the menu.
Espinoza said a lot of the menu on the taco truck can be mixed with different meals.
"A lot of our meats intertwine with different items," Espionza said. "Steak is steak, whether it goes in a burrito, a taco, a torta it's a meat, you just present it with different stuff."
Specialty tacos
Pico's also tries to set itself apart from other Mexican restaurants with unique tacos.
A crowd favorite are the "Cowboy tacos," which include steak, chorizo, cilantro, fresh cheese and avocado.
The taco truck also features a "taco of the month" special. This month it's "The Rebel," which is carnitas (Mexican pulled pork) with red salsa, grilled cactus, cabbage, pico de gallo, and cheese.
Currently they are working on next month's taco, which will be called "La Bamba," like the movie and song.
"It's going to be mix," Espinoza said. "Right now we're still playing with what it's going to be, but it's going to be three meats for sure."
Besides its location at Menards, Pico's Tacos truck also caters and is scheduled to be at a wedding at Veterans Terrace in Burlington this weekend.
"That's a thing going on with weddings now. Instead of getting one caterer, they're getting multiple food trucks," Espinoza said. "The wedding we're doing in August, they're having three different styles of food."
They plan to also be present at other local events and locales, including the Racine Art Museum, Racine Zoo and the Franksville Beer Garden.
"We're going to see where this takes us," Espinoza said. "It's been fun so far."
'Plus-size' women's clothing store coming to Downtown Racine
RACINE — Last year ended with the permanent closing of Copacetic, Downtown Racine's hat shop, after 13½ years in business.
But that space at 409 Main St. has already been secured for another type of apparel store: a women's "plus-size" clothing shop. Yolanda Coleman of Caledonia intends to open Plush Clothing there; she's shooting for early April.
Coleman said she has had more than 28 years of retail experience, starting at age 16, including managing stores. This will be her first business.
To prepare, Coleman took Wisconsin Women's Business Initiative Network Corp.'s 12-week business start-up course and came out of it with her business plan written. She also obtained financing through WWBIC.
Coleman said she looked at various possible areas to open her business and then settled on Downtown. "I picked Downtown because the Downtown area is the heart of the city," she said.
"I want to sell emotion," Coleman said. " 'Plush' signifies a woman who wants to be pretty, lovely, sexy and happy."
The building that Coleman chose, 409 Main St., was recently purchased by the Mt. Royal Investment Group, which has also acquired numerous other Downtown properties. This one, with about 2,000 square feet at street level, will undergo some improvements before Coleman will be able to open her shop. That work will include the construction of two "nice size" fitting rooms, she said.
To select her wholesale suppliers, Coleman said, she will attend the MAGIC trade show in Las Vegas (started by the Men's Apparel Guild in California), which runs from Feb. 5-7. There she plans to select her vendors.
Plush Clothing will carry all new clothing, Coleman said, primarily for women from sizes 1X-3X and 12-24.
She also plans to carry accessories including purses and jewelry and, eventually, footwear.
Coleman said Plush Clothing will be open every day except Sundays.
Get local news delivered to your inbox!
Subscribe to our Daily Headlines newsletter.