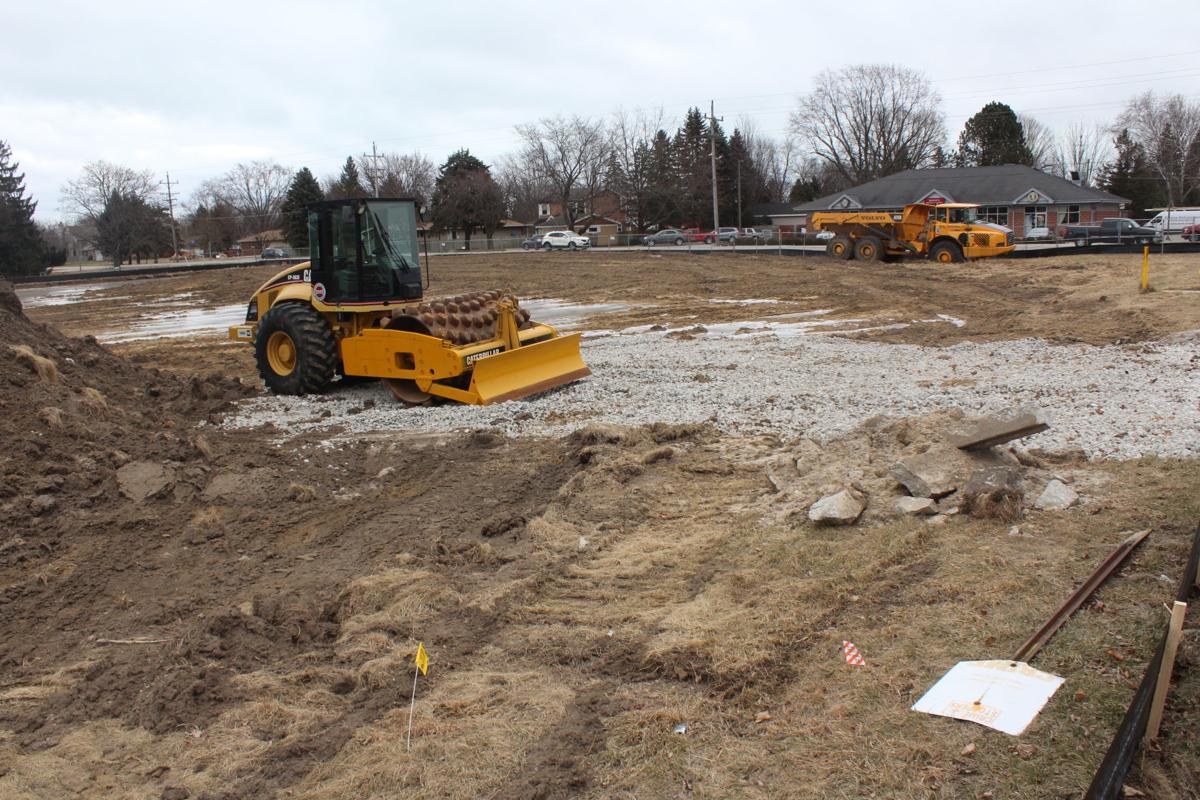 CALEDONIA — The new Casey's General Store planned in Caledonia is expected to open during the first week of May as scheduled, according to company officials.
Construction began in November with heavy machinery grading land at the intersection of Four Mile Road and Charles Street, although it appears that no work has been done in the last two months at the site.
4 MC Corporation, an Argenta, Ill.-based general contractor, is handling the construction on the project, a Casey's spokesperson said in an email.
Mike Kunda, who works across the street from the future Casey's location, said that he saw some workers inside the fenced-off construction site the day after Thanksgiving, but hasn't noticed any activity since.
"They did that (landscaping) in two days and then they disappeared," Kunda said.
Snow and ice has also settled over portions of the lot since December.
The convenience store is expected to cover about 4,517 square feet.
Racine County has been doing its part to facilitate the Caledonia Casey's moving forward.
On Jan. 10, the Public Works, Parks and Facilities Committee approved a highway right-of-way resolution that would allow vehicles easier access to the future gas station and convenience store.
That resolution is scheduled for a first reading in front of the County Board tonight, but whether the meeting will take place was up in the air Monday due to Tuesday's weather forecast, County Clerk Wendy Christensen reported.
You have free articles remaining.
The long road to Casey's
Casey's General Stores, which is based in Iowa, surged into Racine County last year.
The first Racine County Casey's opened at a former Shell station at 991 Main St. (Highways 20/83) in Waterford during the first half of 2018.
Caledonia residents challenged the Casey's proposal continually from January through May 2018, but it received approval from the village, albeit with some restrictions. It can only be open from 5 a.m. until 10 p.m., isn't allowed to operate any 24-hour gas pumps, and must institute a plan to dim its lights during the night.
A Village of Rochester Casey's location was approved in early 2018, and a station is also planned for Downtown Burlington.
Casey's had plans to open a store along Highway 11 in Union Grove as well, but those plans reportedly stalled in spring 2018.
"Casey's operates roughly 2,000 stores as of today, where we have a strong concentration in communities that are around 5,000 people or less," James Pistillo, Casey's vice president of accounting and treasurer, told The Journal Times in December 2017.
"The State of Wisconsin, and Racine County in particular, has many communities that fit that profile, so it is natural for us to want to grow our presence here."