KENOSHA – An ambulance and fire engine were parked outside Simmons Field on Sunday afternoon, but their crews were not there for a call.
They were there for a game.
In front of hundreds of coworkers, friends and family, the Racine Fire Department defeated the Kenosha Fire Department in a 7-inning charity softball game by a close score of 13-12. All proceeds from the event went to the family of slain Racine Police Officer John Hetland.
"They're our brothers in blue," said Jose Carbajal, president of Racine Firefighters Union Local 321, of police officers. "We're always there for them, they're always there for us. Whether it's on the scene or when something tragic happens like this."
Hetland, a 24-year Racine Police Department veteran, was shot and killed on June 17 at Teezers Bar & Grill, 1936 Lathrop Ave., while trying to stop an armed robbery. A suspect in the homicide was arrested June 27, one day after Hetland's funeral.
"As soon as that terrible event happened in Racine, there was no hesitation," said Nick Keeran, a Kenosha firefighter and the event organizer. "I reached out to some guys on Racine Fire, we all agreed that this was what we needed to do."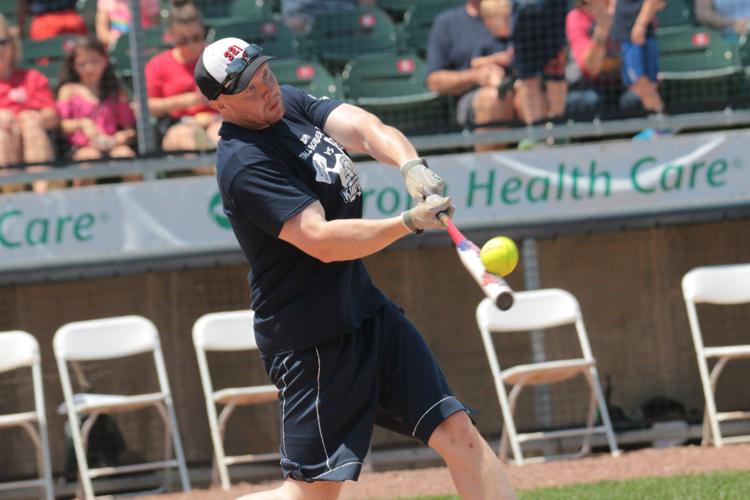 Because Hetland was so involved with the Racine Police Department, many first responders had known him for a long time. Carbajal worked with Hetland on the executive board in union dealings; Hetland had served on the Board of Directors for the Wisconsin Professional Police Association since 2007.
You have free articles remaining.
"My dad was a police officer, so I've actually known Officer Hetland since I was a little kid," Carbajal said. "I know a lot of the guys in Kenosha (fire department) are born and raised in Racine; they knew him too … I truly believe we would do it for them, and they would do it for us. At the end of the day, we're all brothers and sisters and we've got to take care of each other."
The Racine lineup on the softball diamond consists of Kyle Schoen, Josh Casey, Brian Turczynski, Aaron Pettis, Tony Yocco, Bruce Johnson, Adam Kooi, Jose Carbajal, Jake Farfalla, Eric Rasmussen and Alex Felde.
The team plays in a league based in Greenfield on Thursday mornings. In a traveling state firefighter softball tournament, Racine is the defending champions.
"It's the best kind of competition," Carbajal said. "At the end of the day we're all professional firefighters of Wisconsin, and it's just good to get together, have our families around and all the spectators watching."
Rallying from a six-run deficit, Racine scored four runs in the top of the fourth to pull within two. Kenosha scored six more in the bottom of the inning, but Racine scored seven more in the top of the fifth to keep it a contested game.
Racine tied the game with an RBI triple from Casey. The next at bat, Casey scored the go-ahead run off a single from Turczynski and Racine had its first lead of the game.
Rasmussen threw three scoreless innings to secure the win.
"We might be a border battle, so to say, but a bunch of us play softball together outside the fire department," Keeran said. "We hang out together. I was born and raised in Racine, so I've known a lot of the Racine fire guys for a long time … we're a family, it's all about a family."