The "it" in question is the Black Is Beautiful stout beer. The original recipe and idea for the national "collaborative effort" came from the Weathered Souls Brewing Co., a Black-owned brewery in San Antonio.
With the nation paying attention to issues related to race and policing in the wake of the killing of George Floyd, the founder/head brewer of Weathered Souls — Marcus Baskerville — wanted to speak out.
To draw attention to those issues, the formula was simple.
First, he developed a new beer. With a name like "Black Is Beautiful," a dark-colored stout made sense. After that, the brewery partnered with a designer to develop a label and campaign that would share the Black Is Beautiful message.
The recipe and art were then shared online, so any brewery could use it — although brewers were encouraged to get creative with their brewing. The most important instruction was to donate 100% of the "proceeds to local foundations that support police brutality reform and legal defenses for those who have been wronged."
"As much as we want this to be about raising money," the website BlackIsBeautiful.beer states, "the real issue is bringing education and information, which will bring forth change to a system that has fractured so many families and has been broken for decades."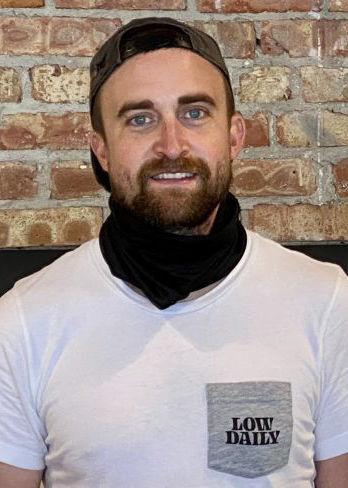 Sullivan owns Low Daily brewery, which opened in September inside the former Burlington Standard Press building at 700 N. Pine St. Soon after hearing about the Black Is Beautiful beer concept, he quickly got the process going to brew the stout.
The proceeds from the $3 and $5 glasses of Low Daily's Black Is Beautiful are to be donated to the Burlington Coalition for Dismantling Racism, which is celebrating its first anniversary this month. BCDM is a community group devoted to what its title implies, dismantling racism in Burlington, by sparking community conversations while bringing a spotlight to both a lack of diversity in Burlington and the racism that persists.
Low Daily uses its spacious railroad-side backyard for outdoor seating, with the indoor space largely closed due to the pandemic, except for ordering. On Sunday evening, the day after Low Daily's take on Black Is Beautiful debuted, most of the tables were filled with local imbibers, several of them supporting the cause.
Patrick Sullivan, brother of Low Daily owner Tim Sullivan, speaks with his other brother, Mark Sullivan, inside Low Daily brewery on Sunday.
Now, Sullivan and his brothers — Mark and Patrick — are looking to schedule film nights and other ways to "continue those conversations" related to racism, Patrick said.
As for those opposed to taking part in this kind of movement, Tim once told his brothers "If someone doesn't like it, that's not the kind of person I want here anyway."
Low Daily is open seven days a week, from 3-9 p.m. Monday-Thursday, 11 a.m.-11 p.m. Friday and Saturday, and 11 a.m.-7 p.m. Sunday.
The new Low Daily brewery, 700 N. Pine St., has been established in the former Burlington Standard Press building. The microbrewery opened in …