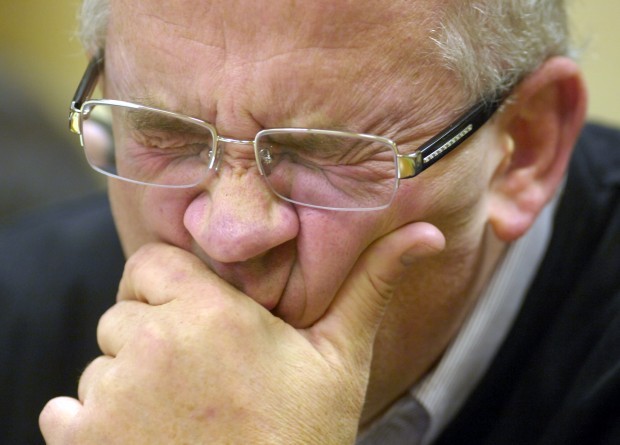 RACINE - If it wasn't for hot pink bras and black sequined panties, Gary Becker would probably have walked out of the Racine County Law Enforcement Center facing several years of probation.
But because the former mayor went to Boston Store and bought nine items of lingerie and a candy bar, he went to prison instead.
Racine County Circuit Court Judge Stephen Simanek said Wednesday that he was prepared to give Becker probation, until he received information about the Feb. 16 lingerie purchase.
Instead, Simanek sentenced Becker to three years in prison and five years extended supervision for attempted sexual assault of a child and child enticement. He was handcuffed as the sentencing came to a close, and immediately taken into custody.
A clerk at the store reported Becker had been in the store, and spent some time perusing the racks before purchasing the items with a personal credit card.
District Attorney Mike Nieskes displayed a foam board covered with duplicate items of lingerie at the sentencing. The state decried Becker's purchase, saying he was buying underwear more appropriate for a teenager than an adult woman.
The defense tried to explain it, saying he is dating a 46-year-old woman, and giving her height and weight.
"If you're sexually sober I submit you're not buying lingerie for another female," said Assistant District Attorney Robert Repischak.
He said what particularly concerned him was that nobody knew the girlfriend existed.
"Had we not known he went to the Boston Store to purchase lingerie, had we not known that, this woman would have been a persona non grata," Repischak said. "She would have been completely off the radar from anybody. If she's off the radar, I don't know what else is off the radar."
The judge said Becker's lingerie purchase clearly indicated he needed more intensive treatment.
"I can fairly say until this came to light I would have taken a chance on Mr. Becker," Simanek said. "I would have taken the risk of an imposed and stayed sentence with probation supervision. But I am convinced in light of what has recently happened that Mr. Becker needs continued rehabilitative treatment and that it can best be effectively provided in a confined setting."
Becker was arrested over a year ago on charges that he planned a sexual encounter with an undercover agent who posed online as a teenage girl. Becker pleaded guilty in December to attempted sexual assault of a child and child enticement. Several other charges - including using a computer to facilitate a sex crime, misconduct in public office and possession of child pornography - were dismissed.
The maximum sentence Simanek could have given Becker was 25 years in prison and 15 years extended supervision.
At the beginning of the sentencing, Nieskes spent about 15 minutes reading excerpts of explicit chats recovered from Becker's computer. In nearly every one of them, Becker solicited information about and pictures of young girls - either the person he was chatting with or the children of the women who were on the other end of the chat.
He also made requests for his chat partners' bra sizes.
Simanek said that was part of what concerned him with Becker's Boston Store purchases.
"I don't particularly care whether Becker bought (the items) for a 46-year-old individual," Simanek said. "He's lurking around in the lingerie department of Boston Store picking out (size small panties and bras)."
The lingerie purchase and the chats Nieskes mentioned were not illegal. Defense attorney Patrick Cafferty pointed out that despite extensive access to Becker's computer and other items the state found no evidence of anything illegal.
"The difference between having those thoughts, those fantasies, and acting out in those matters are two totally different things," Cafferty said. "There is no evidence he ever realistically attempted to connect with anyone that was an underage person."
In a short statement, Becker apologized multiple times for his actions, and said he takes responsibility for it.
"I never tried to blame others for my problems. I realize I have taken a solid reputation built over years of helping others and trashed it. I believe a reputation takes years to grow and mature, and one careless act can destroy it."
Given how the court interpreted his Boston Store visit, it appears Simanek believes Becker is still learning that last point.
To comment on this conversation, click HERE.
| | | |
| --- | --- | --- |
| | The Gary Becker case: a live conversation with reporter Janine Anderson | (02/28/2010) |
5:24

Join reporter Janine Anderson at noon Tuesday for a live conversation about the Gary Becker case.

Former mayor Gary Becker is due in court Wednesday to be sentenced for attempted sexual assault and child enticement. He chatted online with an undercover agent who posed as a 14-year-old girl, and then went to meet the fictitious teenager at Brookfield Square Mall.

To review the history of the case, go to http://www.journaltimes.com/becker.

A Journal Times review of court records showed most people charged in Internet stings were sentenced to lengthy periods of probation. Overwhelmingly, those who received prison time, spent less than three years behind bars.

Readers will be able to submit questions to Janine during the conversation. Questions and comments will need approval from Journal Times staff before they become part of the discussion. Submitting a comment or question does not guarantee it will be part of the online conversation.

No registration is required to participate.

See you there.



Sunday February 28, 2010 5:24
| | |
| --- | --- |
| 5:25 | [Standby] See you Tuesday at noon. |
11:55

| | |
| --- | --- |
| | Hello readers. We're online, and ready to take your questions. |

Tuesday March 2, 2010 11:55
11:58

[Comment From MartyMarty: ]

Will the truth in sentencing law apply for Beckers case?

Tuesday March 2, 2010 11:58 Marty
11:59

| | |
| --- | --- |
| | Hi, Marty. It should. |

Tuesday March 2, 2010 11:59
12:01

| | |
| --- | --- |
| | Under the old law, someone sentenced to prison could get out early. Post truth-in-sentencing, the prison part of a sentence is given separate from the time on community supervision. That's why you now see sentences of, for example, 5 years in prison and 15 years extended supervision. There's no more parole board, determining when someone gets out. |

Tuesday March 2, 2010 12:01
12:01

[Comment From deedee: ]

will he go to prision some where so he dosent have to be it general population?

Tuesday March 2, 2010 12:01 dee
12:03

| | |
| --- | --- |
| | If he gets prison time, I expect that Becker's sentence would be served in the same Wisconsin prisons as everyone else convicted of a crime. |

Tuesday March 2, 2010 12:03
12:03

[Comment From slayerslayer: ]

You should do this tomorrow during and after sentencing. You can't answer any questions now can you?

Tuesday March 2, 2010 12:03 slayer
12:04

| | |
| --- | --- |
| | We will be doing this tomorrow, actually. Reporter Lindsay Fiori will liveblog the sentencing itself in the same format as this conversation. We have not yet decided if we'll have a post-sentencing wrap-up. |

Tuesday March 2, 2010 12:04
12:05

[Comment From lizliz: ]

seems as though the journal times has been preparing us to hear a very lenient sentence for becker by comparing his to other cases

Tuesday March 2, 2010 12:05 liz
12:05

[Comment From mike bmike b: ]

by the looks of other cases i believe he will only recieve probation and im guessing about 4 years

Tuesday March 2, 2010 12:05 mike b
12:05

[Comment From PebblesPebbles: ]

could Becker just have to register as a sex offender with no prision time?

Tuesday March 2, 2010 12:05 Pebbles
12:05

[Comment From matmat: ]

You mean to say that he may not get prison time?

Tuesday March 2, 2010 12:05 mat
12:06

| | |
| --- | --- |
| | I just added in a few questions that are all about the same subject: Whether or not Becker will get prison time. |

Tuesday March 2, 2010 12:06
12:07

| | |
| --- | --- |
| | Given the laws in the state of Wisconsin, that's entirely up to the judge. There are no minimum sentence requirements for attempted sexual assault of a child or child enticement, the two charges to which Becker pleaded guilty. |

Tuesday March 2, 2010 12:07
12:08

| | |
| --- | --- |
| | Overall, people convicted after similar Internet stings did not get prison time. For those who did, they spent between 1 and 3 years in prison. |

Tuesday March 2, 2010 12:08
12:09

[Comment From PebblesPebbles: ]

can someone admit to a crime and not get sentenced??

Tuesday March 2, 2010 12:09 Pebbles
12:09

| | |
| --- | --- |
| | Pebbles -- Can you explain a bit more what you're going for with this question? I'm not quite sure what you mean. |

Tuesday March 2, 2010 12:09
12:10

[Comment From AFAF: ]

Gary Becker will have to register as a sex offender, correct?

Tuesday March 2, 2010 12:10 AF
12:10

| | |
| --- | --- |
| | Other people convicted in these cases have registered as sex offenders. In some of the cases I reviewed, they were required to register for life. |

Tuesday March 2, 2010 12:10
12:12

[Comment From JaneJane: ]

Simanek is Retiring, he will get probation

Tuesday March 2, 2010 12:12 Jane
12:12

[Comment From GuestGuest: ]

When is the judge scheduled to retire?

Tuesday March 2, 2010 12:12 Guest
12:15

| | |
| --- | --- |
| | Simanek will retire at the end of this term, which is sometime this summer. Judges are scheduled to rotate July 31, so we don't know yet what kind of cases his replacement will hear. |

Tuesday March 2, 2010 12:15
12:15

[Comment From SteveSteve: ]

Is tomorrow going to be a dog and pony show, or just the judge reading the sentence?

Tuesday March 2, 2010 12:15 Steve
12:17

| | |
| --- | --- |
| | Tomorrow's sentencing will start with the state making its recommendation for Becker's sentence. District Attorney Mike Nieskes has said he will recommend prison time. The defense will be able to argue for the sentence they believe Becker should serve, and the judge will then make his determination and announce what Becker's sentence will be. |

Tuesday March 2, 2010 12:17
12:17

| | |
| --- | --- |
| | For those of you who didn't see earlier, we will have a reporter cover the sentencing live online, in much the same format as this conversation. |

Tuesday March 2, 2010 12:17
12:18

[Comment From DJDJ: ]

Eventhough Becker was quite foolish meeting the agent have a problem with these internet stings.

Tuesday March 2, 2010 12:18 DJ
12:18

| | |
| --- | --- |
| | Hi DJ -- What problems do you have with the stings? Racine's got a long history of them, as the county was one of the first to accept this sort of case when the state started to work on them in the late 1990s. |

Tuesday March 2, 2010 12:18
12:20

| | |
| --- | --- |
| | Here's a list of some comments people have sent in about what type of sentence/how long a sentence Becker could get. We're going to post a poll in just a minute asking for your opinions on that. Give us just a minute. |

Tuesday March 2, 2010 12:20
12:20

[Comment From AFAF: ]

I know many people want to see Mr. Becker sentenced harshly; however, we have to keep in mind that the fact he has no prior record will most certainly be a factor in setencing him.

Tuesday March 2, 2010 12:20 AF
12:20

[Comment From matmat: ]

Any thing less then prison time is a slap in the face for all that respect the safty of our children and protection from those that do not respect their child hood.

Tuesday March 2, 2010 12:20 mat
12:21

[Comment From KCKC: ]

Ok, but you watch and see he will end up with the lightest sentence possible, but let someone else try to commit this crime and see what would happen to them. I am sure Gary Becker will walk away just fine after the terrible things that he has done

Tuesday March 2, 2010 12:21 KC
12:21

In your opinion, what should Becker be sentenced to?Three years or less of prisonMore than three years prisonProbation only

Tuesday March 2, 2010 12:21
12:21

| | |
| --- | --- |
| | Let us know what you think he should get in the poll. |

Tuesday March 2, 2010 12:21
12:22

[Comment From SteveSteve: ]

So the lawyers will get to posture for a while even though the judge probably already has a decision made?

Tuesday March 2, 2010 12:22 Steve
12:22

| | |
| --- | --- |
| | When I've asked judges about how they approach sentencings, many of them have told me that they have an idea of a range that a defendant should get, but that they make the final determination after listening to both sides present their arguments. |

Tuesday March 2, 2010 12:22
12:23

[Comment From DSDS: ]

He shoudl get no less than a 5 years sentence being confined followed by supervision. What he did and considering his position in the community, he is to be held to a higher standard and he knows it. He knew it going in when he ran for mayor.

Tuesday March 2, 2010 12:23 DS
12:24

[Comment From KageKage: ]

Will his position as a mayor at the time come in to play during his sentencing?

Tuesday March 2, 2010 12:24 Kage
12:27

| | |
| --- | --- |
| | It could, Kage. Judges often look at someone's education and employment history. I read the transcript of a sentencing for a priest picked up here in an Internet sting. The judge mentioned his social standing in the sentencing. He got one of the harshest sentences handed out in these kinds of cases, but the judge also said that it wasn't the reason for the three years prison/12 years extended supervision sentence. That was primarily because the man had brought drugs and steroids along to give his intended victim. |

Tuesday March 2, 2010 12:27
12:28

[Comment From DSDS: ]

Really surprised that he is being tried and sentenced here given the fact that everyone in the leagal and political system shake hands.......Dont even try to deny it!

Tuesday March 2, 2010 12:28 DS
12:29

| | |
| --- | --- |
| | The defense has to ask, and the judge grant, a request to move a case out of county. |

Tuesday March 2, 2010 12:29
12:30

| | |
| --- | --- |
| | Becker and his attorney asked the judge to bring a jury in from out of the county to hear the case, but Simanek denied the request. |

Tuesday March 2, 2010 12:30
12:30

[Comment From DSDS: ]

Exactly my point! The defense wants to keep it here becuase with the relationships he knows he will get a better outcome! This who situation smells.

Tuesday March 2, 2010 12:30 DS
12:30

[Comment From gram23boysgram23boys: ]

IIt shouldnt matter what his role was in the community at the time of his arrest he make a bad decision and now he has to pay his time like any ohter citizen would. I dont feel they should give him any and less time then anyone else. I think the law is not strong enough on this type of thing and you should have to serve a lot more time and get a lot more counseling then they require

Tuesday March 2, 2010 12:30 gram23boys
12:32

| | |
| --- | --- |
| | One thing I can tell you is that everyone caught in a sting like this spends the majority of their sentence time on some kind of supervision -- whether probation or extended supervision -- and the Department of Corrections program for sex offenders is pretty strict. |

Tuesday March 2, 2010 12:32
12:32

[Comment From DJDJ: ]

About the stings, I sometimes wonder who initiates the contact. Seems like the old entrapment thing.

Tuesday March 2, 2010 12:32 DJ
12:34

| | |
| --- | --- |
| | In the early years of these cases, defense attorneys tried to argue entrapment. Those arguments were shot down on appeals. The method has been upheld repeatedly since then, in courts throughout the country. |

Tuesday March 2, 2010 12:34
12:35

[Comment From grame23boysgrame23boys: ]

it doesnt matter if its entrapment or not you have no right participating in that type of thing regardless

Tuesday March 2, 2010 12:35 grame23boys
12:35

[Comment From DSDS: ]

Not entrapment. He was trolling the interest with tendencies in mind. Glad it was a cop vs. the real thing. Sickos like this need to have a message sent to them. I have two daughters and if this was with one of my kids any sentence would be light compared to what I would do.

Tuesday March 2, 2010 12:35 DS
12:37

If you're interested in reading more about some of the entrapment issues, Vanity Fair did an in-depth piece on a Pennsylvania case. They talked with the agent and the man caught in the sting. This was an odd case, and in no way representative of the majority of them, but it made for good reading.

Here's the link: http://www.vanityfair.com/culture/features/2009/12/sexual-predators-200912


Tuesday March 2, 2010 12:37
12:37

| | |
| --- | --- |
| | Quick reminder: I have to select a comment before it's published. If your comment hasn't shown up, I probably haven't gotten to it yet. Just FYI, keep those comments coming! |

Tuesday March 2, 2010 12:37
12:38

[Comment From guestguest: ]

He faces up to 25 years and that is what he should get.

Tuesday March 2, 2010 12:38 guest
12:39

| | |
| --- | --- |
| | Well, it looks like we have the poll results: 72 percent say more than three years in prison, 27% percent say three years or less of prison, and 3% say probation only. |

Tuesday March 2, 2010 12:39
12:40

| | |
| --- | --- |
| | Given the poll results and some of the comments people have sent in saying that they want to see a harsh sentence, let us know what you think he should get. A new poll, looking only at prison time, will be up in a few minutes. |

Tuesday March 2, 2010 12:40
12:40

For those of you who said Becker should get more than three years in prison, what amount would you say is appropriate?5 years10 years15 years20 years25 years

Tuesday March 2, 2010 12:40
12:41

[Comment From TT: ]

The DOC isn't strict with sex offenders... as there are too many to keep track of..... Don't count on probation to control this animal.

Tuesday March 2, 2010 12:41 T
12:42

| | |
| --- | --- |
| | I put T's comment up there to hand you guys a question. One of the things I found when writing about this case over the past year, is that very few people separate out people caught in Internet stings from any other type of sex offender. |

Tuesday March 2, 2010 12:42
12:44

| | |
| --- | --- |
| | Do you see a difference between someone caught in an Internet sting versus someone who was chatting with an actual child? |

Tuesday March 2, 2010 12:44
12:45

[Comment From RGRG: ]

The second poll question should be what do we really feel he'll get? My feeling is no time behind bars with limited years probation and I hope I'm wrong.

Tuesday March 2, 2010 12:45 RG
12:46

| | |
| --- | --- |
| | We're working on one like that right now. Watch for it soon. |

Tuesday March 2, 2010 12:46
12:46

[Comment From guestguest: ]

He should get what everybody else would get wether he went for treatment or not

Tuesday March 2, 2010 12:46 guest
12:46

[Comment From just_your_average_joejust_your_average_joe: ]

I think 5 years with required therapy to address this sickness. Left unchecked, he'll still be hunting children irrespective of his time served.

Tuesday March 2, 2010 12:46 just_your_average_joe
12:46

[Comment From gram23boysgram23boys: ]

A slap on the wrist isnt going to cut it with him or anyone else in this situation. They need to understand that this was a serious crime and you need to pay accordingly

Tuesday March 2, 2010 12:46 gram23boys
12:46

What sentence do you think Becker will get?Less than 5 years probationMore than 5 years probation3 years prison or less, with supervisionMore than 3 years prison, with supervision

Tuesday March 2, 2010 12:46
12:46

[Comment From TT: ]

The best way to protect against these predators is to teach your children about the dangers of talking to/meeting with strangers. Don't count on the police and the courts to protect them. Their caseloads are too big to get everyone.

Tuesday March 2, 2010 12:46 T
12:48

| | |
| --- | --- |
| | That's an issue that judges and attorneys brought up when I asked questions for the story we ran a few weeks ago on the kinds of sentences people got after they were caught here in Internet stings. It's a different world now than it was 20 years ago. |

Tuesday March 2, 2010 12:48
12:48

| | |
| --- | --- |
| | One person said that it used to be that you had to talk to your kids about not talking to strangers with candy outside the school playground. Now, you've got the possibility of them meeting a predator online, while they're in their own living room. |

Tuesday March 2, 2010 12:48
12:49

[Comment From just_your_average_joejust_your_average_joe: ]

T's last comment is a very important one for parents to understand and act on.

Tuesday March 2, 2010 12:49 just_your_average_joe
12:49

[Comment From just_your_average_joejust_your_average_joe: ]

I'm afraid to know the answer, but for every person caught, how many predators get away with their crime?

Tuesday March 2, 2010 12:49 just_your_average_joe
12:50

| | |
| --- | --- |
| | I don't think anyone will ever know. |

Tuesday March 2, 2010 12:50
12:51

| | |
| --- | --- |
| | Back to some of your comments about whether there's a difference between Internet stings and people with real children on the other end of their computers... |

Tuesday March 2, 2010 12:51
12:51

[Comment From SteveSteve: ]

No difference.

Tuesday March 2, 2010 12:51 Steve
12:51

[Comment From guestguest: ]

no

Tuesday March 2, 2010 12:51 guest
12:51

[Comment From just_your_average_joejust_your_average_joe: ]

No - only thankful the person was caught and the child is safe for another moment.

Tuesday March 2, 2010 12:51 just_your_average_joe
12:51

[Comment From barbbarb: ]

no i dont see any difference he knew what he wanted

Tuesday March 2, 2010 12:51 barb
12:52

[Comment From TT: ]

Internet stings catch them before they offend. Usually they have committed these types of crimes before, but have not gotten caught. Sex predators cannot be rehabilitated. They believe their behavior is acceptable and do not understand why they are being punished for it. Many get away with it because there are too many of them to catch. That's what they're counting on....

Tuesday March 2, 2010 12:52 T
12:52

[Comment From ChristineChristine: ]

Will they make him admit to his actions during sentencing? I think he should at least say it out loud.

Tuesday March 2, 2010 12:52 Christine
12:52

| | |
| --- | --- |
| | Christine -- There's no requirement that a defendant speak at sentencing. Many of them do, and they often apologize for what they've done. |

Tuesday March 2, 2010 12:52
12:54

[Comment From ChristineChristine: ]

But isn't that part of a plea-bargain?

Tuesday March 2, 2010 12:54 Christine
12:56

| | |
| --- | --- |
| | When there's a negotiated settlement to a case, the criminal complaint is typically used as the basis for the plea -- which means that the facts outlined in the complaint are accepted as true. If someone pleads no contest, for example, he or she is admitting that the state has enough evidence to prove a case, but has not actually admitted doing the crime alleged. If someone pleads guilty, he or she is admitting guilt to those specific crimes. |

Tuesday March 2, 2010 12:56
12:57

[Comment From AdrianAdrian: ]

Is there a posibility that Becker will get probation?

Tuesday March 2, 2010 12:57 Adrian
12:57

| | |
| --- | --- |
| | Sure. In fact, most people caught here in Internet stings got probation. |

Tuesday March 2, 2010 12:57
12:58

| | |
| --- | --- |
| | Many of them were able to complete probation successfully. |

Tuesday March 2, 2010 12:58
12:58

[Comment From TonyTony: ]

What time do we expect sentencing

Tuesday March 2, 2010 12:58 Tony
1:00

| | |
| --- | --- |
| | Becker's sentencing is scheduled for 1:30 p.m. Wednesday. Come back to www.journaltimes.com for a live blog of what happens in court. The live blog -- in the same format as today's conversation -- will be up and running sometime between 1 and 1:30 p.m. |

Tuesday March 2, 2010 1:00
1:03

Thanks for participating everyone. This conversation will be available to reread at www.journaltimes.com. You'll be able to find tomorrow's live coverage in the same spot on the home page.

If you'd like to give us feedback on the Cover It Live event -- and we'd love to hear it -- e-mail bridget.thoreson@journaltimes.com.

Tuesday March 2, 2010 1:03
1:04

[Comment From DJDJ: ]

Thanks Janine

Tuesday March 2, 2010 1:04 DJ
1:06

[Comment From MatMat: ]

You should have more like this. It was great.

Tuesday March 2, 2010 1:06 Mat