TICHIGAN — A rare black swan that could be wandering far from home has got people all aflutter this summer on Tichigan Lake.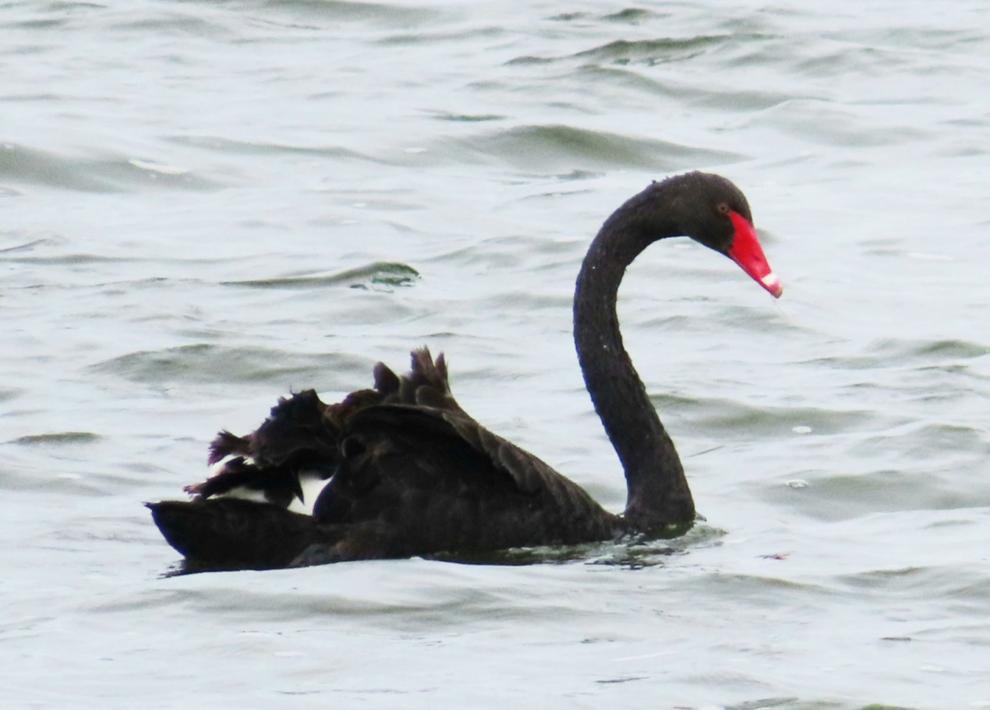 The large waterbird, native only to Australia, has startled boaters and others on Tichigan Lake by taking up residence and mingling with other birds in western Racine County.
It looks much like the white-colored swans that populate Wisconsin lakes and ponds, especially with its long curved neck. But the black feathers and bright red beak set this waterfowl apart from the crowd in ways that are impossible to miss.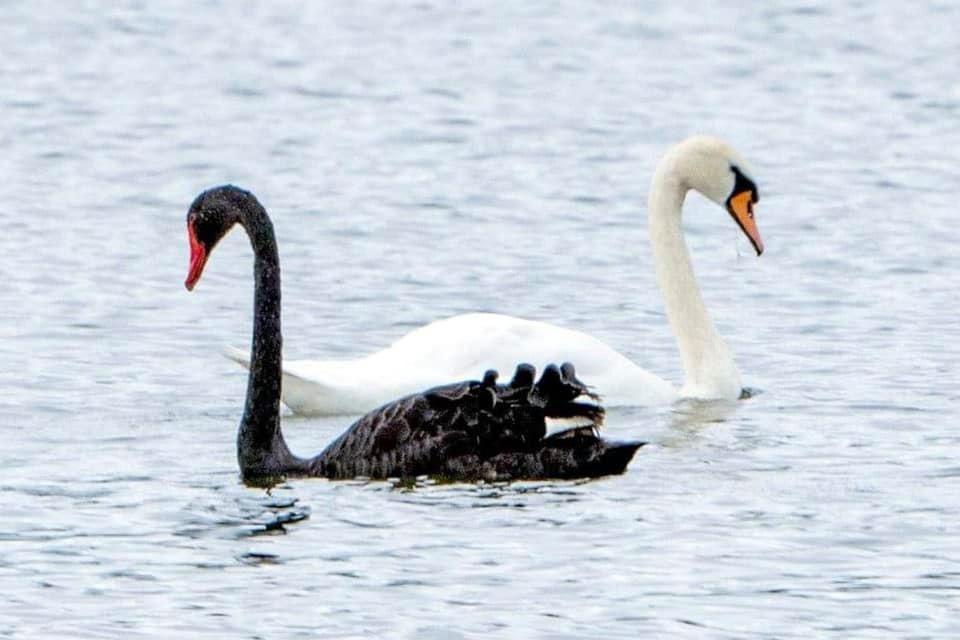 No one knows for certain where he — or she — came from.
"It's such an oddity," said resident Carrie Lapow, who spotted the black swan this week while boating on the lake just north of Waterford.
Describing the bird as "gorgeous" and "majestic," Lapow said she recognized it as a black swan because she has seen those birds on previous visits to New Zealand. Other people locally have mistaken it for a goose, she said.
"It's something that people don't see too often," she said. "I don't know if anybody's ever seen one around here."
Once fully grown, the black swan can present a wing span of up to 6 feet wide.
A biologist for the Wisconsin Department of Natural Reserves agreed that black swans in Wisconsin are unusual — but not unprecedented.
Ryan Brady, a conservation biologist with the state, said he recalls previous reported sightings in recent years near Milwaukee and Madison.
"They're cool-looking birds," he said. "It's rare to see one."
Brady speculated that the Tichigan Lake visitor was someone's house pet or perhaps was a zoo inhabitant that somehow got loose. It is far less likely, he said, that the bird flew here from Australia or even from Florida, where a small population has been established.
Wherever it came from, the bird probably picked Tichigan Lake as its new home because of the presence of white swans or other birds.
"It found a friend," he said.
Since the sightings began a few weeks ago, Tichigan Lake's newest resident has become a local celebrity. Photographs and eyewitness accounts have generated numerous responses on Facebook.
"Absolutely beautiful," one person wrote.
"Very cool," said another.
Belinda Abendschein, another area resident, said it is common to find loons, pelicans, eagles and other impressive creatures on the water. But in more than 25 years of living near the lake, Abendschein said she has never seen a black swan.
People are having fun this summer swapping stories about the bird and offering guesses as to where it came from, she said.
"This is one that's really got people excited," she said.
Brady said the unusual bird could make Tichigan Lake a long-term home, even during winter. As long as there is food and water available, the bird might find no reason to leave, he said.
Megan Corey, a lifelong lake resident, said she is not convinced that the black swan did not come from Florida or from even farther away. Considering how climate change is affecting normal animal migration patterns, she said, anything is possible.
"Why not here?" she said.
And although she is enjoying seeing the rare bird during kayak outings on Tichigan Lake, Corey hopes the creature has a safe and pleasant journey ahead, regardless of where he goes next.
"I feel kind of bad, if he's feeling lost or confused," she said. "I hope he does what he wants to do."