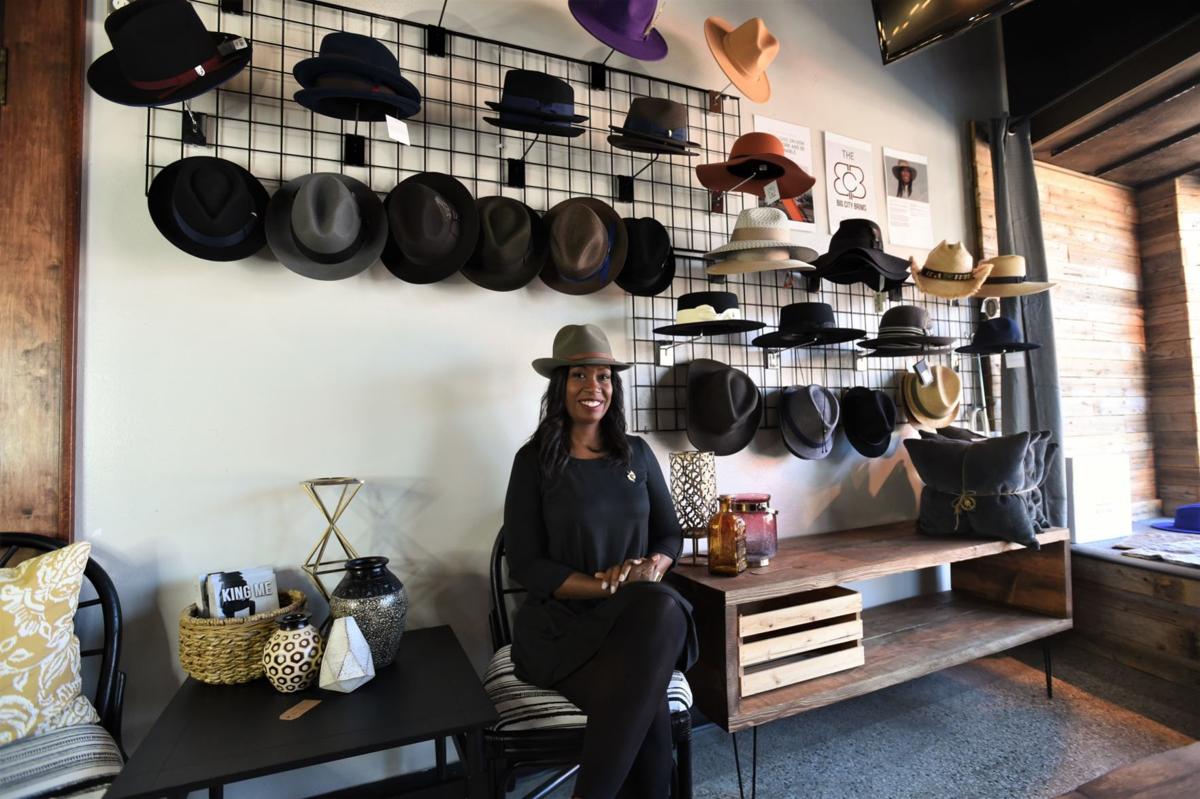 RACINE — "The hat you wear will enter the room minutes before you ever arrive."
For Delicia Evans, her motto has always been true. She remembers watching TV as a girl and being fascinated by Zorro's bolero, cowboy hats in Westerns and, of course, the classic fedora.
"When you wear a hat, it's the first thing a person notices. It says more about you, it speaks for you when you enter a room. If you're wearing a hat, people are trying to figure out 'OK, what is this hat about? Who is this person?' " she said. "It's communicating something."
Her business, Big City Brims, is connecting people with the hats that communicate what they want to put out to the world. Having started as an online-only business, she set up shop at at Project Restoration, 2049 Taylor Ave., at the beginning of the year and is generating buzz around town.
Passion for fashion
This isn't Evans' first business. For a decade, she sold real estate. But hats always were her passion.
Evans, a Racine native, currently has over 100 hats in her personal collection: Some she keeps in a large decorative chest, others in their original boxes. She likes to switch them around, depending on what look she's going for, although she describes her style generally as "big city."
"Even though I'm a small-town girl, born and raised here in Racine, and I'm proud of that. However, I love the fashion from big cities," said Evans. "I love the styles, the feel, the attitude, all of that. So that's what i'm trying to bring to the world."
She noticed that her friends would contact her whenever they needed a hat for a special occasion, and wondered if this could be a business opportunity. She launched Big City Brims as an online shop in May 2017, and has sold hats in Milwaukee, Chicago as well as around the world. Her company was featured in the winter edition of Fashion GXD magazine, published in the New York City borough of Brooklyn.
She was approached by Project Restoration owner Deontrae Mayfield about opening a retail space for her hats within his store. She liked the idea of having a presence in her hometown.
"I'm so happy that I did," she said.
Her hats range from $35 for a paper straw women's hat with a wide brim to $75 for a black bolero she has nicknamed "the D'Angelo." She also carries hats that go up to $100, but the majority fall within the $35 to $65 price range.
In Racine, she's noticed a lot of interest in bright colors from all through the rainbow, which she plans to stock in time for spring. She's also planning a grand opening in May, although that date hasn't been set yet.
Evans said she is scheduled to take a class on hat-making this spring in Pittsburgh. The plan is to not only open her own shop but eventually be able to offer her own customized hats.
"I believe it's a bigger market there," she said. "People really want to say what color hat they want to wear, how that hat should look."
She points to the growing number of fusion-styled hats that combine crowns with different brims. One of her hats, which she's nicknamed "Savannah," has a fedora crown with a wide, floppy brim. She tried on another hat recently that was a mix of the bowler and fedora styles.
"That's the creativity in the hat world right now," she said. "People want personalized styles to represent their style, their attitude and personality. And I hope to give that to them."
Snowdance Comedy Festival names its 2020 'Best in Show' winner
The Over Our Head Players performed the 10 finalist plays selected for the 2020 Snowdance 10 Minute Comedy Festival, from Jan. 31 through Sunday, before sold-out crowds at the Sixth Street Theater, 318 Sixth St.
The festival is a competition of original 10-minute comedies. Between July and October, a record-breaking 654 scripts were submitted for consideration. Playwrights from 43 states and 12 foreign countries entered the competition. 
"The Talk" by Greg Beattie of Lafayette, La., starring Ron Schulz (as Jackson Bradley) and John Adams (as Dad) and directed by Rich Smith took the $500 top prize, "Best In Snow," on Sunday afternoon at the 2020 Snowdance 10 Minute Comedy Festival.
Second place went to "My Parents' Carjacking," written by Michael L. Johnson of Racine, and third place went to "The Last Game Night," written by Karen Fetherston of Racine.
Photos courtesy of the Over Our Head Players.