YORKVILLE — A California developer has selected land just across Interstate 94 from the Foxconn development to become a new "town square" type of project, comparable to Drexel Town Square in Oak Creek.
With plans for four acres of public green space, a big-box retailer, four restaurants, three retail stores and a hotel, Lansing Companies has big plans for an area in the Village of Yorkville that currently is occupied by farmland and the Home Run Heaven baseball fields, directly west of Interstate 94 and south of Durand Avenue (Highway 11).
The prospective name for the development is "Durand Corners."
The developer is Lansing Companies, based in San Diego, but Lansing worked with Milwaukee-based Continuum Architects + Planners to draw up the plans.
"They reached out to us," said Corey Lapworth, who works for Continuum. "They (Lansing Companies) are very interested in that area, particularly in regard to Foxconn."
Gregory Lansing, the CEO of Lansing Companies, said that his company has been interested in the area for several years, even preceding Foxconn.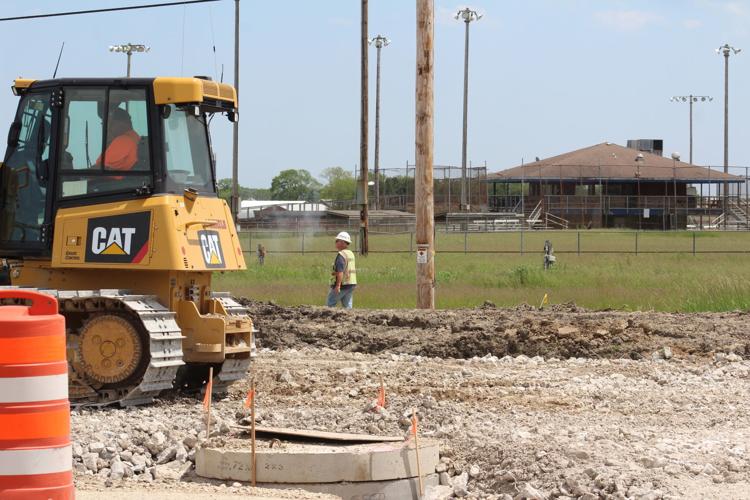 "We've been looking at the I-94 corridor," he said.
Lansing said that his company already has two other properties in Mount Pleasant, a third in Kenosha and is working on acquiring a fourth in Pleasant Prairie.
In Mount Pleasant, Lansing said that he hopes to have a 1-million-square-foot industrial complex constructed on 57 acres on Kraut Road. Lansing expects the second Mount Pleasant property, located behind the planned Advocate Aurora Health medical center on Spring Street, to become a mixed-residential neighborhood.
Lansing said that there have already been discussions with hotels, gas stations and chain restaurants to fill the spots laid out in the Yorkville plan. He's hopeful a big-box retailer will take interest too — naming Home Depot and Walmart as possibilities — but Lansing said that wouldn't be necessary to get the development off the ground.
"It's a good plan," Lapworth said. "We (Continuum) kind of put together some concepts, and they (Lansing) gave us an overarching idea."
You have free articles remaining.
You're out of free articles
Sign in or create a FREE account to keep reading.
Planning
This proposal, which was delivered to the Racine County Public Works and Development Services Department for review last month, would require rezoning to be approved by the Village of Yorkville.
A private onsite wastewater treatment system is expected to be added to the area, since water and sewer aren't available there. The proposal also includes an underground septic system and a drainage pond to be added to the southeast end of the property.
Village response
The project was presented to the Yorkville Joint Village Board and Plan Commission on Monday and the project received a favorable response, said Yorkville Clerk-Treasurer Mike McKinney. The next step would be for Yorkville to review a land division request or for it to go to the county for a conditional-use permit.
Village President Doug Nelson said there is a long way to go before the project could come to fruition.
"Drainage is always an issue and highway access points will need to be addressed. We'll know more about the available area for businesses after items like road right of ways and the water retention pond area is determined," Nelson said.
Maintaining the village's rural atmosphere is also paramount, Nelson noted.
"After our first two public forums were held by our Long Range Land Use Planning Committee, our feelings were reinforced that the community strongly favors our current rural atmosphere, and they want developed areas to be more open than your standard, urban development," Nelson said. "It will be up to the developer to maximize their potential, while maintaining our rural favor."