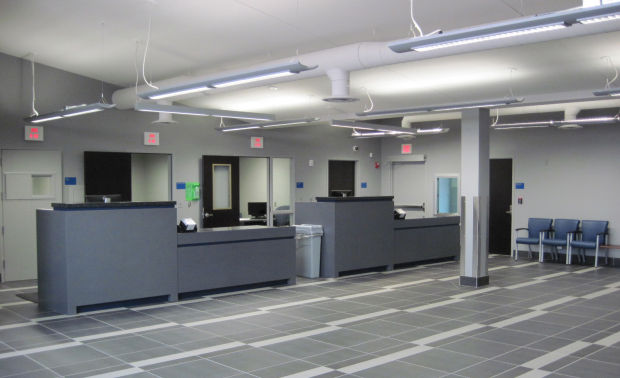 RACINE — By next fall, Batten International Airport should have full U.S. Customs and Border Protection capabilities for international flights.
The Federal Aviation Administration has granted Batten about $500,000 to build an addition for customs inspections.
To facilitate customs clearances, in 2012 U.S. Customs moved its local office from the Downtown post office to Batten, 3239 N. Green Bay Road. It placed a full-time customs agent at Batten; a second comes in from Milwaukee as needed. Those actions led to an increase in international flights, Airport Manager David Mann said.
"When (customs) weren't based here, we hardly got one a month," he said. Now Batten averages about three international flights a week, depending on the season.
Currently, customs checks at Batten are done aboard aircraft or by having passengers come into the terminal; there is no designated, fully equipped intake space.
Mann said Batten's increase in international flights, its lack of security capabilities and a heightened interest by Customs and Border Protection in general-aviation airports are all reasons the
addition project is happening.
As examples, Batten currently lacks X-ray technology to properly search baggage, and computers to check visitors against law enforcement databases or take fingerprints.
Also, Batten is a designated congestion-relieving airport for Milwaukee and Chicago, and the FAA wants more aircraft to use it, Mann said.
Racine is one of only three Wisconsin cities, along with Milwaukee and Green Bay, to have airports with customs intake capabilities.
Brian Bell, public affairs liaison for U.S. Customs and Border Protection, said about the goal of building a customs intake area, "We hope that it creates a market for additional aircraft to make (Batten) a destination," while helping the local economy.
Bell said the new addition will be equipped to:
-- X-ray passengers' belongings.
-- Run passengers through various enforcement data systems.
-- Fingerprint visitors, as is required for all visitors entering the country.
-- Interview and/or detain someone in a separate room.
But Bell also said: "It's more of a welcoming environment when you arrive in an established facility with creature comforts — for example, it will have restrooms. And you can talk to someone in private, away from other people."
Mann added: "General aviation" — that is, all aviation but commercial airlines and military — "doesn't have the security of the major airline terminals. It's really to beef up border security for general aviation."
The addition is highly likely to further increase the number of incoming international flights, Mann said.
"I wouldn't be surprised if it doubled," he remarked.
Each international flight that lands means a big fuel sale, and those sales are a huge revenue source for Batten.
"The average aircraft puts at least $10,000 on their Visa or MasterCard," he said, with a 2,000-gallon fill-up of aviation fuel at about $5 a gallon.
Batten's international flights are mostly businesses and celebrities on the move, Mann said. Many aircraft come from Europe, land here, clear Customs and go on to destinations from Denver westward.
CNH Industrial, SC Johnson and Twin Disc all use Batten for international business flights, he said. So have Kohler, Quad Graphics and John Deere.
It's cheaper and much faster than using Milwaukee's General Mitchell International Airport, Mann said. Each flight currently saves about $1,000 in fees by clearing Customs at Batten instead of Mitchell, he said, and does it in about half the time.
Among celebrities, actress Suzanne Somers has been through several times, he said.
One reason Batten's international traffic has increased over the years, Mann said, is its ability to incinerate international garbage and anything banned by law, such as live plants.
Mann said he's chosen a consultant, Nielsen Madsen & Barber, 1458 Horizon Blvd., and an architect. He hopes to bid the project by about Jan. 1, start construction when the weather breaks in spring and finish the addition before next fall.
The state and Batten will together kick in about $56,000, so Mann starts with about a $558,000 pot including FAA dollars. But he may need to raise more if the project cost is greater than that.
Even before Batten builds the new addition, it is drawing interest for its Customs-clearing capability, Mann said.
"We're starting to get traffic that would clear customs at O'Hare, Midway and Waukegan," he said.
He recently made a pitch to a man from Long Beach, Calif., who owns nine long-range jets that can come from Europe to here. "He's been using Duluth (Minn.) to clear Customs" and refuel, Mann said.
But after learning he can do that in Racine, "he said he would start giving us a try."
"It's a big deal," Mann said about the future customs addition. "It ensures that we will have that capability and that Customs and Border Protection will stay here."
Moreover, Mann said, the addition will be very important to companies that already rent or own hangars at Batten, for attracting more of them, "and for my plans to keep this airport on a profitable basis."