RACINE — The city ordered the demolition of West Racine's former Park Theatre eight months ago, and for that span of time, it has seemed like a sure thing. It is run down, condemned, vacant and in dire need of repairs.
But a small group of city residents is hoping to give the theater, located at 3015 Washington Ave., a second act before wrecking crews knock down yet another one of Racine's 20 former movie theaters, of which just seven remain standing today. Originally opening as The Capitol Theatre in 1928, the Park went on to show movies for 59 years. The property, purchased in 2006 by John Apple, is currently used as storage.
"I'd like to save this one, if nothing else," said Nancy Simonson, treasurer of the neighborhood group West Racine Alliance and one of the organizers of Friends of the Capitol Theater, the group looking to salvage the theater. "This city needs a theater."
Saving the decaying structure would be a tall order, according to city officials. Apple owes $140,975.16 in delinquent taxes on the building dating back to 2008, records show. If the Friends of the Capitol Theater group were to purchase the building from Apple, it would still need to pay all delinquent taxes and invest more than $800,000 to get the building into a basic usable state before any renovations could be done, said Ken Plaski, the city's chief building inspector.
"There's more holes than there is ceiling, actually," Plaski said. A flock of birds has also been living in the building for a decade or more, and there is 3 to 4 inches of bird excrement piled up where they nest, he added.
The entire property is assessed at $150,000, but the theater itself contributes only $107,800 of value to that total.
"You're looking at a structure that not only has low value and hadn't been maintained, but has actively been demolished by neglect of the current property owner," said Amy Connolly, director of city development.
Simonson acknowledged "there's a whole slew of things to get done" with the theater, but said she still wants to salvage it.
"It's not in great shape, but it's doable," Simonson said. "If we do it right and we do it right the first time, we might be able to save it."
While saving the theater would be ideal, Mayor Cory Mason said, it does not seem to be in the cards right now.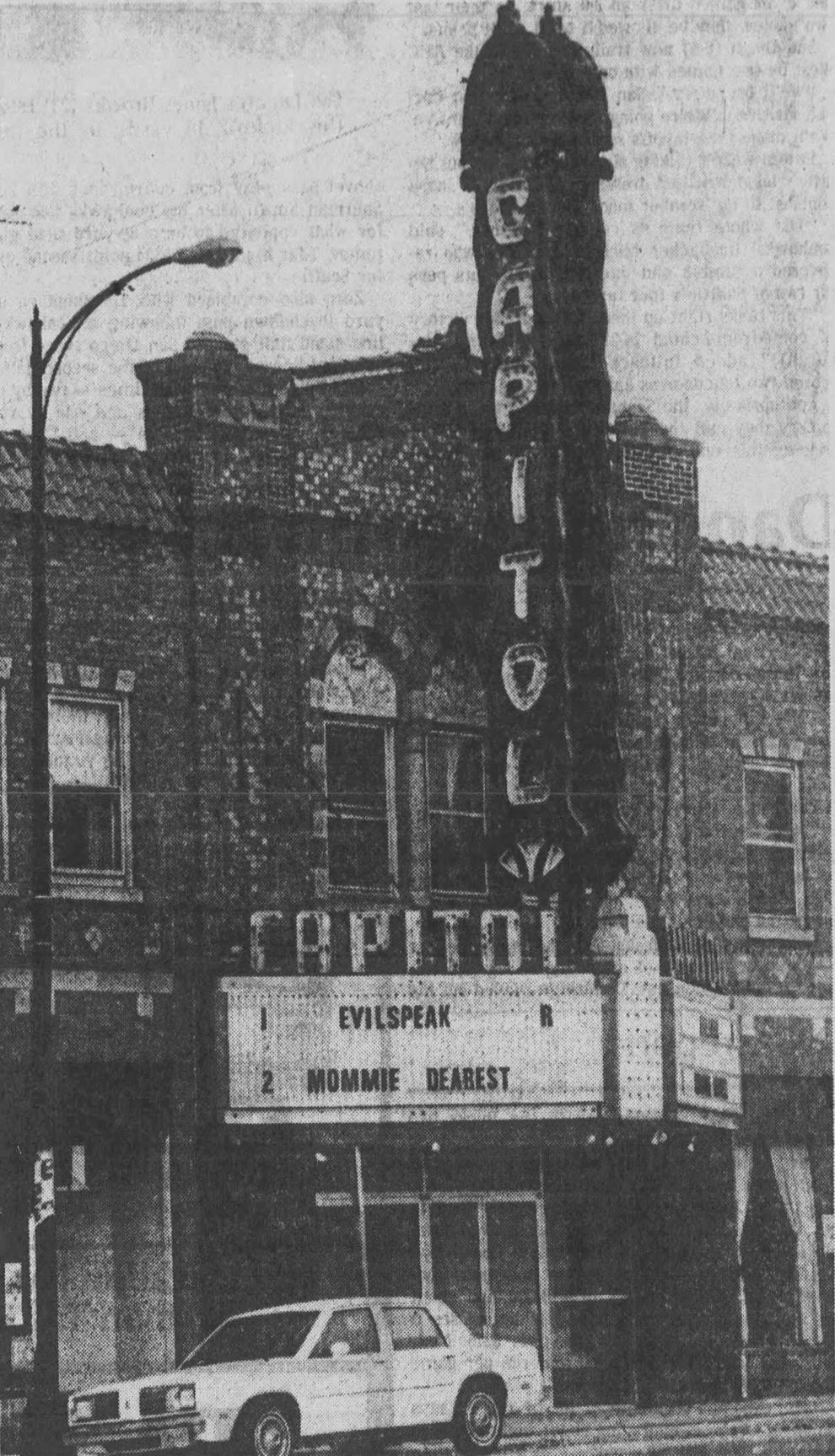 "I applaud the sentiment of the folks from West Racine who would like to see this building saved," Mason said. "I'd like to be in a place where it could be saved, too. … It is an unfortunate outcome that we would like to prevent from recurring moving forward."
He added, "The Park Theatre is just the latest example of demolition through neglect by an irresponsible landlord who's let it get to this point. I would love to see the theater saved, too, but I can't ignore what Ken (Plaski) has found there in terms of the structural integrity of the building — or the lack thereof — that would jeopardize health and safety."
The topic of saving the theater will be brought up at the West Racine Alliance's neighborhood meeting 6 p.m. Thursday at Wilson Funeral Home, 1212 Lathrop Ave., Simonson said.
Demolition imminent
Simonson said she plans to start a fundraiser by the end of the week with the goal of raising $2 million. By the time the group could raise that money, it may be too late.
The demolition order is currently on hold after Apple filed for a temporary restraining order against the city. His lawyer, Peter Ludwig, erroneously filed the suit against the Village of Wind Point in August after the deadline, and Racine successfully argued the case was improperly filed, resulting in a dismissal. Apple appealed the dismissal in October and the case is still in appellate court waiting on a decision.
The city is expecting a decision in April; if the case is again dismissed, Plaski said he expects demolition to begin in June.
If Simonson's group acquires the building and brings it up to regulation before the case gets out of court, the city may have further discussion with the group, City Administrator Jim Palenick said.
"We wouldn't have the conversation until that occurred," Palenick said.
RACINE — Racine was once a city brimming with neighborhood movie theaters, but that has not been the case for decades — and there has not been…
Apple denies reports
On Aug. 28, 2017, the city issued a list of 24 repairs and inspections that needed to be done for the building to be habitable again. Apple did not fulfill any of the orders, Plaski said.
In a phone call with The Journal Times Monday afternoon, Apple claimed that he never received the list, the building is in fine shape and he "did a lot of" repairs. He also denied the city's report that there was a pipe backup that filled the basement with 5 inches of raw sewage, claiming it was just water from a toilet overflow.
"These people have their head up their (expletive), as far as that goes," Apple said.
Apple declined to let a Journal Times reporter see the condition of the theater's interior. Court records show that Apple was ordered not to let anyone in the building besides his son and himself, and is not allowed to put anything more into storage in the building.
He paid $130,000 for the building in 2006. When asked twice what he would be willing to sell it for, Apple did not give a price and instead said he would like to stay involved with the building in some way. He added that he hopes the building does get saved.
"I like old buildings. I like old houses, antiques. I like saving things," Apple said. "…I would hate to see it get torn down. It's a solid building."
But city officials said Apple was wholly neglectful of the property, not reverential as he painted himself to be.
"That would be like saying, 'I bought this dog and decided not to feed it for three weeks because I love dogs,'" Palenick said. "Really? Come on."
Plaski said the theater stuck out as one of the worst buildings he has inspected and condemned. The exterior walls have not been maintained and the steel roof structure is compromised — and the whole building could have collapsed from a heavy load if winter had produced a massive snowfall, he said.
"I didn't feel safe being in there," Plaski said.
The Park Theatre is not the first building Apple has let fall into disrepair. In 2002, the city blighted and condemned the building at 410 Main St. that Apple then owned. However, it was not torn down; it now houses Not Your Parents Basement Gaming Lounge.
Symptom of larger problem
About a mile east on Washington Avenue, the Uptown Theater also crumbles. The theater, 1426 Washington Ave., was placed on the National Register of Historic Places on March 1, 1982, but it has not been well-maintained.
RACINE — For a few decades in the early 1900s and into the middle of the 20th century, the City of Racine was home to numerous movie theaters.…
Over the decades, different groups have unsuccessfully sought to secure funding to revitalize the theater since it closed in 1959. Most recently, in 2017, the city Development Department proposed a $5 million earmark for a redevelopment of the theater in the city's 10-year capital improvement plan, but city aldermen shot it down.
At that time, Connolly said, the Uptown was salvageable. But that does not seem to be the case any longer.
"In that year time, between when we went through it the first time and when we went through it the second time, there were so many more holes in the roof — there was so much more damage — that it was obvious that that year had really taken a toll and that there would just be no path forward," Connolly said.
While tearing down the Uptown Theater is possible, it could need to go through a lengthier process with the Wisconsin Historical Society and city Landmarks Preservation Commission due to its historic designation. The commission has authority to review demolition permits.
The Park Theatre's looming demolition is just a larger symptom of an unfortunate pattern of Racine's historic buildings being taken advantage of, Mason said.
"They don't preserve themselves magically," Mason said. "It requires investment, commitment, enforcement and stewardship by the property owners to do that."
"The Park Theatre is just the latest example of demolition through neglect by an irresponsible landlord who's let it get to this point. I would love to see the theater saved, too, but I can't ignore what Ken (Plaski) has found there in terms of the structural integrity of the building — or the lack thereof — that would jeopardize health and safety." Mayor Cory Mason
"The Park Theatre is just the latest example of demolition through neglect by an irresponsible landlord who's let it get to this point. I would love to see the theater saved, too, but I can't ignore what Ken (Plaski) has found there in terms of the structural integrity of the building — or the lack thereof — that would jeopardize health and safety."

Mayor Cory Mason