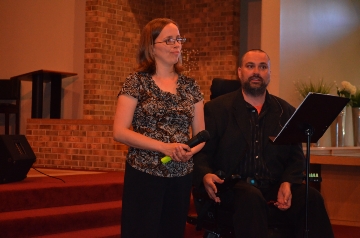 RACINE — It's the pain that Todd Neva says he feels for the people in his life who love him, and will be left behind when he dies, that visibly affects him.
"I have yet to teach (my son) how to be a man, how to ride his bike, how to treat a woman," Neva said Sunday while discussing a book he and his wife wrote about how to deal with a terminal diagnosis and find meaning in what remains of their life together.
"I have yet to walk (my daughter) down the aisle at her wedding. My girl needs her dad," he said.
Todd Neva was 39 years old when he was diagnosed in June 2010 with amyotrophic lateral sclerosis, ALS. It also is known as Lou Gehrig's disease, after the Yankees baseball player who died from it in 1941.
The disease affects the portion of the nervous system that controls voluntary muscle movement. It usually occurs during middle age, according to the Muscular Dystrophy Association, but researchers haven't pinpointed a cause.
The Nevas quickly learned that those with ALS have a three- to five-year life expectancy, Todd Neva said.
"The emotions were raw during the first year," said Todd Neva, now 43. "Over time we have developed more peace with having a terminal diagnosis and the pain that goes with it."
Todd and Kristin Neva, formerly from West Racine, self-published a book in January entitled "Heavy: Finding Meaning After a Terminal Diagnosis." They have two children, Sara, 8, and Isaac, 4.
As their children played in another room, they spoke Sunday night about their book, which details their thoughts and emotions in the year after Todd Neva's diagnosis, what they learned and how they are trying to prepare their children for Todd's death.
"I tell the funny parts and she tells the sad parts," Todd Neva said with a grin. "We each reacted to the diagnosis differently. ... We still don't have it all figured out."
More than three dozen people attended the free event at Fellowship Baptist Church, 5607 Wright Ave. Some said they, too, had lost loved ones in tragic accidents or to terminal illnesses.
For those who are suffering, "reality is our problem," Kristin Neva, 36, said.
Some people die suddenly — a drunken driver plows into a car, or a massive heart attack.
"I, however, am on notice," Todd Neva said.
But that time allows him to try to impart wisdom to his children. It allows him time, he said, to hold his grieving wife. And it gives him time to tease his mother that "I still plan to attend your funeral."
"I have decided to live well," he said.
Todd Neva previously worked for SC Johnson, but his condition has left him unable to work. The Nevas now live in Michigan's Upper Peninsula, next to Kristin Neva's parents.
A devout Christian, Kristin Neva said she questioned why God "gave" her husband this disease, and why their family should endure such suffering. She said her husband once asked if she thought it "would be more fair for drug dealers to have ALS." Her immediate answer, she said, was "Yup."
In time she has learned they have no control over what happens in life, but can control how they respond every day. She said she recognizes the importance of grieving, and preparing her two children to mourn for their father.
But they also must be thankful of life's daily joys, she said.
"Suffering opens our heart to other people and lets us love other people," Todd Neva said. "Unless you can suffer with people, it is very difficult to have true compassion. I would much rather have much less capacity for compassion. Seriously. But compassion is a gift and I'm thankful for it."
"Heavy: Finding Meaning After a Terminal Diagnosis" may be purchased for $10 through Amazon, and a handful of copies are available at Arise Christian Stores, 3312-14 Washington Ave. Todd Neva said they have sold more than 400 copies since publishing the book in January. For more information, check out the couple's website at http://nevastory.com/.