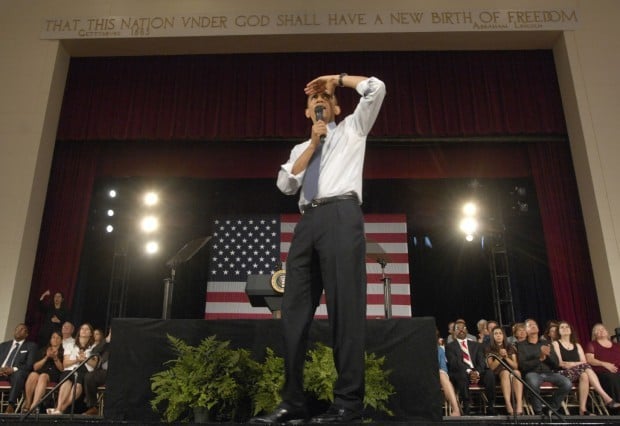 RACINE - It was a supportive crowd that heard President Barack Obama's speech at Memorial Hall, 72 Seventh St., Wednesday afternoon.
He spoke fondly of his visit here during the 2008 presidential campaign, and his appreciation for a Midwestern summer day. Then he told a few jokes:
"It's wonderful to be here," he said. "It's nice to get out of Washington. I love Washington, but it's good to escape the heat and hot air."
That earned him laughs and applause. Obama continued, saying "I stopped off (on the way) here to get a kringle. Maybe on the way back I'll look for a brat, but don't tell Michelle."
"I know towns like Racine are still hurting from this recession," he said. "This town has the second-highest unemployment rate in the state. I can only imagine how much pain that has caused."
He said it is "frustrating and often it's heartbreaking" to hear about the challenges Americans still face due to job loss, health insurance challenges and other concerns.
"Nothing is more important than reversing the damage of the Great Recession and getting people back to work," he said.
Obama said there is still work to do, but that early signs are that the initial efforts are paying off.
He pointed at successes of the recovery plan - like halting the fast pace of job loss and getting the economy to grow again instead of contract - and asked people to trust that things are going to continue to improve.
"We tried the other side's theories," he said. "We know where it left us. Now we've got a choice. We can return to what we know did not work or we can return to a stronger future. We can go backward or we can go forward."
That was one of several barbs Obama tossed at Republicans during his remarks. He singled out two representatives' comments as evidence that what he repeatedly called "the other party" was out of touch with the average American.
"Leaders of the Republican party said (financial) reform was like using a nuclear warhead to target an ant," Obama said. "That's what he said. The recession was like an ant. We lost 8 million jobs. People lost their homes. Their savings. He can't be that out of touch with the struggles of American families. If he is, he's got to come here to Racine."
Obama also pointed to Texas Rep. Joe Barton's apology to BP for the government's requirement that the company set aside $20 billion to help families and businesses affected by the Deep Horizon spill.
"He called it a tragedy that we made them pay for the destruction that they caused," Obama said. "The tragedy is what the people in the Gulf (of Mexico) are going through. That's the tragedy. Our government has the responsibility to hold those who caused it accountable."
Be the first to know
Get local news delivered to your inbox!