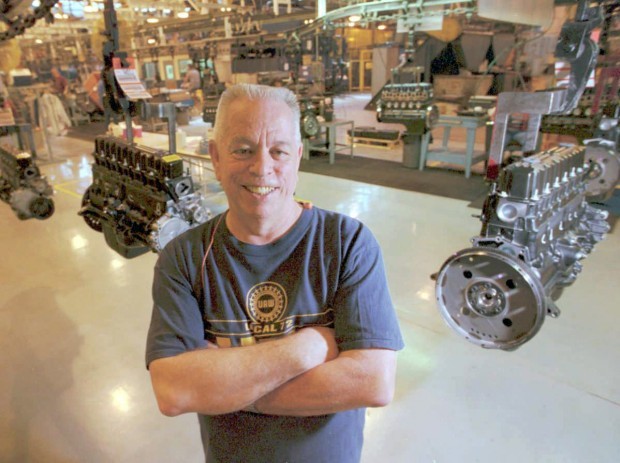 RACINE - For anyone who followed the auto industry in the 1980s, and many who didn't, the name Lee Iacocca, the former Chrysler CEO, most likely rings a bell.
Rudy Kuzel, however, wasn't a household name, unless you were one of the thousands of union members who worked at the former American Motors Corporation plant when Chrysler bought the company in 1986.
Kuzel, a Racine resident and former president of the United Auto Workers Local 72, died Thursday morning. He was 73 and had been battling cancer, said Connie, his wife of 52 years.
To those who knew him, Kuzel was, in many ways, the quintessential labor leader - an old school, bare-knuckled fighter hammering out deals with management. For more than a decade, Kuzel, a graduate of St. Catherine's High School, led the UAW at the AMC then Chrysler plant, at a time when it was one of the largest, if not the largest, labor unions in Wisconsin.
For all the power he wielded when he was union president, the current UAW president at Kenosha's Chrysler plant, Glenn Stark of Franksville, remembered another side of Kuzel.
Stark said he received an invitation to Kuzel's house in Racine not long after being elected to the post a little more than a year ago.
Stark expected to be grilled about his knowledge of issues like contracts and the other things a union president might need to know. Kuzel instead talked about "how you treat people inside the plant and outside of the plant," Stark said.
"If the plant was going well ... it spilled over in the community. Rudy was as much a community person as he was a union guy," Stark said. "I think sometimes people look at Rudy as just a labor leader. He was big on treating people the way you want to be treated."
That being said, Stark, who first met Kuzel when he apprenticed at the plant in Kenosha, also remembered the time Kuzel sat across the negotiating table from Iacocca when Chrysler planned to close the Kenosha plant in the mid-1980s, not long after the company purchased AMC.
While Kuzel didn't succeed in keeping Chrysler from relocating 5,000 jobs, he did negotiate one of the largest plant closing settlements the company ever had to pay out back then, Stark said.
"He knew what it would do to the community and how it would hurt people," Stark said. "(He said) I will make this the most expensive plant closing you have ever seen."
Kuzel was born in Milwaukee and moved to Racine when he was in high school. He met his future wife Connie when they were both students at St. Catherine's High School in the 1950s. They dated for four years and then married. The couple raised three children.
Even though he was a union president in Kenosha, Kuzel was active in union issues locally, walking picket lines with teachers and factory workers here in Racine, his wife Connie remembered.
"He was always trying to help the working man," Connie said.
That's how Ray DeHahn, a member of the Racine City Council, remembered Kuzel. DeHahn, and his brother Bob, worked with Kuzel at "the motors," as he worked his way up the ranks from union steward to union president.
Retired AMC plant workers have Kuzel to thank for negotiating discounts on Chrysler products, DeHahn said. It was something that came up in discussion long after Ray DeHahn had retired from AMC, before Chrysler bought the plant.
"He said, 'Ray, I'll take care of that.' He was a man of his word. He would go out of his way to help people. He was a person that really cared about people," DeHahn said.
Be the first to know
Get local news delivered to your inbox!