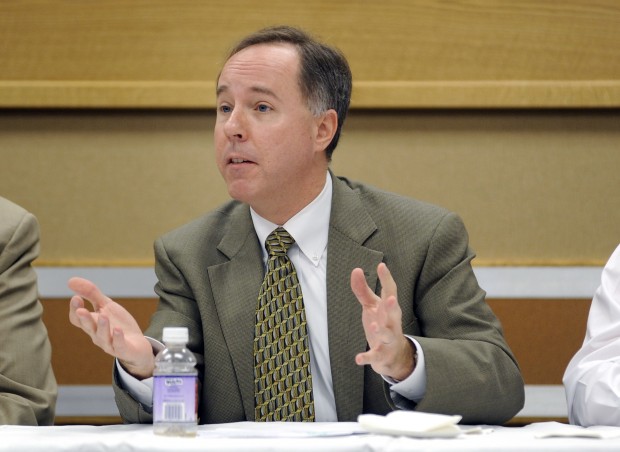 RACINE - A motion to bring school choice vouchers to Racine Unified was added Thursday to the proposed state budget, bringing vouchers one step closer to coming here.
"We think that this is a major step forward," state Rep. Robin Vos said Thursday at a press conference on vouchers, which allow students to receive state money to attend private schools. "We're giving the best options to students to make sure they have a good life and they're able to succeed in our society ... you definitely should have the right to choose a school even if you might not be able to afford it."
Vos, R-Rochester, is co-chair of the Legislature's Joint Committee on Finance, which voted Thursday to approve the motion expanding vouchers to Racine. They're currently allowed only in Milwaukee.
While Republicans largely favor voucher expansion, Democrats have called it a privatization of public education with no proven benefits.
"Vouchers students do the same or worse than public school students, so I don't see the benefit for Racine," said Rep. Robert Turner, D-Racine, mentioning a third-party study by researchers from the University of Arkansas that shows Milwaukee's voucher students don't necessarily do better than public-school students academically but do have higher graduation rates. "I won't be voting for it."
Turner said all students deserve the best educational opportunities, but taking money from public schools to provide those opportunities is not the answer.
Thursday's motion provided the first concrete information on how a voucher program would work in Racine.
Vouchers would start this fall with 250 children, eligible if they're selected in a random lottery, live in the Racine Unified School District and their families earn up to 300 percent of the poverty level, or $67,050 for a family of four. Priority would be given to students eligible for free or reduced lunch.
In its second year the voucher program would expand to 500 children; after that there would be no enrollment cap, Vos said.
The vouchers would be funded by the state, with some of that money coming from Racine Unified's state aid allotment. The Racine voucher program would cost about $1.6 million for the next school year and about $3.2 million the year after that with each voucher paying up to $6,442 depending on a student's tuition costs, according to Vos and the motion.
You have free articles remaining.
"If their tuition is less, they get less," Vos said.
Vouchers are a good fit for Racine, Vos said, because businesses and parents, especially those in Caledonia, have expressed support.
Fabiola Diaz was glad to hear vouchers are moving forward. Diaz, 36, of Racine, has four children: One in a private high school, two in a Unified middle school and one too young for school.
She said she can barely afford to send her oldest child to the private school and would not be able to send her two middle schoolers to private high school without vouchers.
"I would really like all of them to have that opportunity," said Diaz, an educator. "I don't have anything against the school district, the public schools. It's just that I feel with the budget cuts and things there's going to be an even larger number of kids in the classrooms.
"In my experience, in a smaller school and smaller classroom my kids got more out of it and more attention from the teachers," she said.
Such smaller class sizes should not be available only to families who can afford private school, Diaz said.
Voucher expansion will now move forward with the budget bill for approval by the state Legislature.
If approved by the Assembly and Senate, the budget will to go Walker for his signature. Officials hope that process is completed before July 1, the start of the state's next fiscal biennium.
The Associated Press contributed to this report.