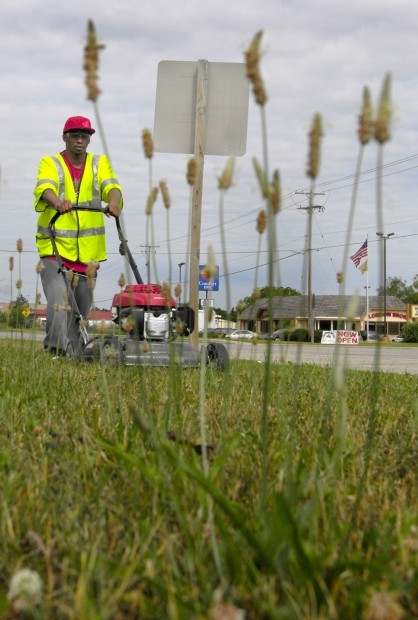 RACINE - The union that represents seasonal county workers has never liked Racine County's plan to use jail inmates to cut grass in the county.
Now, both union and county officials are waiting for a state appointed arbitrator to determine whether the county's plan violated the union's contract.
Wes Gable, president of Teamsters Local 43, filed the grievance last year after the county started using inmates to cut grass. An arbitrator finally heard arguments from both sides last month. Representatives from the county and the union have until Friday to file their final paperwork with the arbitrator before a ruling is issued.
Gable, who represents county highway department employees, said the plan has cost jobs.
"We have laid off members who were seasonal employees who came back every year. In our contract it describes the kind of work we do and who does it," Gable said. "When I have prisoners taking away jobs that are living wage jobs for some people, that's a problem."
Racine County Executive William McReynolds said Tuesday that he intends to use inmate labor again this summer, but the arbitrator's ruling could put a crimp in that plan.
"It is possible that the arbitrator will rule in favor of the union. In that event, we will have to weigh our options carefully," McReynolds said during his annual State of the County address.
The county started using inmates to cut grass after the state cut back on the amount it would pay counties to mow along state highways during the summer months. The state plan only reimbursed the county for one mowing during the season. That will continue this summer, McReynolds said.
Once residents started complaining last summer that roadways were becoming unsightly due to the sparse mowing, McReynolds and Racine County Sheriff Robert Carlson worked out a plan to have jail inmates cut grass in medians along state highways. Inmates weren't paid to do the work, but received time off their sentences.
The county only does the work that the state pays it to do along state highways, McReynolds' chief of staff Geoff Greiveldinger said Wednesday. If the county didn't get paid to do it, the work wasn't going to get done.
"It was not a matter of saving money. It was a matter of getting the job done without spending county tax dollars to maintain state highways," Greiveldinger said.
Gable argues that the county had jail inmates doing more work throughout the county, in violation of the union contract. He said as many as 45 seasonal county workers were idled and have not been hired back.
"We think they violated the contract. They don't think they did. We'll see what the arbitrator says," Gable said.
Be the first to know
Get local news delivered to your inbox!