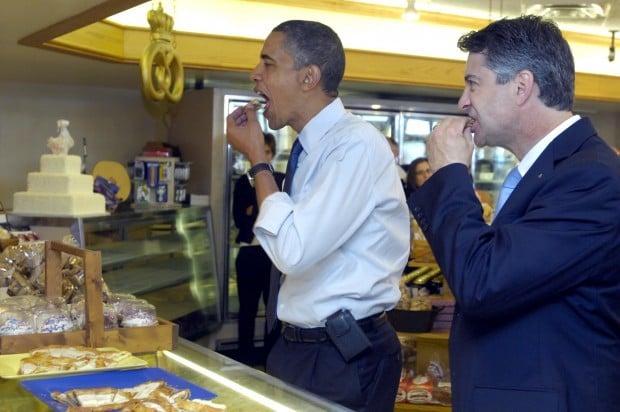 RACINE  - The word is out about kringle in Racine and even President Obama has heard.
President Obama's motorcade stopped by O&H Danish Bakery, 4006 Durand Ave., on its way to the president's town hall meeting at Memorial Hall, 72 7th St., Wednesday.
The president's visit lasted about 15 minutes during which he tasted multiple kinds of kringle and shook every employee's hand before buying three different varieties, said O&H manager Rebecca Jackson.
Obama said, "these are delicious," while trying a bit of pastry.
The president bought pecan, cheese and cherry kringle.
Obama said of the kringle, "I'm going to take a couple back for the girls."
The president paid in cash, taking money out of his own pocket.
"I want to add to the Racine economy," he said, checking out.
"We were only going to charge him for one kringle, but he insisted on paying for all three," Jackson said.
Obama commented on the flour and sugar covering some of the employee's uniforms, describing O&H as "authentic," said assistant manager Dawn Rotes.
He shook hands with kringle makers and said, "This is a kringle maker right here."
Obama sought out every employee, even those in the back of the bakery.
"I was on my break and in the background and he told me to come on forward and I shook his hand," said bakery clerk Sarah Noe.
Jackson had only 20 minutes to prepare for the presidential visit after her cousin, Mayor John Dickert, informed her of the president's wish to visit the bakery.
"It was overwhelming," Jackson said. "He mentioned he had heard about the kringle and wanted to take some home to his family."
Vicki Friso, 42, a human resources specialist from Union Grove, was in O&H with her two friends, Nicole Plizka and Liz Stabbe-Koplinski when Obama stopped by.
"We were just about to leave when we were told an extra special visitor might stop by and that we might want to stay," Friso said. "I just assumed it was Obama since I knew he was in town."
The president walked up to the women and shook their hands after they introduced themselves. Friso considers it quite an honor to have met the president.
"O&H is my favorite bakery anyways, but now they're my extra favorite," Friso said.
Be the first to know
Get local news delivered to your inbox!