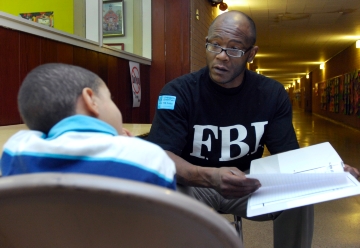 RACINE - Racine Area Manufacturers and Commerce on Wednesday announced its Excellence in Education Award winners.
The awards, given annually, recognize an exceptional area teacher, administrator, guidance counselor, volunteer and program based on nominations from school and community members. The nominations, collected in December and January, are narrowed and winners are selected by a panel of RAMAC business members, said Carol Barkow, RAMAC director of community partnerships.
This year no guidance counselor was nominated, but panel members chose winners in the other four categories. Winners work with a variety of Racine Unified schools or the district as a whole.
Walden III High School teacher Tom Rutkowski has been named teacher of the year for his work teaching English and leading sustainable living efforts at the school, 1012 Center St.
Rutkowski is the founder and driving force of Walden's Green School Initiative, a program and student group at the school dedicated to learning about and spreading green living. Through Walden Green School, Rutkowski has helped establish a rain garden and solar panel system at the school, among other projects that all provide hands-on involvement for students and help them develop skills in sustainability, project monitoring and presenting, according to nomination papers that describe Rutkowsi and his work as invaluable to Walden.
"Every school in this country needs a Tom Rutkowski," wrote nominator and fellow Walden teacher Christopher Semrad.
Gilmore Middle School Principal Kevin Brown has been chosen administrator of the year for his work leading the school in increased technology use and increased test scores.
Brown has been a key part of obtaining more technology resources for the school, 2330 Northwestern Ave., and of urging staff members to share input, nominators said.
Brown also helped start a Saturday morning program at Gilmore to help students perform better on state tests.
"This program helped increase test scores dramatically," wrote nominator Nicholas Sturycz, a Gilmore teacher. "Kevin has helped to focus the entire atmosphere of the school ... for students to be successful in their academic road to success."
Fathers Being Involved, a program that places male adult role models in Johnson Elementary School, has been named program of the year for improving the school environment and cutting down on disciplinary problems.
Fathers Being Involved, or FBI, has dads and other men volunteer a few hours each week to walk halls, chat with students and check on disruptive kids, all while wearing black FBI T-shirts.
The fathers and volunteers have made the school, 2420 Kentucky St., a calmer place with more on-task students and about half as many disciplinary actions per month, nominators said, all while showing positive male role models to the school's largely low-income students, many of whom come from homes run by single mothers.
"This program has not only helped students identify with male role models in the education setting, but has provided fathers and father figures an opportunity to actively impact the lives of students," wrote nominator Sue Malone, a Johnson teacher.
Carole Johnson, director of local and regional community programs for The Johnson Foundation at Wingspread, has been named education-related community volunteer of the year in part for her efforts leading local work groups and forums on education topics.
For the past 13 years, Johnson has organized an analysis of Racine Unified that compares the district to others in the state. She also has created work sessions and community groups to resolve area educational problems like truancy and has helped start and maintain two local charter schools, the 21st Century Prepatory School at 1220 Mound Ave. and the REAL School at 5915 Erie St., nominators said.
"She has had an enormous influence in improving the management of schools, improving educational achievement, and developing plans to reduce the truancy and drop out rate," wrote nominator Bill Schalk, former Unified School Board president.
Be the first to know
Get local news delivered to your inbox!