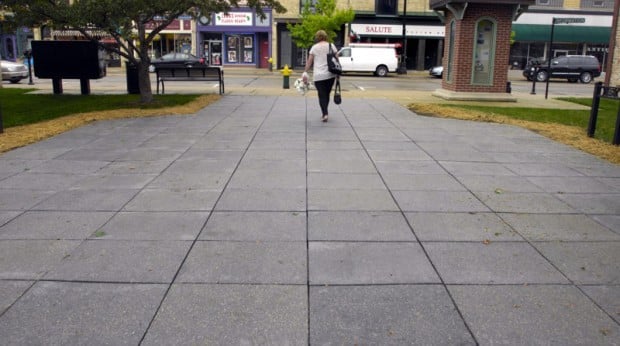 RACINE - Downtown pedestrians may notice a different walking surface in the area between Third and Fourth streets east of Main Street.
The new sidewalk system will improve safety, save money and help the environment, Mayor John Dickert said as he and other officials introduced the new sidewalk Friday at Crosswalk Park, 317 Main St., where it was installed last week.
"It does everything," Dickert said, referring to how it uses recycled material and helps reduce stormwater runoff. "Overall it saves the environment and it saves the taxpayers."
Several residents stopped by during the open press conference to check out the new sidewalk, called Terrewalks. Bouncing up and down, Dickert tested out the Terrewalks himself.
The granite-finish sidewalks, a product of Rubbersidewalks, based in Fountain Valley, Calif., is made up of recycled rubber and plastic. The new sidewalks feel soft under your feet and almost bouncy compared to concrete sidewalks. It almost sounds hollow when you walk across because of the carved out channels underneath to help the waterflow. Each tile has a slight dome shape so water runs off easily and through cracks between the tiles.
Where concrete would last three to five years before needing repairs, Terrewalks have a 20-year guarantee, said David Venegas, Rubbersidewalks manager for the Midwest. It would not break or crack like concrete because it bends and moves with movement.
Alderman Ray DeHahn noted the bendability would mean less trouble from tree roots that uplift concrete sidewalks.
That would reduce trip hazards too, Venegas added.
Terrewalks cost about one and a half times of concrete, Venegas estimated, but city officials said the city would see long-term savings in less repair and maintenance costs. Officials said installation and maintenance would also be easier because you can just fix one tile rather than redoing the entire pavement.
Officials say the approximately 1,200 square feet of the new system installed Downtown is the first of its kind in the state.
Calling the system extremely innovative, Dickert said the area will be a test case to see how it works. He added city officials are reviewing ordinances to possibly incorporate rubber sidewalks as an alternative to concrete.
"I'd love to see more of this," Dickert said.