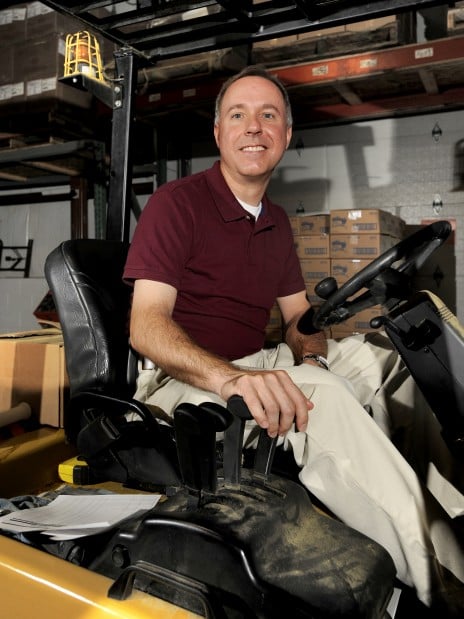 BURLINGTON - He has been roommates with a county executive, the chairman of the Republican National Committee and a congressman's chief of staff.
Before he could even drive he was on the board for the Republican Party of Racine County and his start in business began with the help of two former Racine legislators, who he also worked for.
It's all part of the story of state Rep. Robin Vos, R-Rochester.
Vos, 43, ran unopposed in November to win re-election for his 63rd Assembly seat and ended up in the hot seat as co-chairman of the Joint Finance Committee. Vos was a key player during the public debate over the state budget in recent months, with his committee making choices impacting the budget bill.
Likely, Vos could retain his position for the next state budget session if Republicans keep control of the Assembly. The political path Vos is on now is one that started years ago, and one that has reached into all aspects of his life.
When Vos was in sixth grade at Cooper Elementary School, a Burlington public school, his teacher saw something different in him.
"He had an interest in government that was not common in sixth-grade kids," said Barbara Scherrer, a former nun. Scherrer inspired Vos to go to his first political rally that year for Republican gubernatorial candidate Lee Sherman Dreyfus.
"It was such a long time ago," Vos said about that first rally in 1978. He mostly remembers the room full of cheering people, but there he learned the idea that he could get involved in the process.
"I realized that the way you make a difference is by finding things you are passionate about and working as hard as you can to explain why your beliefs are going to be better for our state, country and world," Vos said.
At that time Ronald Reagan was president and Vos saw something in him he admired, both then and now - his philosophy in smaller government and the free market.
"I remember being inspired to say, 'We can do better,' " said Vos, whose home office is decorated with Reagan photos and memorabilia. He even included "Ronald Reagan Day" in the state budget and his cocker spaniel is named Reagan.
In college, former Gov. Tommy Thompson, who Vos knew through campaigning, appointed him to the UW Board of Regents.
"The guy I sat right next to on the Board of Regents - Lee Sherman Dreyfus," Vos said. "It was surreal."
The connections kept growing from there. While at the University of Wisconsin-Whitewater, at some point Vos lived with fellow college Republicans Reince Priebus, now the chairman of the Republican National Committee; Andy Speth, U.S. Rep. Paul Ryan's chief of staff; and Racine County Executive Jim Ladwig.
"Robin was a political junkie," Ladwig said. "He eats, sleeps and drinks politics ... That is what he does not only for a career but also for enjoyment."
After college, Vos worked in Madison for Ladwig's father, Rep. Jim Ladwig. His wife, Bonnie Ladwig, later took his seat and Vos continued to work as her legislative aide. Her office was right next to Gov. Scott Walker, then a legislator.
But it wasn't until 2004, when Bonnie Ladwig gave up her seat, that Vos decided to run for state office himself, winning the seat.
That same year, Vos met his second wife, Sami, through their involvement in President George W. Bush's 2004 campaign.
Vos proposed to her on a trip to Ireland and they ended up getting married in a California vineyard.
"We both love wine and we both love California," Vos said, mentioning a few of their interests along with golfing, reading and traveling. President Bush did not go to their wedding ceremony, but Priebus did present the couple with an official wedding proclamation signed by the president, Vos said. Vos' best man was Republican Majority Leader Scott Suder, R-Abbotsford, who had had lived with when he was a legislative aide in Madison and who is part of the current Republican leadership team along with Vos.
By the time Vos was elected to the Assembly, he owned his own college rental home company and his own popcorn factory.
It started with one rental property in Whitewater that Vos bought along with his parents, County Executive Jim Ladwig and his parents.
"That led to another one," said Vos, who later bought out the Ladwigs. Eventually he ended up with the approximately 25 rental properties he has today, along with a condo he rents out in Scottsdale, Ariz., a car wash in Union Grove and partial ownership of Burlington's new Hampton Inn.
When asked if he is a millionaire, he wouldn't specify how much money he had. "I would say I have been very fortunate in life." They now have five full-time employees and 10 part-time employees at RoJo's, the popcorn company, Vos said. When he is not there, which is more often than not lately, his mother, Margie, and father, Burlington City Council Alderman Tom Vos, are there holding down the fort. His wife, Sami, runs the car wash and the rental company.
When he goes to the movie theater, Vos admitted that he does not order popcorn. He has had a lot of it over the years, but he still has not had enough of politics.
Vos is now serving his fourth term in the Assembly and said, "I am not done yet trying to make Wisconsin a better place."
If Republicans keep control of the Assembly, then Vos said he believes he has a good chance of remaining co-chairman of the Joint Finance Committee for the next state budget.