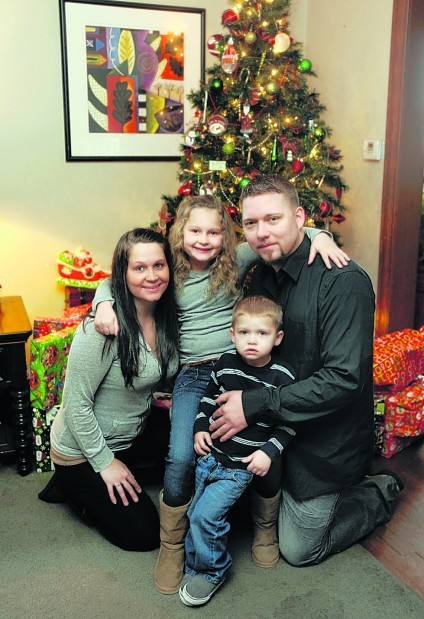 RACINE — In the classic Dr. Seuss story, "The Grinch who Stole Christmas" changes his mind and returns a sleigh full of stolen presents after "his small heart grew three sizes" on Christmas Day.
The real-world story might not end quite the same, but Christmas did deliver a surprise happy ending for Caylie Cunningham and her family in Racine, whose presents were stolen from under their tree earlier this month at their Flett Avenue home.
Although the grinch-like thief hasn't had a change of heart, a local business owner made up the difference, arranging to deliver presents to Cunningham's children and several hundred dollars' worth of gift cards to help the family to recoup the rest of their loss.
"It was the sweetest thing in the whole entire world," said Cunningham, 23.
On Dec. 16, The Journal Times reported on the thief who apparently entered through an unlocked door while Cunningham and her 7-year-old daughter were out of the house. Fiancé Robin Ellison, 26, was asleep upstairs with the couple's 2-year-old son.
Police documented the theft and totaled up the items lost. Cunningham said she thought that was the end of it— a cautionary tale about remembering to lock the doors, and a bitter memory for the family.
But Scott Petersen, president of PointOne Recruiting Solutions, 8411 Corporate Drive in Racine, had different ideas.
"Christmas is really about the memories," he said.
Petersen, who has kids of his own, said he kept thinking about Cunningham's children after reading The Journal Times' story.
He didn't want them to remember the year someone stole their presents, Petersen said. Instead, why not remember 2012 as the year someone "came out of the blue and fixed our Christmas?"
So Petersen arranged for an employee to meet up with Cunningham and deliver two wrapped presents — one for each child — and an envelope full of Walmart gift cards totaling $500.
When she opened the envelope, Cunningham was blown away.
"I didn't even know what to say. I just started crying," she recalled. "I surely didn't expect it."
And just like Dr. Seuss' story, Cunningham said there's a lesson to be learned: "Despite the cruelties that there are in the world, there are great people."