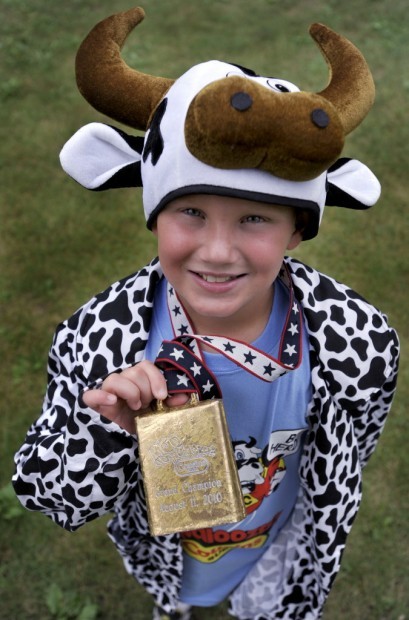 BURLINGTON - When it comes to mooing, 10-year-old Austin Siok is an expert.
The Dyer Intermediate School fifth-grader last week won an annual mooing contest at the Wisconsin State Fair because he sounded more like a real cow than the other about 80 contest participants. And since then he hasn't stopped mooing, said Austin's mom, Dawn Siok, 47, of Burlington.
"He's pretty much mooed everywhere we've went now," said Siok, an administrative assistant for Kohl's. "He mooed at the bank and he mooed at Kohls. Everyone wants to hear him moo."
Austin said he first started mooing in kindergarten.
"I started with guitar sounds and it all of a sudden just turned into a moo," he said. "It comes out of the top of your throat."
Austin has mooed a lot since kindergarten and said he started doing it even more this summer after his family read about a mooing contest at the Racine County Fair and decided to enter Austin.
You have free articles remaining.
"I practiced like about every day for like a ton of time," he said.
Austin practiced enough that he did well in the Racine County Fair contest and qualified to compete at the State Fair last Wednesday.
"Before the (State Fair) contest I was kind of nervous but then I got over that fear and I was just really excited," Austin said.
He ended up winning the contest, which was for anyone over age 5, after a moo-off with the second place winner.
"The look on his face when he won," Siok said. "His mouth just dropped to the ground. He was very surprised that he won. It got me a little teary-eyed."
For his win, Austin got $1,000, a cow print jacket, a golden cowbell and a year's worth of free subs from Cousins Subs, which sponsored the contest. He also got a bit of fame.
"They interviewed me on two or three radio stations and I was on the news," Austin said. "It's cool because it feels like I'm famous and you can even look at my name in Google and it comes up."