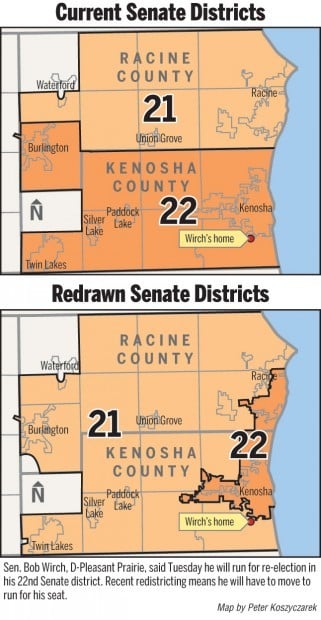 PLEASANT PRAIRIE - It remains uncertain whether residents and business owners will see any measurable changes if a Kenosha County Democrat is elected to represent a large swath of Racine next year.
State Sen. Bob Wirch on Tuesday announced his candidacy for a slot in the newly altered 22nd District. The Legislature voted to change the district's boundaries earlier this year as part of a statewide redistricting effort.
That move means the Pleasant Prairie resident must move northward if he wants to remain in the state Senate for his current district.
Some residents and business owners disagree on whether Wirch will be better for those who live and work in the region.
"It could be (better)," said Mark Flynn, 54, of Wind Point, who with his wife, Chris, owns Hop To It Brewing & Winemaking Supplies in Racine. "Kenosha is so similar to Racine. It's not like he's in another country."
Flynn said he believes Wirch has more experience than Racine County's senator, Van Wanggaard. Flynn said Wirch also hails from an industrial background, which could translate into an increase in industrial business opportunities here.
But Kenosha County resident Judy Stone, co-owner of Brightonwoods Orchard in the Town of Brighton, disagrees. "He's much too liberal for us," she said. "He's much too pro-union for us."
Wirch on Tuesday told The Journal Times he will move into the recently redrawn 22nd District, which still will cover a portion of Kenosha County. However, the new zone also will include a chunk of Racine, and his home is not within this new boundary line. According to the map, this new district no longer will include Burlington, in Racine County. But it will include much of the City of Racine.
Wirch said he is trying to obtain various legal opinions about when they must move north. He said he is asking the Senate chief clerk, Government Accountability Board and Legislative Council - which is a nonpartisan legislative agency that provides legal and research services to lawmakers - for opinions on the deadline for his move.
The election is in November 2012. If elected, his term in the newly redrawn district would begin in January 2013. He then would share coverage of Racine County with Wanggaard, R-Racine. Wanggaard's redrawn 21st District covers a portion of Racine and a swath of Racine County - now including Burlington.
But since they're in different districts Wanggaard and Wirch won't face off in that 2012 election. Wanggaard's term doesn't expire until 2014.
If Wirch is elected, Wanggaard said he anticipates that Wirch will represent his hunk of Racine residents and business owners "in an excellent manner." The two have worked together to pass bills, and Wanggaard expects that to continue.