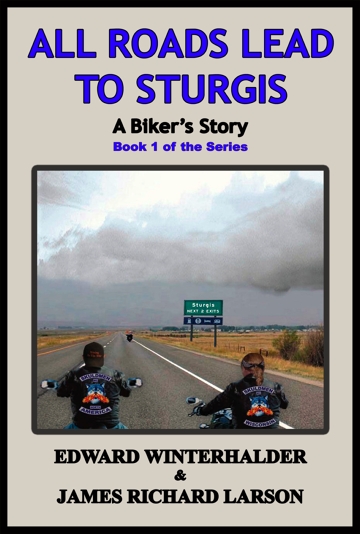 James Larson makes his living as an electrician for Miller Brewing Company, but this week, it's his work as a novelist that's keeping him busy.
Larson, who lives in the Wind Lake area of the Town of Norway, started writing in 2002 or 2003, he said. His first two books were historical fiction, he said, about the Viking age. Then he wrote a horror novel. A few years ago, someone with some biker writing credentials got in touch.
Edward Winterhalder - an Oklahoma author - was interested in writing biker fiction and wanted a partner for it.
"I've been a biker all my life, so it kind of fit in," Larson said. "We got together and so far we've done two books."
You have free articles remaining.
The duo has two books out now - "All Roads Lead to Sturgis" and "The Mirror." Their first book was a biker mystery, featuring members of an outlaw motorcycle club and federal law enforcement agents. In "The Mirror," the pair again writes about the outlaw club, but this time focusing on a prospective member of the club who uses a time portal and finds himself in an alternate reality.
Winterhalder is the author of five books, and has three television series in the works, he said. Biker culture is his main focus.
The collaboration with Larson was an offshoot of his non-fiction writing about biker culture, he said.
"I got into the fiction as a result of the non-fiction," he said. "The non-fiction came from being involved in the motorcycle world for 28 years."
Winterhalder said there was a void in the world of fiction.
"There's no good biker fiction out there at all," he said. "We wanted to do the best. We wanted every book to be basically movie-worthy. That's what we set out to do and what we'll continue to do."