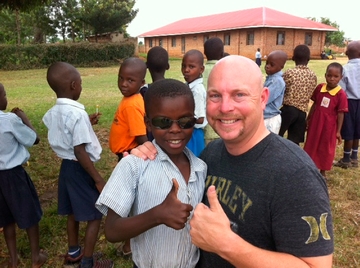 A local couple has been "God-sent" to a village in Uganda.
That's the opinion of Ronald Walusimbi, the director of a school there who has personally witnessed the generosity of Scott and Shawn Petersen.
The Petersens, through personal funds and donations from Scott Petersen's Racine-based recruiting firm, pay the operating costs of Walusimbi's entire 500-student private school. They also pay for about 25 students to attend the school and just put up the funding to rebuild the dilapidated home where three of those students had been living.
Walusimbi is quick to praise the Oak Creek couple's efforts, but they're reluctant to take his compliments.
"You're not going to be remembered someday by how many records you break in your business or how much money you make," Scott Petersen says simply. "You're going to be remembered by the people whose lives you helped shape."
Scott Petersen, 39, is president and owner of PointOne Recruiting Solutions, a management-level recruiting firm specializing in manufacturing, banking and construction. The company donates some of its profits to a charity every year.
In the past, dollars went to local groups, but in 2011 the drinking-water shortage in Africa kept popping into Scott Petersen's head. He started searching for "African wells" online and found Walusimbi, who was living in Kenosha at the time. Talks with Walusimbi revealed he was about to return to his home country of Uganda, to a small village where he planned to take over a private elementary and middle school founded by his wife's missionary parents years before.
The school, called Jubilee Academy, was important because the public schools were filthy, overcrowded and devoid of learning; the kids just played, Scott Petersen said.
The more Scott Petersen heard about Jubilee and Walusimbi, the more he knew he needed to help.
PointOne committed to paying the school's full operating cost, about $40,000 a year, so other school revenue could be used for longer-term projects like creating an on-site secondary school and orphanage, Scott Petersen said.
Over time, he and his wife, Shawn, a 38-year-old nurse, also began paying the $300 annual tuition for 26 students, they said.
On June 20, the couple visited Uganda for the first time to see the school — and what their dollars had paid for — for themselves.
What the Petersens saw on their 12-day trip both impressed and saddened them. They were pleased to meet the dedicated students and staff, and to give them several donated iPads, but they were disappointed by the hot dorms and the horrendous condition of the house where three of the students whose tuition they pay lived.
Those children — and their two older siblings — had been abandoned by their parents six years ago when the eldest was just 14. All five lived in a house where the structure leaned, the roof had holes, and snakes, bugs, lizards and cockroaches ran rampant. The children slept on a dirt floor, surrounded by goats — and the goats' droppings — because the animals would be stolen if left outside at night, the Petersens said.
The couple realized they had to help.
"We have kids of our own and just to think of what the children go through there ..." Shawn Petersen explained, trailing off with a shudder.
She and Scott Petersen bought ceiling fans for the dorms and personally covered the $6,000 needed to build a new house. Work started when the couple was still in Uganda and it's moving along rapidly, they said.
"The thing about Scott and Shawn that is so amazing is that you would think they would pay someone and sit back and watch. No. They were out there with us breaking the old house down, clearing ground for the new home, spending time with the kids, assuring them that as long as they live, they will never go through what they went through," Walusimbi, 32, wrote in an email. "(That) family has changed because of these two amazing people."
Be the first to know
Get local news delivered to your inbox!