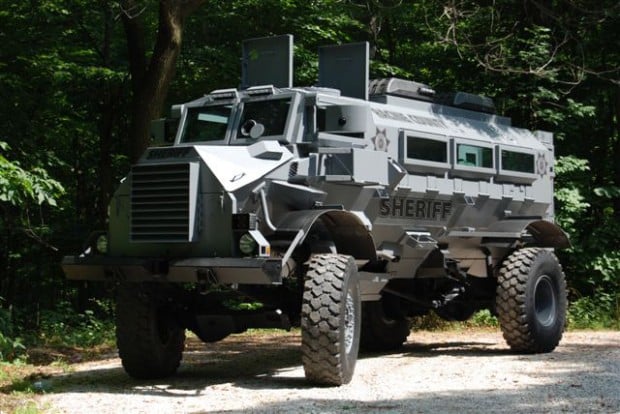 RACINE — After protecting U.S. troops in Kuwait, a hefty bit of military hardware has come to Racine County — through a sort of federal government über-recycling — to safeguard residents here.
After the action this 30,865-pound, 20-person armored personnel carrier vehicle might have seen in the Persian Gulf, it's not like it will regularly drive over land mines or be hit with improvised explosive devices back here. Its off-roading capability will definitely be used in Racine County, but it won't be the same as trundling through rugged desert terrain.
The price tag? About $3,900, Sheriff Chris Schmaling said Wednesday.
By tapping into a military surplus program available to law enforcement and other governmental agencies, the Racine County Sheriff's SWAT team acquired the used armored vehicle to replace the more than decade-old, former Brinks armored truck that was used in high-risk police situations.
"It was an upgrade from what we had," Schmaling said, stressing his goal is to keep deputies and residents safer.
Through the military surplus program, the sheriff's office acquired the vehicle for the cost it took staff to move it off the base and bring it back to Racine County from the military depot in California, where Schmaling said it sat for about eight years. That totaled about $2,700, he said.
Another $1,000 to $1,200 went toward making some repairs, sanding it and repainting the vehicle to gray from a powdery white, Schmaling said.
If the sheriff's office were to try to buy such a vehicle, it could cost about $480,000, Schmaling said.
The sheriff's office used money in its asset forfeiture account to pay for the vehicle, repairs and paint job. Eco Media in Wind Lake donated the decals applied to it, Schmaling said.
Schmaling said his staff believes it was produced around 1989. It can reach speeds of about 65 mph.
The sheriff's office received it late last year, and many of the needed repairs — such as new brakes and cleaning all that sand from the gas tank — are completed, Schmaling said.
Members of the sheriff's SWAT team took it to Oak Creek last month when they assisted with the Sikh Temple shooting, Schmaling said.
"If you've seen the active-shooter (mass killing) in Oak Creek...we certainly hope it doesn't happen here," he said. "But if it does, we'll certainly be ready for it."
He said it will be available for other law enforcement agencies in Racine County, plus surrounding counties. It can be used in hostage situations, shootings and rescues — including of people trapped in cars during blizzards like in 2011.