CALEDONIA — Amidst a hike Wednesday down the prairie trail of River Bend Nature Center, the faint murmurs of the song "Ain't No Rest For The Wicked" by the band Cage The Elephant could be detected in the distance.
Soon enough, there are six members of an AmeriCorps National Community Citizen Corps team having a "dance party," as they call it, but at the same time working to cut down invasive species like buckthorn and honeysuckle.
The team is the Racine area through June to provide more than 2,500 service hours with the Greening Greater Racine organization.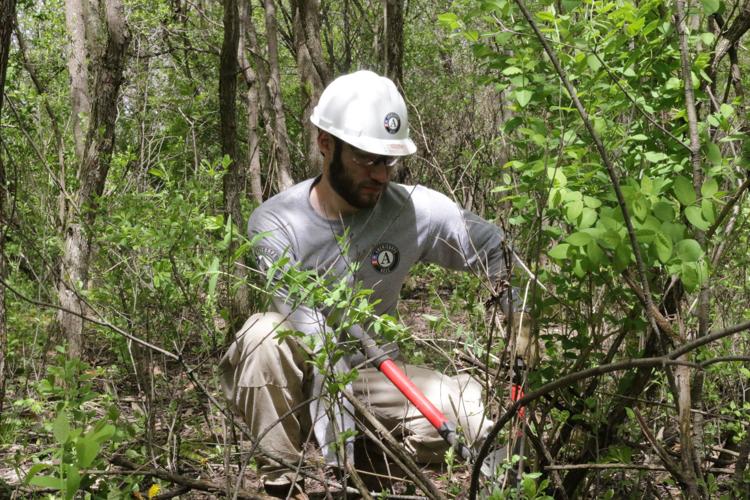 "They're both invasive species that are inhibiting the growth of the native species," team leader Kayla Urbanowski said. "What we're doing is taking them out so the other species have space to grow."
Led by Urbanowski, the eight members — ages 18 to 23 — come from both coasts, volunteering all across the Midwest. The remainder of the team, dubbed Cedar 2, consists of Grant Casto, Andrew Borne, Haley Nielsen, Eyzik Riso, Estelle Usunier, Taylor Walters and Josiah Wood.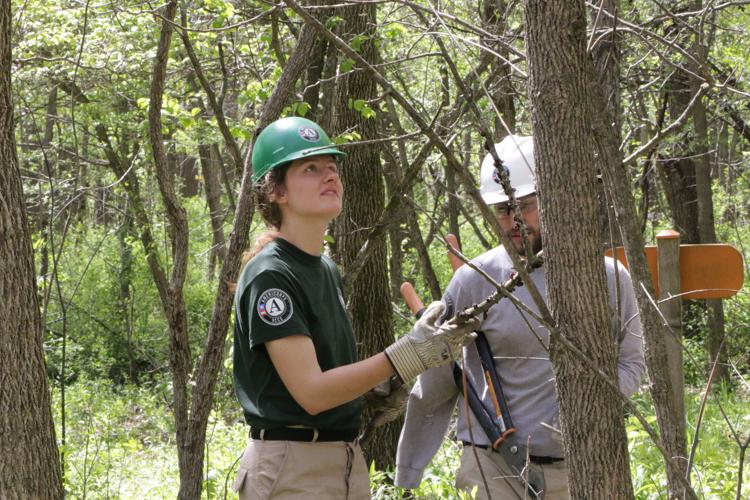 "We started off in Iowa — that's where we trained for a month," Urbanowski said. "Then got deployed to Coon Rapids, Iowa, and pulled into Nebraska for disaster relief. The eight of us travel, work, live, and do everything together. We're like a little family."
Deceptively destructive
Register for more free articles.
Stay logged in to skip the surveys.
To the average person, the buckthorn plant will look just like a normal tree. But because of its weak roots, it weakens the soil around it. It's branches are poisonous to other plants, shading the sun from native species underneath.
That is where the "Cedar 2" crew comes into play.
For eight hours a day, the crew worked together to dig up the buckthorn, along with honeysuckle bushes to give the native species a second chance at growing back.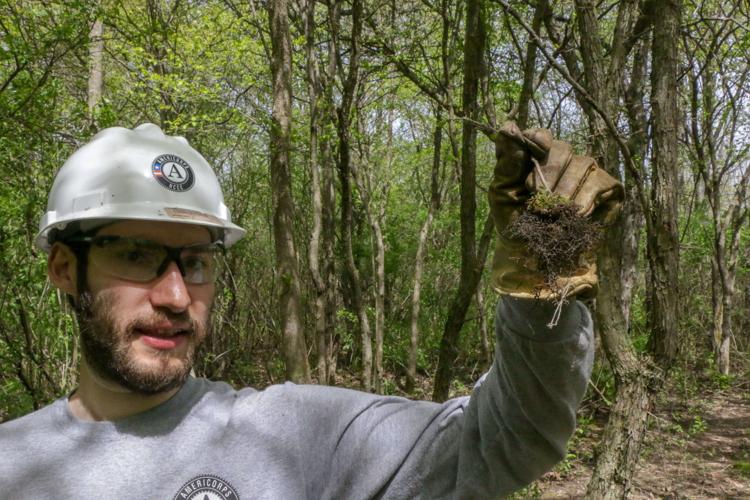 "Every day is a new adventure," Urbanowski said. "We were mucking and gutting in Omaha (Nebraska), we were all getting covered in mud — slipping and sliding. So it was fun because you just sit there and laugh at how dirty you get."
Over the course of the last two weeks, Cedar 2 helped out at Smolenski Park in Mount Pleasant and Sam Myers Park on Racine's lakefront. Next week, they are scheduled to clear invasive species and debris from the hillsides of the Uptown Business district.
"Some of the stuff seems more trivial, but then you think about the long term impacts like preserving this beautiful, natural area," Urbanowski said. "I love AmeriCorps. I just believe in its mission — instilling leadership skill and all different types of skills within the youth ... just a really cool program that lets you see the country, meet new people and really help out to the best of our abilities."
The team will be in Racine through June 25.