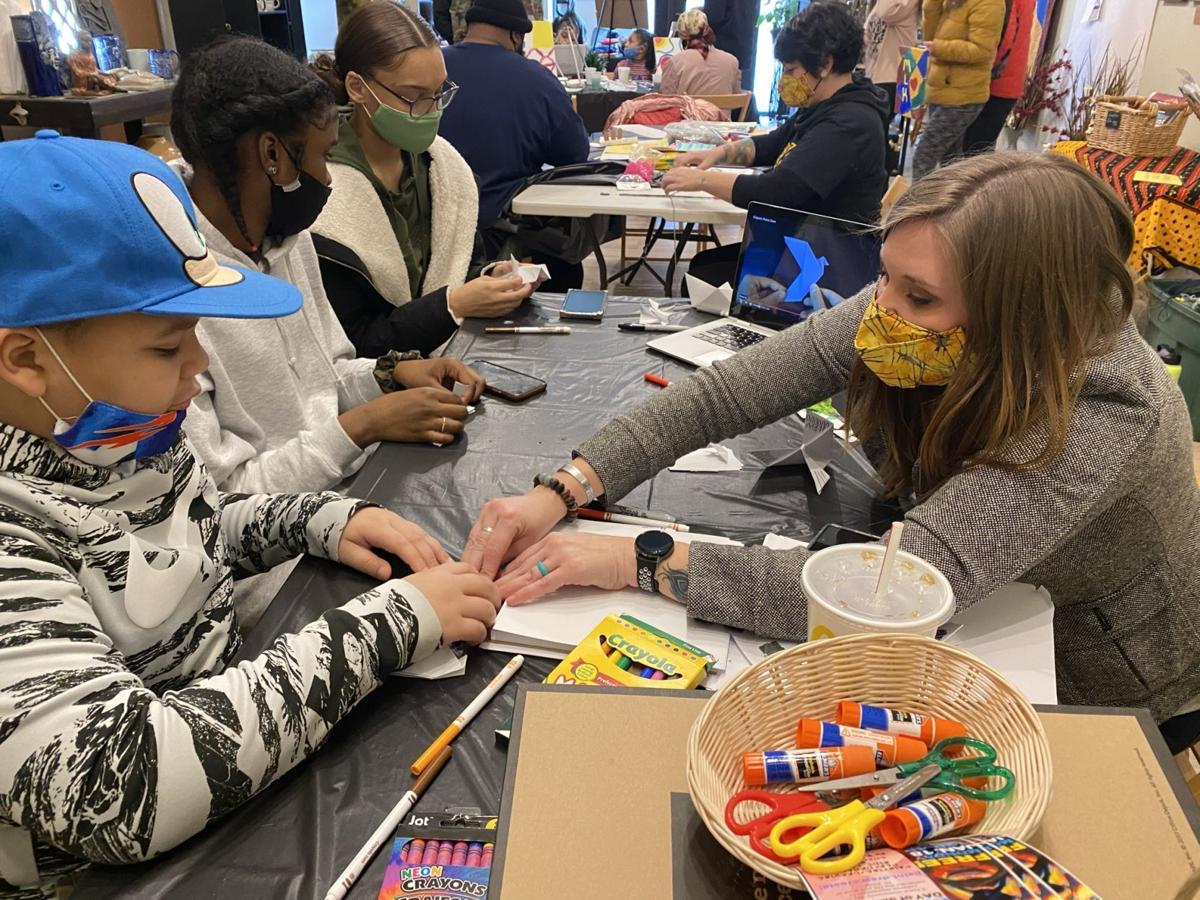 RACINE — Mahogany Gallery was alive Monday afternoon with music and children of all ages in good spirits creating art projects. These projects included painting on canvas, origami, bracelet making and coloring.
The gallery, located at 1422 Washington Ave., hosted its second annual MLK Creative Day of Service on Monday. The event honored the Rev. Dr. Martin Luther King Jr. on the federal holiday in his name, and featured free painting, drawing and other crafts in person, as well as virtual speakers via Zoom.
Elisha Evans, who works at Mahogany Gallery and is a junior studying economics at Marquette University, said it was a pretty nice turnout, especially for a pandemic.
"It's been great," said Mahogany Gallery Owner Scott Terry. "We've had all kinds of people here: different ethnicities, different races, different age ranges, all come and support the legacy of Dr. King. He advocated for human rights and we want to pass that down to the little ones."
The craft projects were led by Anna Gleason, an art teacher at Mitchell School in Racine; and Carly Worrell, an art teacher at Blessed Savior Catholic School in Milwaukee.
Terry had originally planned to include games, trivia, live poetry and short story readings as a part of the event, similar to what was done in the event's first year. But with the COVID-19 pandemic, he decided to cancel the additional activities.
"We've got to be conscious of COVID and how many people are in here," he said.
'Trying to listen'
For those who didn't want to mask up and drop by in-person, there was a virtual Zoom video to tune into. The video included a "Young Adult Symposium," led by Black Student Unions of Carthage College, the University of Wisconsin-Milwaukee and Marquette University.
Additional speakers were Aaron Eick, a Horlick High School teacher, and Nick Demske, Racine County District 1 Supervisor.
Evans said he helped facilitate conversations with attendees and the guest speakers via Zoom. He especially encouraged those to speak who may have felt they didn't know enough to add anything to the conversation.
"I'm trying to listen," he said.
During the conversations, topics ranged from venting about issues among people of color and coping mechanisms, Evans said. During the COVID-19 pandemic and recent events with the presidential election, mental health can suffer, he said.
Evans, a Racine resident, is a K-12 tutor for math and physics and enjoys it. "I thought, why not help the whole community? I want to at least start the conversation. How do I make a difference?" he said as the reason why he wanted to participate in the MLK Creative Day of Service.
He said he wants to make the gallery a safe place where the community can come read a book and ask questions.
"We're learning from each other. Growing up, I was blessed with different cultural backgrounds (nearby), a plethora of different kinds of people," he said. "I'm thankful for Dr. Martin Luther King for starting a movement."