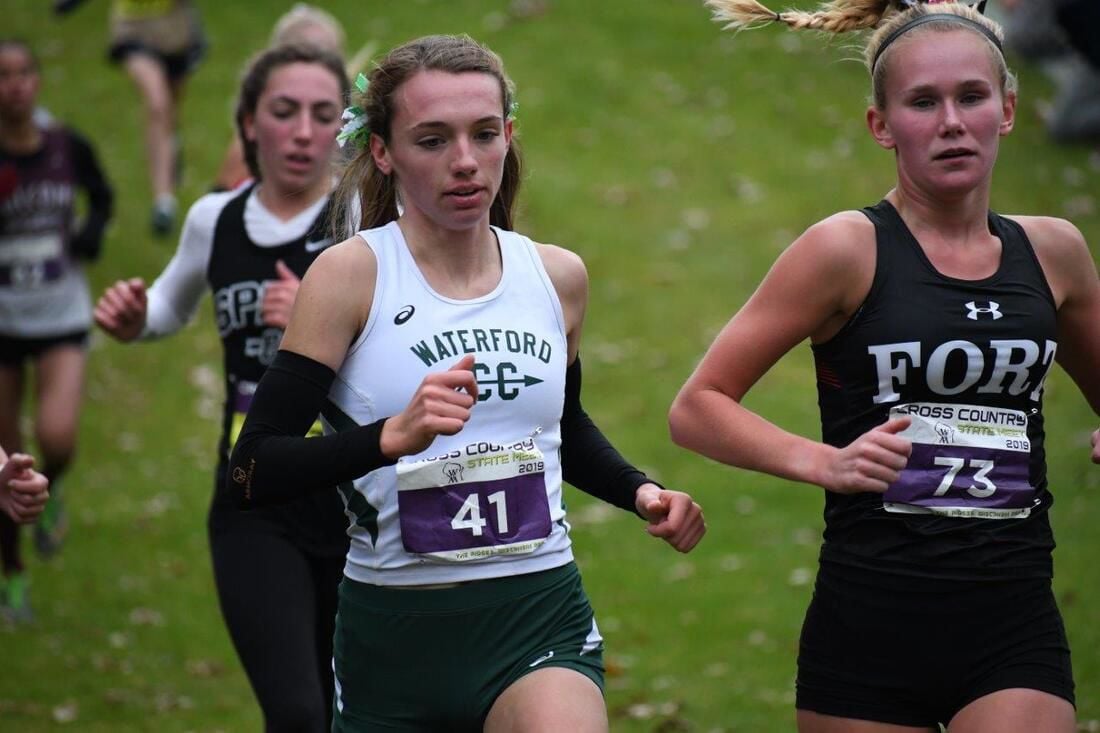 This chicken has done all right for herself.
It was several years before Kelsey Radobicky became a standout runner at Waterford High School when she was competing in the Skeleton Skamper 5K in Mount Pleasant. Her mother, Kimberly, was dressed as a KFC bucket as she ran with her daughter.
"We actually won a prize for our costumes," Radobicky said. "Events such as the Skeleton Skamper sparked my interest in running. In the sixth grade, I joined a summer running club at Fox River Middle School, coached by Lisa Kastengren.
"I continued to participate in a summer running club through the sixth, seventh and eighth grades."
By the time Radobicky joined Waterford's program in 2017, she was a ready-made runner. The West Allis native earned All-Racine County Runner of the Year honors for girls cross country as a freshman.
After relinquishing that honor to teammate Jayda Obluck last season, Radobicky has returned to the top. That was an easy choice for the county coaches to make after Radobicky placed 25th at the WIAA Division 1 Cross County Championships on Nov. 2 and won six of her other eight meets.
No, Radobicky was not able to match her best time of 19:05, which she ran as a freshman. The closest she came was 19:17. Nevertheless, Waterford coach Nate Schreiber feels his No. 1 runner is a far more accomplished competitor than she was two years ago.
"She started this summer with her preparation," Schreiber said. "She was dedicated to being a top runner, not only for our team, but in the area.
"She ran with a purpose this summer, she did well at the Rebel (Radobicky placed third at Horlick's Rebel Invitational Sept. 7) and, really, from there, she didn't look back.
"I think she ran with the confidence and expectation that she was going to be in the front of every race. And that mindset was different from the past couple of years. There was some hesitation and uncertainty and think with age and with more experience, she became more confident. She really entered every race with that confidence."
It started Aug. 30, when Radobicky won the Racine County Invitational. She followed that by placing third in the Rebel Invitational and then winning the Southern Lakes Conference Relays, invitationals hosted by Franklin, Mukwonago and Waterford and the Southern Lakes Conference championship.
Radobicky saved her best for last, placing second by less than a second to Myra Stray of Waukesha West at the Hartland Arrowhead Sectional. And then came her performance at the state meet.
What was behind Radobicky's comeback season? It started with investing on the mental side of competitive running.
"Compared to 2017, I am a mentally and physically stronger athlete," Radobicky said. "Physically, I have learned that to be a stronger runner, it takes more than actually running.
"I now realize and invest in the importance of strength and conditioning, a large amount of pre- and post-running stretching and proper nutrition and hydration.
"Becoming physically stronger has helped me develop into a mentally stronger person, as well. I am a firm believer that a large majority of running is mental."
Her dedication was on display Nov. 2 at the state meet. After placing 51st at the meet as a sophomore in 19:49.3, Radobicky improved to 25th and lowered her time more than 30 seconds to 19:18.1
"The high point of the meet was being blessed with yet another opportunity to try my best," she said. "It was a great feeling knowing I had the privilege to run with so many talented girls. I worked really hard to get to state.
"The plan was to go out a bit faster than my other season races, due to the number of runners. I surely achieved that. The last mile was the most challenging."
And now Radobicky has created a building block for what could be an even more spectacular senior season.
"At the end of every practice and race," Radobicky said, "I would ask myself two questions: Did I try myself? Did I have fun? If I could answer yes to both of those questions, I was satisfied with my performance.
"However, I am critical of myself and realize there is always room for improvement. I feel if I continue to work hard and try my best, new opportunities will arise."
With all due respect, Rick Koceja could really do without this Coach of the Year business.
Sure, the 65-year-old Koceja led the Catholic Central girls to its first appearance in the WIAA Division 3 Cross Country Championships. But he insists it's not about him.
"Write about the kids," Koceja said. "They're the ones doing the work."
But with Koceja serving at the rudder, a team that was incomplete when he arrived in 2017 had its most successful season.
"It was a gratifying season," said Koceja, who coached Burlington to the Division 1 state meet in 2013. "It was the first time any team in cross country at Catholic Central qualified for state. So it was very satisfying.
"A lot of the credit goes to the support I get from the administration, parents. The athletes have a desire to work hard. And you have to put my assistant coach (Melissa Grandi-Statz) in there.
Waterford coach Nate Schreiber, who coached against Koceja in the Southern Lakes Conference, has nothing but admiration for the job his old rival did.
"Rick is extremely knowledgeable of the sport and he's also got the ability to motivate and recruit and make kids believers," Schreiber said. "He did that in Burlington and he's done that every step of the way. He's a great man and he's a great leader."
Get local news delivered to your inbox!
Subscribe to our Daily Headlines newsletter.