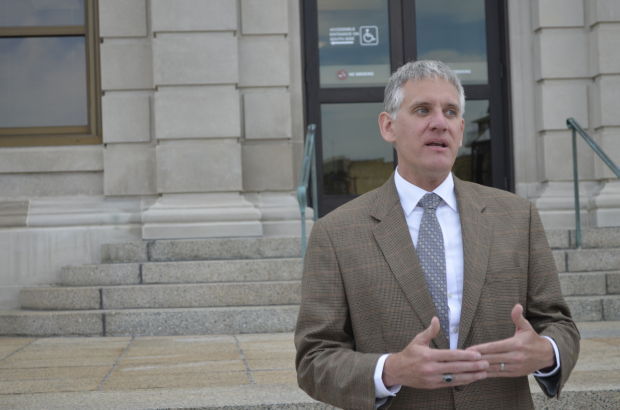 RACINE — Mayor John Dickert may have his first bona fide challenger for the 2015 mayoral election.
After stating last month that he was considering a run for the office, Alderman Eddie Diehl has announced that he will officially enter the race.
Standing near the front steps of City Hall, 730 Washington Ave., on Wednesday evening, Diehl said his decision came after careful thought and at the urging of constituents.
Borrowing a term from a supporter, Diehl said that, if elected, he would be a "servant leader," one that is "connected to the community," and works directly with the taxpayers, business owners and others to advance the city and serve its residents.
Calling himself a sponge for new ideas, he said he would make City Hall "his home," as mayor, regularly opening his office to residents interested in sharing their thoughts.
"The greatest resource the City of Racine has is its people," he said. "I will be the people's mayor."
A life science consultant with a doctorate in physiology and biophysics, Diehl was a newcomer to local politics when he was elected in April 2013 to represent the city's 15th District. The Pennsylvania native moved to Racine 10 years ago with his wife.
Community activist Raquel Freeman, 36, a supporter who attended the announcement, said what has impressed her about Diehl is his passion and interest in residents.
"I can tell that he cares about me ... and he cares about people like me that live in this city," Freeman said.
Although Diehl is the first person to officially announce his candidacy for mayor, at least three other would-be challengers have said they are mulling a run for the office: the Rev. Melvin Hargrove, a Racine Unified School Board member and the pastor of Zoe Outreach Ministries; Alderman Sandy Weidner and Robin Coventry of Preservation Racine.
While the general spring election is April 7, a primary could be held on Feb. 17, if there are more than two candidates. In order to get on the ballot, candidates for mayor must collect between 200 and 400 signatures.
Dec. 1 is the first day candidates for local seats can begin gathering nominating signatures, but any committee formed to help get a person elected to office must register its group as soon as it starts collecting contributions.
Diehl admitted on Wednesday that he could be facing an uphill battle when it comes to matching Dickert's fundraising efforts.
Dickert, 51, has said his campaign committee has set a goal of raising $30,000 before the race starts, and then raise another $30,000 or $60,000, depending on what is needed, while the race is going.