YORKVILLE — Racine County Sheriff Christopher Schmaling on Tuesday called for the City of Racine to provide more resources to address water safety at its beaches in light of four youth drowning and near-drowning incidents in three days.
"Today I wanted to call upon city leadership to examine the lifeguard situation that we have down there," said Sheriff Christopher Schmaling at a news conference held Tuesday morning at the substation, 14116 Washington Ave. 
Schmaling noted the lifeguards are currently only scheduled to watch over North Beach from 10 a.m. to 6 p.m., and the two drownings on Saturday — 17-year-old Yaadwinder Singh of Franklin and 10-year-old Eisha N. Figuereo Colon of Racine — occurred shortly after their shifts. Another possible drowning victim, a 14-year-old girl from Milwaukee, was pulled from the water along with a friend Monday evening. That girl, as of Tuesday morning, remained in critical condition at Children's Hospital in Wauwatosa.
"I would propose that we have extended hours. I would propose that we have more lifeguards. I would propose that we have additional signage warnings ... You're talking about riptides, rip currents, undertows, and things of this nature, near piers and rock structures. These are dangerous zones," Schmaling said.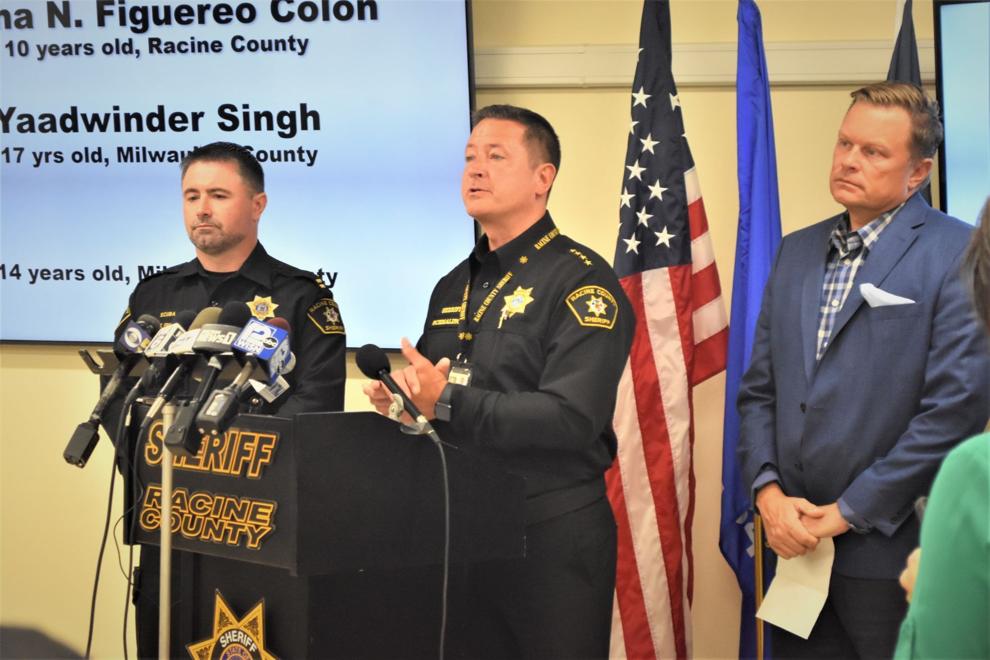 Schmaling continued: "Any time we have children that die in our community, it really rocks the emotions of all of us, especially when there's senseless deaths that could have been prevented."
The sheriff's office also announced its dive team will host a water safety education event from 8 a.m. to 4 p.m. this Saturday at North Beach. The event will address questions like, "Where is the water safest to swim?" and "When is the water acceptable to enter?" 
"We encourage the public to stop by, interact with our dive team and  professionals so that they can learn how to keep your family safe," said Captain Bradley Friend of the sheriff's office.
"Any time you have a major change in wave height, the potential for riptides, rip currents, exists," Friend said. 
Friend noted a specific area on North Beach, where the concrete causeway forms part of the harbor: "This is a very natural area for those currents to exist, and it's not a place that the public should be swimming. ... The conditions that we've experienced the last few days have been extremely wavy along this causeway. ... It's very hard to navigate in those areas."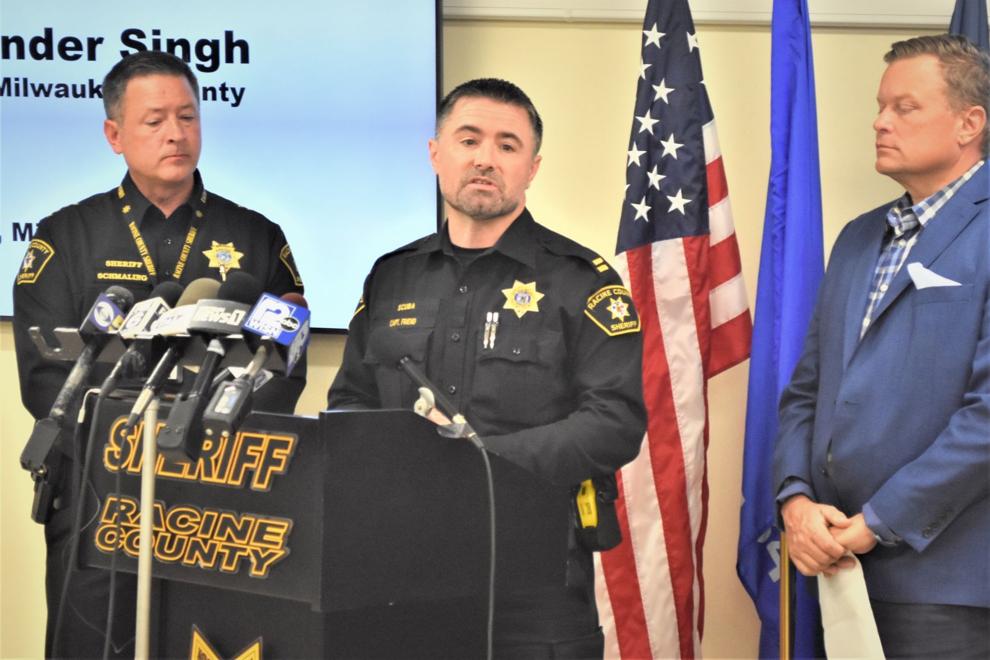 "I would urge the public to stay away from the causeway, really anywhere you have large structures like piers.  Stay away from those because there is a higher potential for riptides," Friend said. He added there is currently a sign at the area warning the area is not protected.
Schmaling said the sheriff's boat patrol is out on full force during the summer hours and "in all three of these events, they were there within minutes and doing what they could."
"But this is an effort that requires a lot of membership. It requires a buy-in from our community and knowing your own abilities when you step into the water," Schmaling said. "But also from our city leadership as well, making certain that there'll be departments on shore, and that we're out in the water doing the rescues. We'll need all partnerships on hand."
Funding water safety programs
Schmaling said a lot of time can be spent on brainstorming ideas to improve water safety, but it also requires spending money.
"We spend a lot of money on tourism in this county, getting people to enjoy the lake and the beach," he said. "I think we need to start looking at the dollars we spend right there on the beach as well to keep people safe."
"These things, when you get short cut and short changed, you can see the results: the three children, two of which have passed away, and one fighting for their life," Schmaling continued.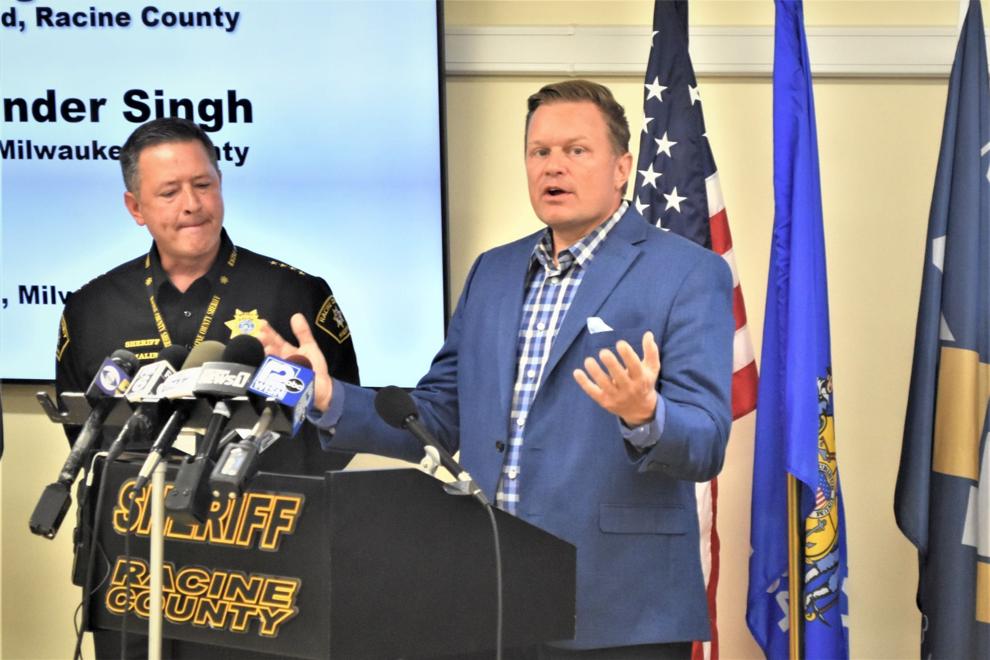 Racine County Executive Jonathan Delagrave said, "As far as I'm concerned, we're done watching this occur. If the county has to put out resources, we're gonna find the resources and we'll man that if we have to."
"You can't put a dollar amount on a human life, and I think our residents of Racine County will back us up every time," Delagrave said.
Delagrave suggested families with young children, or with members who are not strong swimmers, should visit the county's waterparks, SC Johnson Community Aquatic Center and Pritchard Park. Friend suggested attending the Racine Family YMCA, where families can take swimming lessons.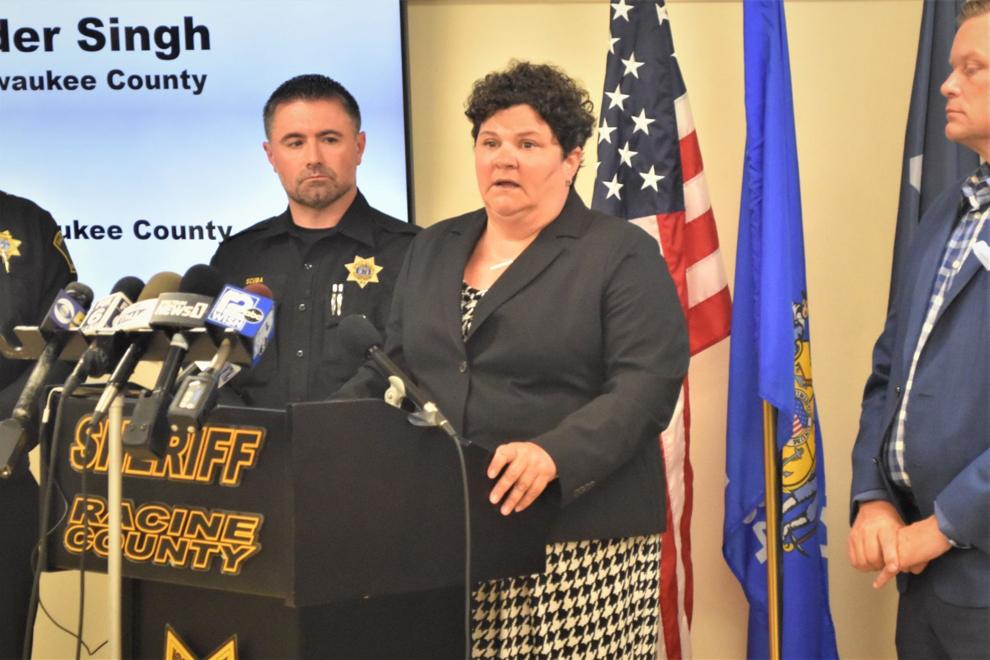 District Attorney Patricia J. Hanson, a former lifeguard in Racine County, said her children are competitive swimmers and water safety is "near and dear to my heart."
"I think water safety in our county is critical, not only for the beachfront, but we have multiple lakes in the county. And we have a lot of kids in our county," Hanson said, adding she is going to be part of the effort in improving water safety conditions. 
"Yes, we have a beautiful asset in our lakefront, but we have to use it safely and make sure that everyone goes home safe," Hanson said.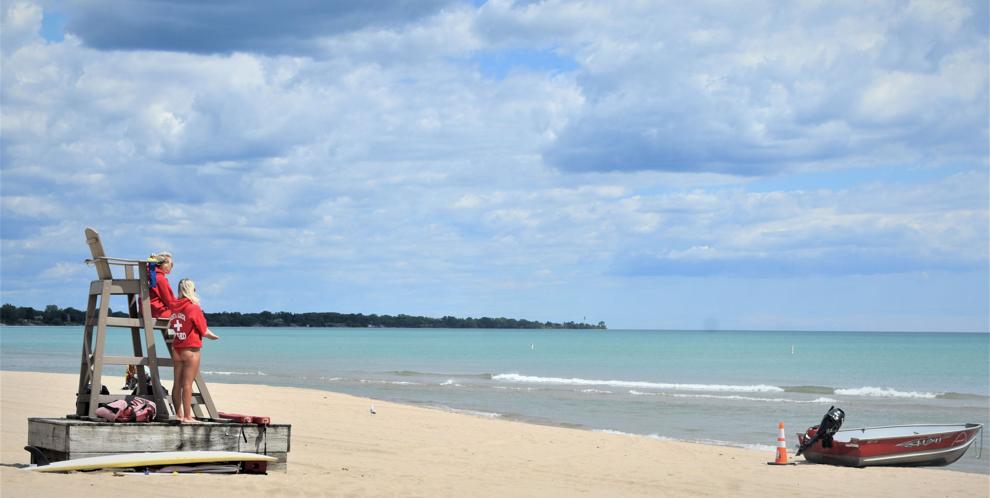 City responds
In a Tuesday afternoon press release, city officials responded to the two drowning deaths.
"Summertime at the shoreline can be enjoyable but individuals need to be cautious and safe. Lake Michigan can have strong, irregular, and unpredictable currents that can easily place swimmers in challenging and life threating situations," said Dottie-Kay Bowersox, city public health administrator. "My sincere condolences to the families and friends of those tragically lost these last few days. There is no way to describe the grief of losing a child or loved one."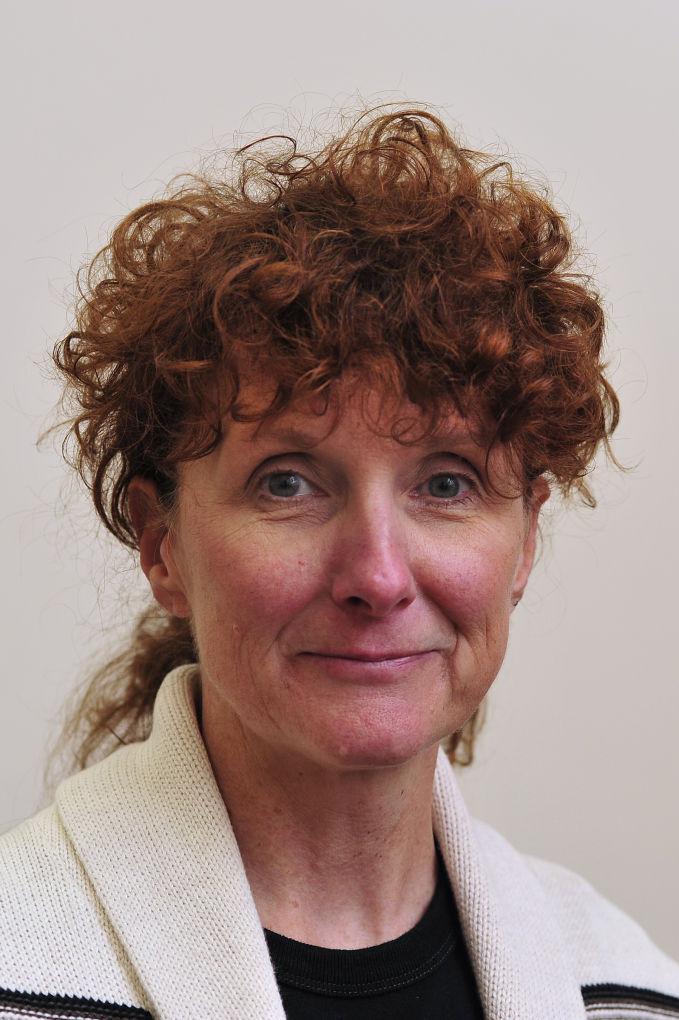 "The City is currently reviewing beach and water safety programming. In addition, we look forward to discussing issues including pier safety, water patrol activities, and life guard programing at County beaches with County representatives," Bowersox said.
Tom Molbeck, city director of parks, recreation and cultural services said, "Beach visitors are encouraged to be aware of and follow the beach safety signage, observe water and weather conditions, swim only in lifeguarded areas during lifeguarded times, and wear an approved United States Coast Guard Life Jacket. In addition, this Department sends its thoughts and prayers to the families mourning the tragic loss of their loved ones."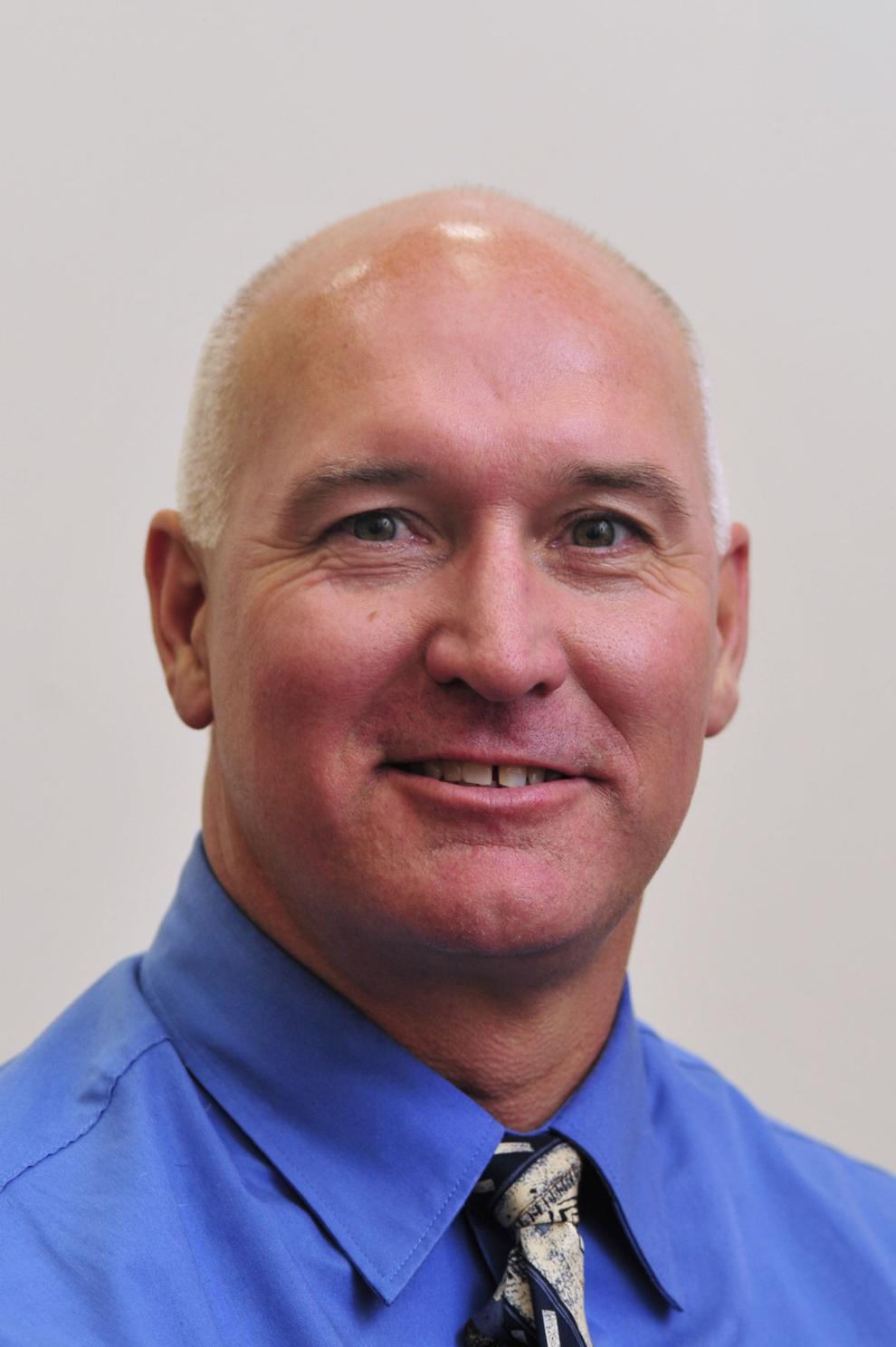 There was no mention of adding more lifeguards, extending lifeguard hours or increasing signage per the county's request. The city encouraged visitors and residents to check local weather for any beach hazards or strong weather patterns. 
"Unsafe conditions typically occur preceding, during, and following strong storms. Individuals are encouraged to stay close to shore or remain at the water's edge during these times," the release said. "If choosing to wade out into a water depth above the knees, individuals are STRONGLY (sic) encouraged to wear a life vest; especially if waves are observed."
Proceeding with caution
Allison Ebeling of Franklin was at North Beach in the late morning on Tuesday with her son, 7, and daughter, 3. She said she visits North Beach with her family at least once a week and has rules her children must follow when they're in, or near, the water. 
"Right now, they have not had any swimming lessons," Ebeling said. "So my rule is, they can't go in the water past their belly button. I always make sure I'm with the younger one." 
Ebeling said her family only has a small backyard pool, and the conditions are completely different when she's out at the beach. "There's the lack of currents, less people around," she said. 
Upon hearing of the recent drowning incidents, Ebeling said she felt warier of being at the beach, but, "I've always been extra cautious here to begin with."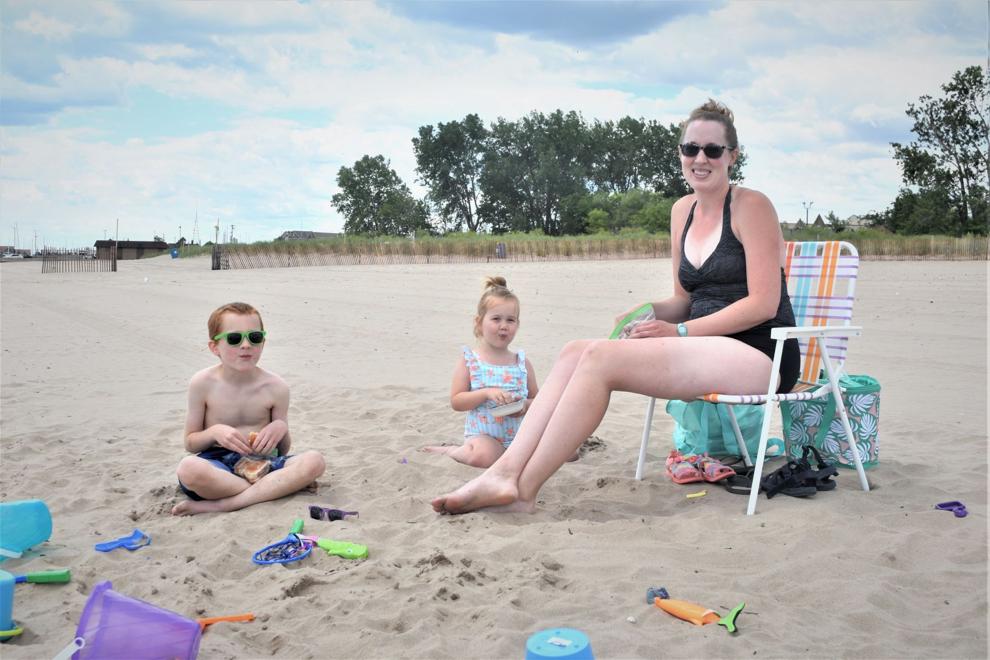 He said it might be a good idea to train the oasis employees on handling emergency situations in light of being among the first responders on Saturday. 
"We just want to give prayers to the family," Felix said.
Photo gallery: 'It feels like August' -- Racine's North Beach draws a crowd during summer-like heatwave
Friends relax at Racine's North Beach during early June heatwave
Jaxen Collins, 4, of Slinger emerges from water at Racine's North Beach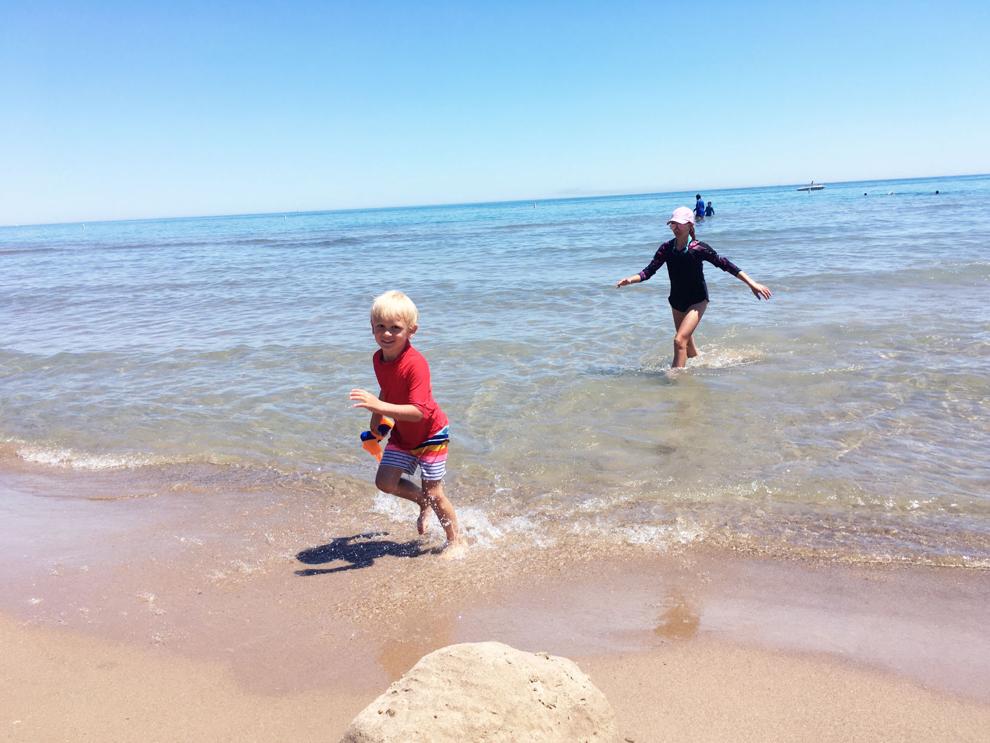 Sisters Deanna Denman and Melissa Olenick at Racine's North Beach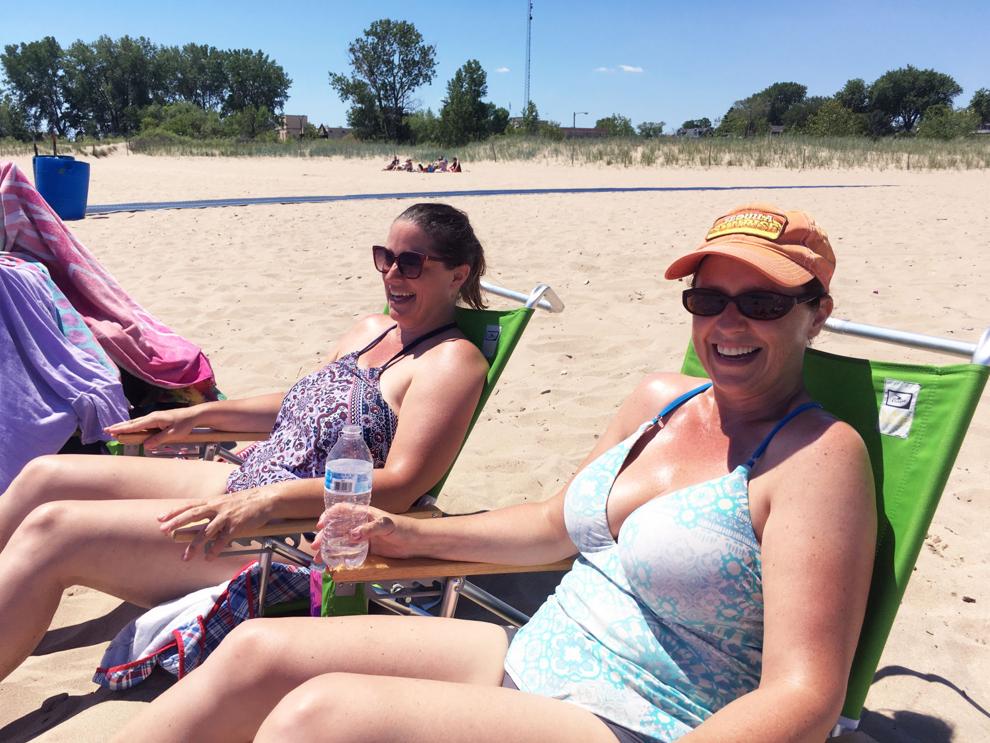 Annette Nunez employee at Oasis snack bar at Racine's North Beach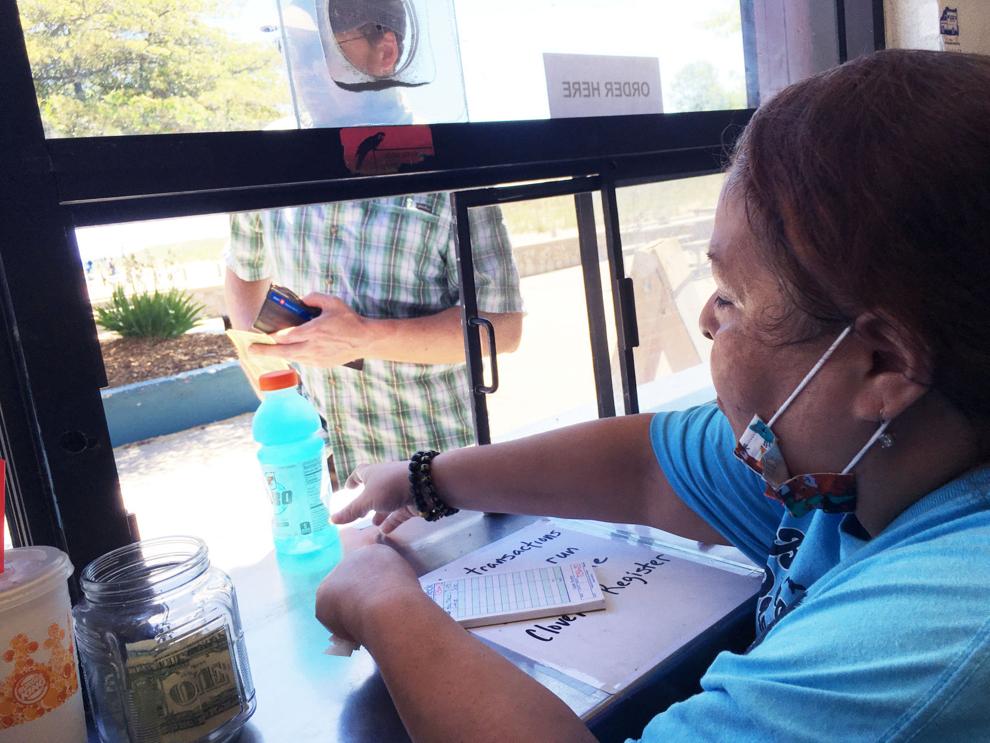 Jack Daly and Luke Schmidt build sandcastle at Racine's North Beach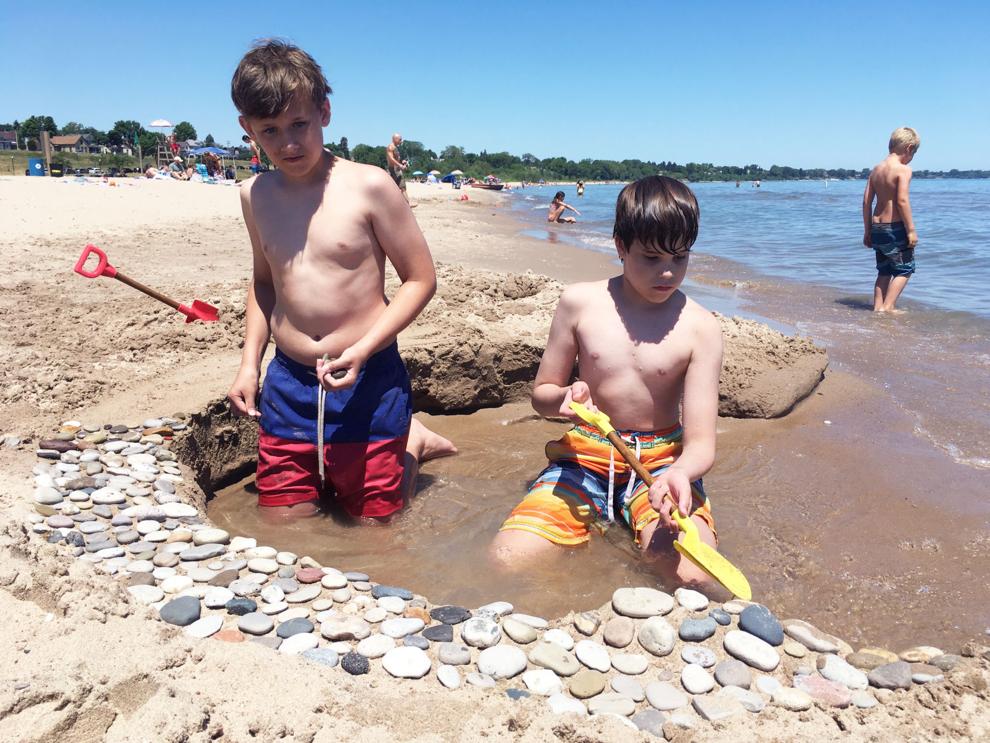 Racine's North Beach draws big crowds during early summer heatwave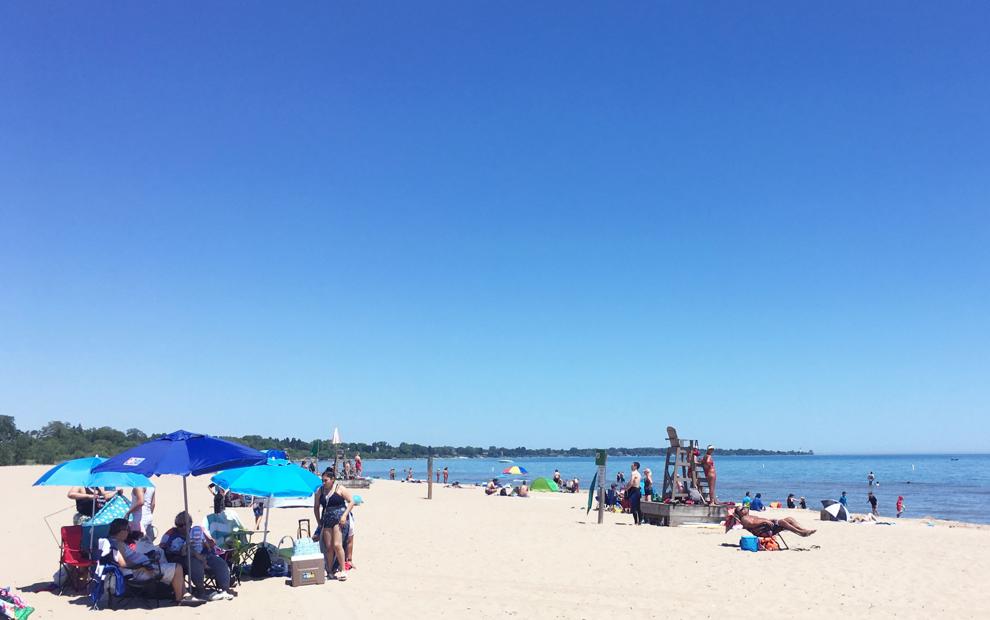 Mark Meisner of Racine listens to music and watches the crowd at Racine's North Beach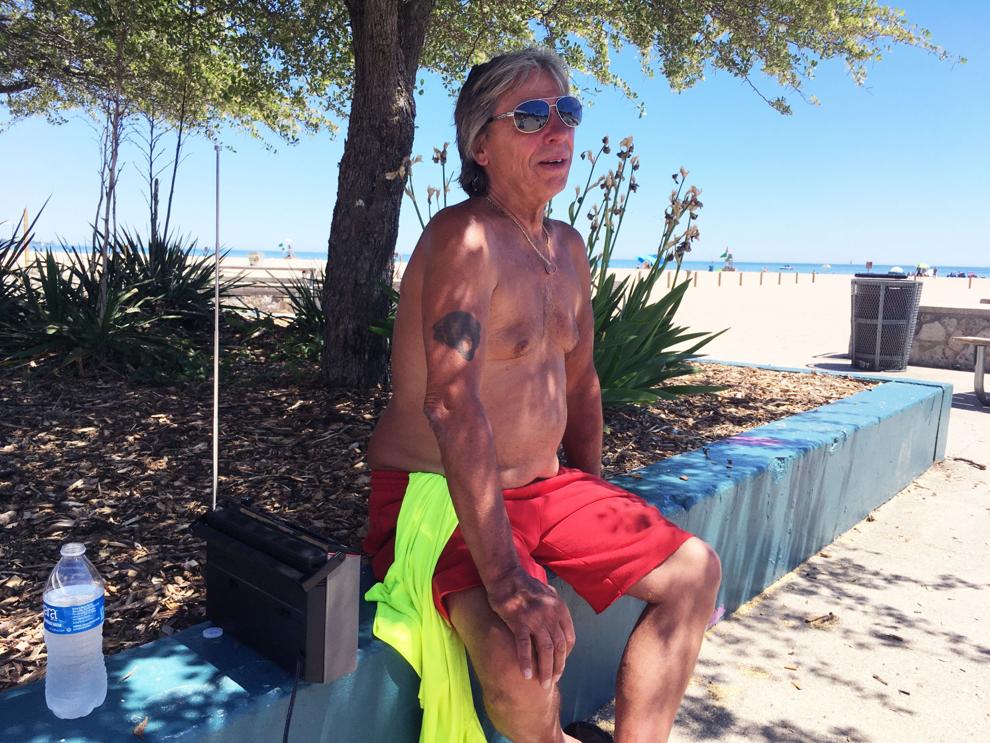 Eddie DeLaCruz prepares tacos inside Oasis at Racine's North Beach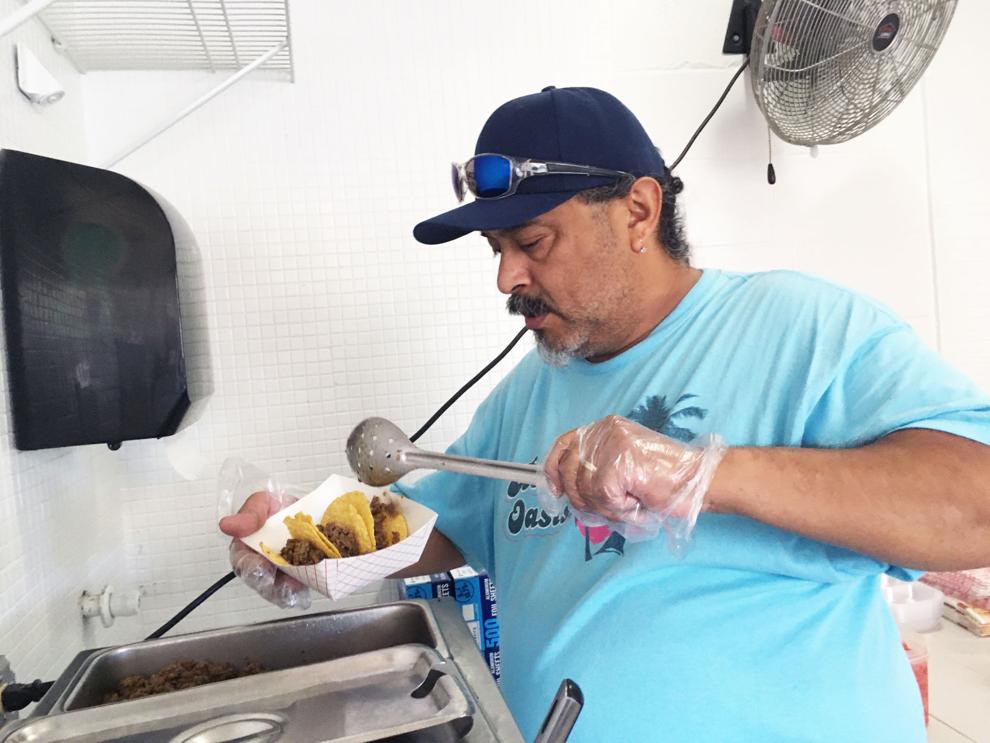 Carly Collins and her kids Vivian and Masen at Racine's North Beach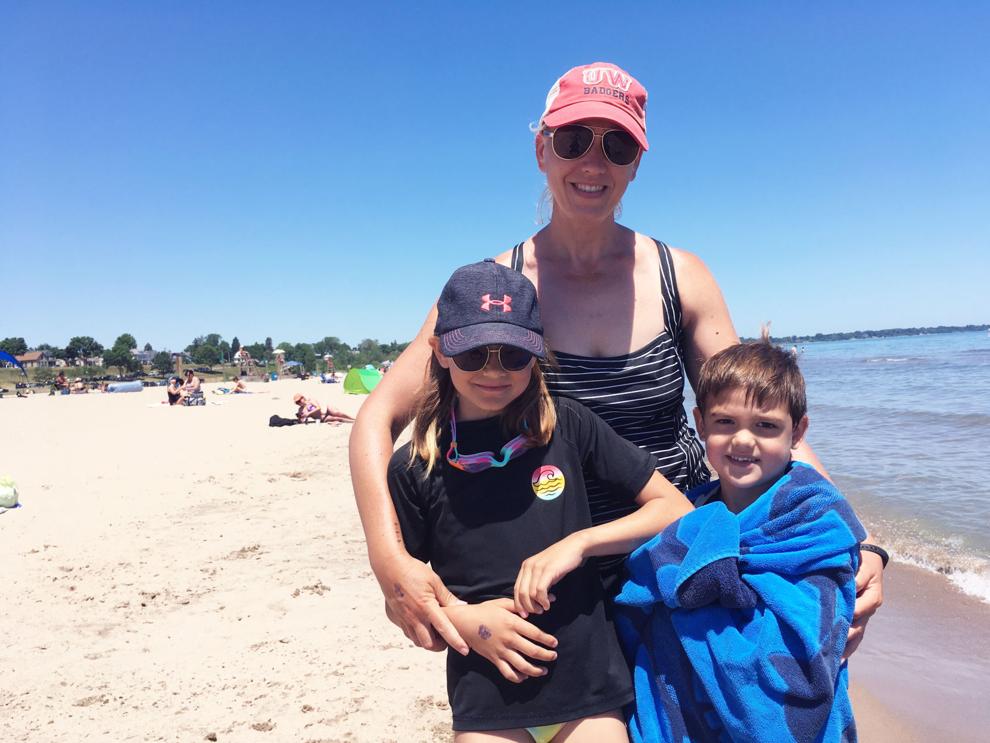 Lifeguards Savanna Gain and Caitlin Mertins on duty at Racine's North Beach