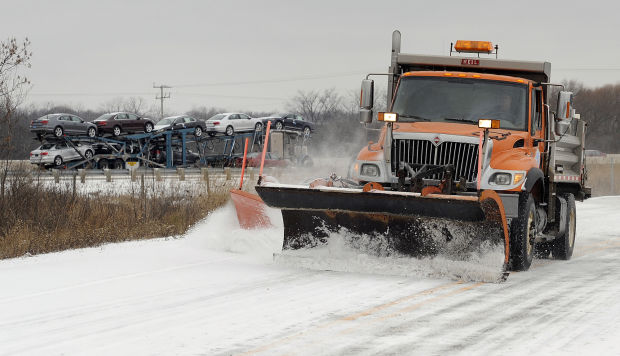 RACINE COUNTY — Winter weather came to a crashing start Monday morning.
More than a dozen accidents were reported to the Racine Police Department in a 40-minute span, and traffic on Interstate 94 was also brought to a halt as area drivers relearned how to navigate through snow.
Between 11 a.m. and 11:40 a.m. Monday, the Racine Police Department alone received reports of 15 accidents, according to Sgt. Jessie Metoyer, spokeswoman for the department.
"The phones are ringing off the hook," one county dispatcher said.
The Racine County Sheriff's Office recorded a total of 51 car accidents across the county between 9 a.m. and 3:30 p.m. Monday, according to Sgt. Cary Madrigal.
"A lot of it just boils down to (driving) too fast for conditions," she said.
The National Weather Service in Sullivan did not have data available Monday on the total snow accumulation for Racine, but meteorologist Brian Hahn said Milwaukee recorded 0.7 of an inch from 6 a.m. to noon and Racine was part of that storm system.
In addition to the mayhem on city roads, all northbound lanes of I-94, between highways K and 20, were shut down for about an hour and a half for a car accident. I-94 reopened at about 11:30 a.m., according to officials.
Madrigal said that this accident was a head-on collision between a car and a semi, which caused what appeared to be non-life-threatening injuries. But she could not account for how the head-on collision occurred on the interstate.
It is one of about three or four accidents the department was responding to at the time, she said around 11 a.m. There was also a rollover reported near Highway KR.
She said there were a few other personal-injury accidents, but there were no other serious injuries.
Despite the number of car accidents, Rick Leonard, an employee of Floyd's Towing and Recovery. 1525 Durand Ave., said that most of the accidents his company responded to were minor and fairly common for the season's first significant snowfall.
"Obviously there's an influx because of the weather," he said. "Usually when the first snows come everybody's going too fast."
Aaron Knapp contributed to this story.