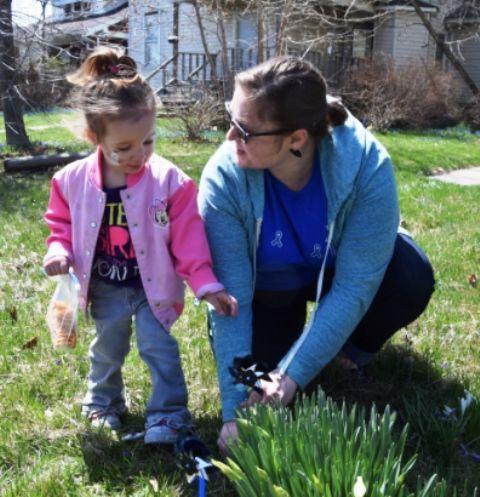 RACINE — If you are driving down Washington Avenue between Downtown and Uptown this month and a flickering, rotating movement gets your attention, take time to pause and reflect.
That's the purpose of the pinwheel garden in the front yard of SAFE Haven Inc. of Racine. A few dozen of the wind-blown toys were placed there Saturday during SAFE Haven's annual Pinwheels for Prevention Cookout held at the family advocacy organization at 1030 Washington Ave. The pinwheels are intended to remain in place for the remainder of April, which is National Child Abuse Prevention Month.
The pinwheels symbolize the carefree childhood every child deserves, said Erin Langler, outreach coordinator for SAFE Haven who was assigned to the organization as part of her AmeriCorps service.
"We are just trying to gather the community together to continue the conversation about what we can do to stop child abuse and promote how SAFE Haven fits into the community to keep kids safe," said Langler.
Saturday's event was intended to be for awareness purposes only and was not a fundraiser, said SAFE Haven Executive Director Pamala Handrow. In fact, thanks to the generosity of donors, prizes were being given away. And despite the heavy message and mission of SAFE Haven, Saturday's event was festive with a cookout, kids' games and karaoke.
Handrow wants people to know about the resources SAFE Haven provides, like parenting classes, prevention programs and its youth shelter for victims of abuse and runaways.
"Our goal is to primarily make people know there is help out there," said Handrow.
She'd also like to draw attention to the worldwide, regional and even local problem of human trafficking.
While Racine County has been out in front of the problem by forging a trailblazing task force comprised of law enforcement and social service agencies, more has to be done to stem that situation, Handrow said.
"When you think about that in terms of minors, that's child abuse in a whole new arena," Handrow said.